A culinary extravaganza to benefit the Lowcountry Food Bank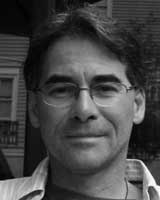 For the third year running the idyllic community of Habersham plays host to one of the most anticipated culinary events in the Lowcountry. The Farmer's Table brings together seven of the area's most acclaimed chefs for a spectacular outdoor harvest supper sourced entirely from local farms to benefit the Lowcountry Food Bank and its Growing Food Locally program.
"Whatever's in the ground and ready at the time" is what's on the plate, says Executive Chef Jim Spratling of the Callawassie Island Club. Spratling helped found the event and once again coordinates it.
"It's evolved into the great thing that it is now – bigger and better every year," says Spratling. "I guess that means it's healthy."
Students from the hospitality management program at USC Beaufort also take part to gain some
valuable hands-on experience. And while the dinner may be the main event, the evening also features live bluegrass music, cocktails and hors d'oeuvres, a silent auction, fine wine, craft brews and bourbon, hayrides and dancing under the stars.
"This is my new favorite event," says Chef Richard Wilson. "And we do a lot of events."
Wilson's Maggie's Pub is right on the Marketplace, yards from the event site as is fellow participating Chef Brian Ferry's Piace Pizza. Chefs Tony Pope and Tony Gates respectively of Chechessee Creek Club and Spring Island Club, round out the all-star roster along with Chef Brian Waters of Saltus River Grill and Chef Gary Lang of Breakwater Restaurant and Bar.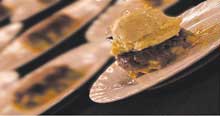 "It's interesting because everybody meets maybe one time and we agree to do pieces here and there," says Lang. "You really don't know what the whole thing's going to look like until all those little pieces come together."
"It's also an outdoor kitchen," says Spratling, "which adds another dimension of surprise – lots of elbow room for bodies and egos."
Egos? In the restaurant business?
"When you get that many chefs together you have some egos," says Lang with a sly smile. "But we shelve that stuff for the cause and just have a great time doing it."
Spratling grins. "It's always fun. No competition involved."
Chef Wilson says the original pitch for the event from the Food Bank's Hollis Tuma was right on target for a group with a shared passion for locally sourced food.
"She wanted to know if we could get some local farms involved and literally make this a farm-to-table event," he explains. "And of course we have The Farm at Habersham so it just seemed logical."
Since it's inception in 2010 The Farmer's Table dinner has raised over $27,000 for Growing Food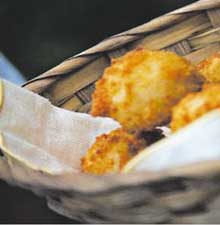 Locally. Those funds have purchased nearly 135,000 pounds of local produce for families experiencing hunger in Beaufort County. The LFB provides food to those who need it most in coastal South Carolina. With distribution centers in Beaufort, Charleston, and Myrtle Beach, the Lowcountry Food Bank distributes over 19 million pounds of food annually to a network of more than 300 member agencies including soup kitchens, homeless shelters and emergency food pantries. The Food Bank's mission also includes educating the public about the issue of domestic hunger, advocating on the behalf of the hungry and searching for permanent solutions to the problem.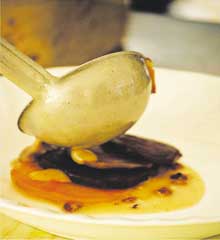 "If you're into food this is your event," says Wilson. "And if you want to do something that makes your heart feel good, then bang bang." He motions to the picturesque manicured heart of Habersham. "And you get to hang out in this unbelievable environment." He smiles. "Yeah, it's a ton of fun."
This is a rain or shine event. Cocktails start at 5:30 pm and dinner will be served at 7 pm. Tickets are $100 per person and available online at www.lowcountryfoodbank.org/farmerstable or by calling 843-747-8146 ext. 105.
Watch our interviews with the chefs at www.lcweekly.com and on our Facebook page.
Facts About the Growing Food Locally Program
(From The Lowcountry Food Bank)
The Lowcountry Food Bank believes it has a responsibility to provide healthy food to those in need in the community, and produce grown locally is a perfect way to do that. The average bite of food an American takes has traveled 1,500 miles from the farm to their table, losing vital nutrients every day it is in transit. By purchasing local produce, we are providing the freshest, healthiest food possible to our clients, while spending our donors' dollars in the community supporting local farmers.
The Growing Food Locally program was started in 2007 in an effort to provide fresh produce to those who need it most, and provide a guaranteed sale to small-scale local farmers. It is a safety net purchase program that allows farmers to sell excess crops at cost-to-market prices, helping them recoup some of the costs of production. While there is not an income requirement to be a Growing Food Locally farmer, the farmers who take part are small-enterprise farms limited by land, finances, or labor. The Lowcountry Food Bank currently works with five farmers in Beaufort County through the Growing Food Locally program, and purchases additional local produce through GrowFood Carolina and Lowcountry Local First.
Since beginning the program Lowcountry Food Bank has purchased over a million pounds of produce from Growing Food Locally farmers, which has been distributed to food-insecure people through the help of partner agencies like Our Lady's Pantry in Beaufort and Bluffton Self Help. Another intention of the program is to introduce people served by the food bank to the benefits of local produce, as many in need are not even aware of the fact that locally grown produce is available nearby.
Learn more online at www.lowcountryfoodbank.org and find out how to get involved.