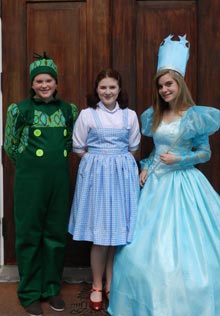 The Beaufort Children's Theatre will present "The Wonderful Wizard of Oz" at USCB's Center for the Arts during the month of May. Based on the 1920 classic "The Wizard of Oz" by L. Frank Baum, the play brings to life the young heroine, Dorothy, who is transported by a cyclone from her grandparent's farm in Kansas to the magical Land of Oz, where she is greeted by the Munchkins of Munchkinland.
She meets Scarecrow, Tin Man and Cowardly Lion, a strange trio of characters who want to help her get back home and agree to accompany her to the Emerald City to speak to the Wizard of Oz. She is protected by the Good Witch of the North from the evil plans of her sister, the Wicked Witch of the West, who wants to kill Dorothy for her magic Ruby Slippers.
Performances will be held on May 11, 12 and 18, at 7 PM, and Sunday, May 20 at 3 PM, at the USCB Center for the Arts at 801 Carteret Street in historic downtown Beaufort. The play is approximately one hour in length and is fast-paced to hold the attention of the younger theatergoers.
General Admission ticket prices are adults $12 and students $8. Special reserved seats are available for $20 for adults and $12 for students. Tickets are available at the CFA box office from 10am to 2pm, Monday through Friday, or you can order by phone at (843) 521-4145. All major credit cards are accepted.
"The Wonderful Wizard of Oz" cast members include: Dorothy – Hannah Brown; Aunt Em – Natalie Alvarez ; Uncle Henry – Hezalnaiyah Jordan; Mr. Lyon – Maisie Gayken; Mr. Crowe – Conor Gallagher; Mr. Woodsman – Jeffery Miller; Miz Switch – Rebecca Johnson; Glinda – Michelle Perri; Scarecrow – Eliott Chucta; Tin Man – Dan Brown; Lion– Ellen Hodges; The Wicked Witch of the West – Madison Logan; Wizard – Ivan Estrada; Gatekeepers – Preston Coleman and Katy Waller; Wizard Secretaries -Carissa Lamb and Racquelle Williams; OZ Employees – Campbell Dukes and Isabelle Lieblein; Guards – Ariaughn Bobian, Reilly Kilpatrick, Akasha Nelson and Stewart Trask; Hocus and Pocus – Amelia Evans and Trissy Long; Abra and Kadabra – Ester Lawrence and Emily O'Regan; Bippity, Boppity, and Boo – Brycen Ambrose, Leith Gray, Austin Major Jr. and Racquelle Williams; Mayor Munchkin – Garrett Jepson; Millie Munchkin – Sydney Smith; Merry Munchkin – Ansleigh Pingree; Mooch Munchkin – Riley Gates; Munch Munchkin – Lexi Cannon; Milton Munchkin – Cori Miller; Millburn Munchkin – Mason Hudson; Missy Munchkin – Avery Thomas; Moody Munchkin – Maureen Waunch; Milford Munchkin – Macy Mullen; Melinda Munchkin – Carolina Alvarez; Minnie Munchkin – Grace Trask. Munchkins, Crows and Wolves – Megan Alvarez, Brycen Ambrose, Emmanuel Bent, Gabriella Cannon, William Davidson, Jenna Dean, Emma Gaskin, Warren Gibson, Leith Gray, Cierra Haynes, Elizabeth Holloway, Maggie Kinton, Naomi Lewis, Lucie Makar, Caroline Marek, Mariah Midyette, Ledare Pingree, Abbie Pollitzer, Sage Posey, Rebecca Scheper and Ilse vonHeimburg. Citizens of Emerald City – Christopher Boggs, Cydney Boggs, Alexandria Clark, Sara Correll, Allie Fraley, Daphne Fraley, Michael Holmes, Rebecca Johnson, Briley Langehans, Brianna Raiff, Hailey Seckinger, Rebecca Strawn, and Ashley Taylor.