In an on-line exclusive to The Lowcountry, Mark Shaffer sits down for a candid chat with the new master of Bateaux, Executive Chef, Michael Gottlieb.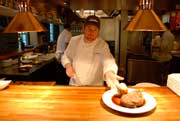 Mark Shaffer: Your family has quite a history in Savannah.
Chef Gottlieb: My great, great grandfather opened Gottlieb's Bakery in the 1880's and it started off as a horse and carriage that went around downtown Savannah selling treats. And it grew into a large bakery on 32nd and Bull Street in Savannah. It had a great run, it went from 1884 to 1994.
MS: Coming from a baking family you weren't attracted to the bakery.
CG: No. You know, I grew up doing it ever since I was five, everything from scooping cookies to learning how to decorate cakes – you name it, I did it. When the time came for me to make a career decision I knew I was more interested in savory foods. I can remember doing hot dogs wrapped in pie dough and baking them at the bakery rather than make a pie when I was five or six. Things like that.
MS: Did you discover the joys of the deep fryer there?
CG: No the bakery didn't have a fryer. But actually, the fryer is my favorite piece of equipment in the kitchen. People think that because something's fried it's not healthy o r not good – whatever. As long as the fryer's used properly and at different temperatures you can achieve amazing things with it.
MS: Everyone I've known [in the kitchen] loves to experiment with the fryer. There's just something about hot oil that says throw something in.

CG: (laughs) Yeah, most people don't realize that different temperatures in a fryer achieve different things. We use it to blanch everything from herbs to make oils to sucking moisture out of collard greens to make them crisp. It's all about knowing the different temperatures that foods react at. We have one that's always set at 210 degrees and on that's always at 370 degrees. Some stuff goes into the lower temperature fryer, then into the hotter fryer and that does things like make the pork skin crackle on the pork belly dish and things like that.
MS: You studied at Johnson & Wales University.
CG: I did.
MS: How was that experience?
CF: It was awesome. The whole time I was at Johnson & Wales I worked at a restaurant in Providence [Rhode Island] called the Gatehouse. I got to take everything I learned in the classroom and apply it in real life. That kind of experience makes you a much stronger cook, in everything from life skills to your palate.
MS: One of the reasons you weren't really attracted to baking is the precision.
CG: I don't want to have to use teaspoon and tablespoon measures and measuring cups and things like that until I have a recipe I really like. I like to be able to use a pinch of this and a dash of that, but with baking to get something to rise properly you have to use a determined amount of yeast, to get something to come out right you have to cook it in a water bath or whatever it is. I'm not into that. I want to be able to play with the food.
MS: Playing with food is a good thing.
CG: Yes, it is.
MS: You consider this an art form.
CG: Oh absolutely! Anybody who doesn't isn't doing it for real.
MS: How does the process work for you?
CG: It's a different process than most people. I just grab ingredients and start going and people walk up and ask "hey what are you making?" I don't even know. Sometimes they get offended when I say that, they think I don't want to talk to them or something, but the truth is I don't really know. But it's definitely an art form. Everything plays into the plating of food and the production of food. Everything in your environment, in your personal life – everything – helps form the type of food you produce.
MS: When that happens, when you start out with an "I don't know" and end up with a "what I got…"
CG: We usually end up with a "wow."
MS: Do you catalogue it, do you write it down, reference it?
CG: No. No I don't.
MS: You just keep it in your head?
CG: Yeah, and then I might do a sketch of it or something like that just to know what direction I went with the first time. I find that I usually make something once and then wait a week before I try to make it again. I don't worry over how to make it better. The second time you do it you usually have a couple of changes, the result is usually way above the first [effort].
MS: I find it a little amazing that you plate every single thing that goes out of the kitchen.
CG: You have to.
MS: Some guys do, some don't.
CG: But that goes back to the art side of it. In my eyes, not everyone can look at the same picture and see the same thing. Not everyone can look at the same plate of food and see the same thing. To the diner it may look nice, no matter what, but to the person who wrote the menu, designed the plate presentations you notice every little thing when it's not done properly. It's part of what the guests are paying for, the way things are supposed to look.
MS: Your fine dining background was honed at a pair of famous inns.
CG: I worked at the Inn at Perry Cabin (St. Michaels, Maryland) for a while and absolutely loved it and then the Inn at Little Washington in Washington, Virginia, and that place is just off the charts amazing. Everything from the table linens to the quality of food that comes into the kitchen, the staff that they hunt down, every little detail of the decorating – everything makes the place amazing, just amazing. It definitely sets your standards levels above any other experience, so I always look back to that as the most positive I've ever had – besides my own restaurant.
MS: How do you take that experience and apply it here at Bateaux?
CG: Well, it's difficult because this is a different type of monster, so to speak. [The Inn at Little Washington] is a $200 a person restaurant – and that's not an issue, that's the way it is, that's just the environment – making sure the guests leave saying "wow!" wanting to come back and do it all again the next night. Here it's a little different. You have to play to your guests' wants and needs. You have to make sure that your products are priced properly so that A) you're making money, and B) they (the patrons) get the experience that they think they ought to be getting for their money.
MS: So what's your approach to stepping into an established culinary venture like Bateaux, one with such a well-regarded reputation?
CG: I didn't really think too much about it, I just did it. I wrote a menu that I thought complimented the one that was here before, but simplified a bit, not as much big language on it, tried to keep it simple but with the same regional Lowcountry cuisine. My goal was to make sure the service was great and people loved the food, and I think that's the most important part. So I didn't think about what happened here before, I thought about – and I ate here [a lot] – I thought about what can we do to carry it on, but also give it my own flare.
MS: As anyone would. So what remains for patrons of Richard Wilson's Bateaux and what's new for the rest of us?
CG: I think they'll come in and see lots of similar type dishes but different flavors. My roots are classical French but I also take inspiration from everywhere… I'm not sure how to answer that question.
MS: I think you just did. Do you have a food philosophy?
CG: Make it taste good.
MS: Sounds fine to me. Now comes the reality of the economics of fine dining. Times are tough. This is not a cheap place in which to eat, but you get what you pay for.
CG: You absolutely get what you pay for. When you make a reservation here you can rest assured that you're going to leave getting what you pay for.
MS: You told me that you don't write menus for patrons, you write menus for yourself.
CG: (laughing) Yeah, but I think that's awful to say.
MS: But it flows with your food philosophy.
CG: Yeah, well – I remember, now – I want you to want everything on the menu. Like I read the menu and there isn't a dish on the menu that I don't want to eat – and I usually go through about half of it a night. I don't suit there and say " I've got to have three fish, four meats and six salads and eight appetizers." I just write appetizers until I'm done. I write entrees until I'm done, and salads until I'm done and then I play around with them. Some things get crossed off the menu, some things stay, and they just always seem to come out balanced.
MS: Like the scene in Diner where the guy orders the whole left side of the menu.
CG: (laughing) Right.
MS: So we never take this kind of experience for granted, what's a day in the life at Bateaux like.
CG: Busy. My day starts early, 8:30 or 9:00 and runs until 10, 10:30 at night. I get to sneak out here and there, usually to run to the store because I forgot to order something, or to run home and let the dog out. But that's about it. We're a from-scratch kitchen so we start our mornings getting our stocks going. We make a true veal reduction. It takes us four days to do it, so our veal stock is off and on the stove for four days before it goes on a plate. Things like that. We get all that mize en place taken care of, get all that prep done and then it's station set-up time. We're pulling foods for the stations, butchering seafood and meats. I play with food for little bit at some point and then it's the paper work side of life, the fun part, but it's got to be done. The kitchen staff's goal when they get in is to start prepping their stations and they do everything for their stations with the exception of butchering. I do that or my Sous Chef, Wes, does that. They're responsible for the flavors. Their mashed potatoes have to be made the same way every day, it's a standardized recipe. I taste every batch. So, once they season them, they bring me a spoon to taste to make sure that it's what we want to serve here. So there are real strict guidelines, it's not just hey come in and cook.
MS: How does location influence your cuisine?
CG: I let the building tell me what the food should be like. Upstairs, here, is very Lowcountry-esque and I feel the food matches it. Downstairs is a little more contemporary and I don't feel the food quite matches it.
MS: So there are big plans for downstairs and the patio?
CG: We're going to make it a little more casual, put in outdoor seating, make it spot where people can come on an everyday basis, make Bateaux the special occasion restaurant it's known as but make every day a special occasion at Bateaux. We're going to have a [downstairs] menu that's affordable, that's not going to skimp on the quality of ingredients or the plat presentations or the service, but you'll be able to get a burger smothered in local chanterelle mushrooms or charbroiled oysters from our outside kitchen we're about to put in. And I see that menu taking off and that type of food matches the downstairs more to me, so I'm inclined to leave the upstairs a very intimate dining experience, let it be Bateaux Fine Dining and then put Bateaux Bar and Grill downstairs. I don't want to call it a "watering hole…"
MS: In major metropolitan areas you could do worse with such a description.
CG: Absolutely. And I'm not talking about just bar food, but food that has meaning behind it that you don't have to spend a fortune on. You'll be able to eat for twenty bucks with drinks. I think lots of people are looking for that. And it's going to be [outside] year 'round.
MS: Finally, is there a particular piece of advice you've carried with you, something that leaps to mind.
CG: (laughing) A million things. Nothing I'll mention (more laughing).
MS: It can be anything, but preferably PG-rated.
CG: Don't date the staff.
MS: Well done.