Chef Penn Ten Eyck Spins New Meaning for "Local Plates"
Story and photos by Mark Shaffer

To say Penn Ten Eyck is passionate about food and cooking is like saying Shakespeare was a decent writer. As a child he knew the chef's life called him. It's in his blood. The family's got a long history in the local food scene going back decades. The Ten Eyck's can even claim a bit of local film history, having catered the buffet spread during the post-funeral scene in "The Big Chill."
            After attending the Culinary Institute of Charleston, Penn honed his craft in some of the finest kitchens in region, including Saltus River Grill in Beaufort and FIG, O-ku and Magnolia's in Charleston. He was Chef de Cuisine at the Dataw Island Club when he took over Sweetgrass in spring, 2014.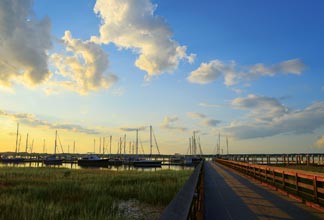 "Good food; simply prepared," is the Sweetgrass credo. Chef Ten Eyck takes "local" beyond the culinary buzzword it's become; it is practically religion for him. Even his dinner plates are local. Each one handmade by a local potter. Penn Ten Eyck's dining room is a showplace for regional seafood, meat, poultry, produce, cheeses, honey – you name it – and it all comes with a sunset view of the Dataw Island Marina.
            This time out I'm joined by the powerhouse couple behind the Beaufort International Film Festival, Ron and Rebecca Tucker, and cookbook author, Everyday Gourmet columnist, and Beaufort's best caterer, Debbi Covington. We take a table in the breeze on the screened in porch overlooking the marina. While we wait for the first course we chat about plans for the next Beaufort International Film Festival, which include an expanded and adjusted schedule.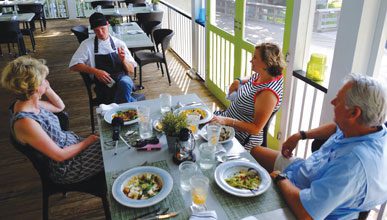 "We're getting completely away from Valentine's Day next year," says Rebecca.
            "That's going to make the inns and hotels happier," says Ron. "And we're adding another day and changing some things."
            "We kept saying last year was a milestone festival," says Rebecca, "It looks like this is another one."
            The 11th annual BIFF kicks off the day after Valentine's on February 15th and runs through the 19th at USCB's Center for the Arts. Get a full preview in our September 7th edition.
            Salads are up first and like everything on the menu, each is unique and built to savor the season.
            "Rick's Caesar is named for my Uncle Rick and comes from our family cookbook," says Penn. "It's not a traditional Caesar at all – just a few ingredients: local Romaine, croutons, olive oil, no egg yolks, Italian white anchovies, garlic and a little bit of mustard. And it's topped with a soft egg."            
            The Bib Salad (right) is local bib lettuce, along with ricotta cheese, bacon and cucumber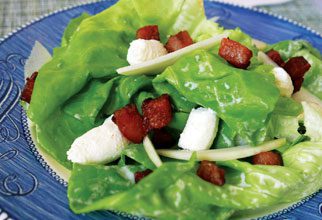 butter milk dressing, all made in-house. The Black and Blue Salad is a savory blend of artisan lettuce, sliced radishes, roasted tomatoes, blackened house-cured pork belly and Asher blue cheese dressing.        
            "The Beet and Goat," says Penn, "is Pasture Farms lettuce, roasted beets, spiced pecans and goat cheese drizzled with a sherry vinaigrette."
            For the first time in the long history of the Moveable Feast we are overwhelmed with salads and pleased about it. Each offers something unique. Add house-made bacon, chicken breast, Asher Blue Cheese, local Beaufort shrimp or the market fish to any Sweetgrass salad and make it a meal for a few pence extra.    
            "I love this ricotta," says Debbi. "It's almost like butter."
            It's the little things, the simple things done exceptionally well that elevate the plate.
            "It is," says Rebecca, "and the bacon is pretty fabulous, too."
            To my mind the blackened pork belly sets the Black and Blue slightly ahead of the rest. It is perfectly rendered and seasoned, not overly fatty.
            "And you've got to try this egg on the Caesar," says Debbi. "It's not your average egg."
            No, it's not. It's not an average egg, a good egg or a great egg – it's a perfect egg. Really perfect. And while there are far more complicated dishes to come, this simple egg from one of Bette Ruth's Yard Farm chickens just down the road is symbolic of the Chef's vision. To be sure, buzz words like "local" and "passion" tend to get tossed around in culinary circles like leaves in the wind. But at Sweetgrass – and fortunately, many of our local eateries – the words have meaning. It comes as no surprise then that Tripadvisor's top rated restaurant on St. Helena racks up an outstanding 4.5 of 5 stars.      
            Before the entrees arrive, Penn tempts us with a couple of starters including his improvised take on pate.
            "Chicken liver is traditional." he says, "Unfortunately, our farmer is sold out every week with outstanding orders to Husk and FIG. Even though we buy the whole birds, we can't get the livers. One day I thought, why not try pork liver? And we nailed it."
            The result is an insanely rich and flavorful pate served with gribiche (a dip of hard cooked egg yolks, shallots, capers, olive oil and vinegar), toasted sourdough and sherried shallots and a dab of dijon.
            "The gribiche is like the filling of a very strongly flavored deviled egg," says Debbi. "Wow. That is really good. It
's not as strong as you'd think pork liver would be."
            "No, it's not," says Rebecca. "It's milder than chicken liver. Delicious. And I usually don't go for pate. It's just not my thing. Can I have another bite?"
            "The Gnocchi and Ham is pretty simple," says Penn. "It's our house-made country ham, fresh ricotta and Parisienne gnocchi."
            "That ricotta is amazing," says Debbi.
            "You can't buy ricotta that tastes like this," he says. "And it's so easy: milk, cream, lemon juice and salt. That's all. It's all about the technique."
            Ron – not a liver person – is deep into the ham and gnocchi (above). The gnocchi is perfectly al dente, the ham is lean and not too salty and, as previously established, the ricotta is amazing. This is an entrée masquerading as a small plate.
            We also sample the seasonal Vegetable plate of grilled summer squash, chanterelles, cherry tomatoes and roasted figs tossed with basil, arugula and miso-corn butter. The mushrooms (supplied by a top secret source in Yemessee) are earthy, meaty and divine.
         By this point we should be too full for the entrees, but what the h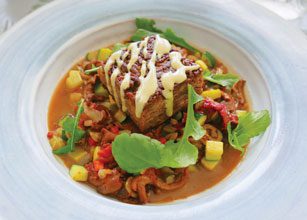 ell.
         The Chef's prepared Lamb Confit, Slow baked Tilefish, Clams & Pasta and his unique variation on the local staple, Shrimp & Grits.
           Penn explains that the lamb comes from a farm in Ehrhardt. "We brine and confit the whole animal, pull it, add our seasonings, press it and sear it. It's a way to use the animal from tip to tail and get a terrific dish out of it. It's on a ragout of summer squash, chanterelles, olives & tomatoes with a little lamb stock."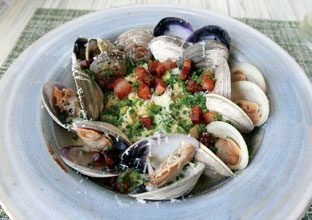 The clams sit on a bed of basil & garlic capellini spiked with a liberal amount of house-made bacon.
            "The Tilefish is from Murrells Inlet," he says, "it's on a farro verde which is reduced in corn stock and a kind of a pesto, garnished with roasted patty pan squash and blossoms."
            For the Shrimp & Grits Penn combines St. Helena-harvested shrimp and Carolina Gold parmesan rice grits with bacon-mushroom pan jus topped with a Japanese fried egg (soft on the inside, crispy on the outside).
            "The lamb is like barbecue," says Debbi. "It's got that texture and so much flavor. That is good!"
            As a died-in-the-wool fan of all things lamb (sorry), I have to agree. It's like no lamb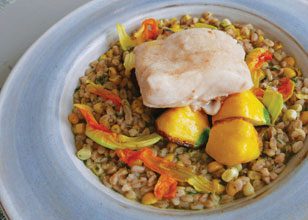 before and the ragout is rich and earthy. My kind of comfort food. The shrimp & grits inspire more moans and groans (again, a simple egg raises the bar) and we all agree it's among the best interpretations of the dish we've had – and that's saying a lot. The tilefish is beautifully done with a bright, light, lemony finish and the pasta and clams soak up all the flavors Penn's managed to incorporate into the dish.
            "We're all about breaking away from the mainstream," says the Chef "It's about establishing our identity and building relationships. We're not just a restaurant, we're part of the community. It's where we live."
            This column is all about raising awareness of our best local chefs and restaurants. It pays to know your restaurant semantics. A place that advertises "fresh" isn't necessarily local, probably the opposite, in fact. There are plenty of places that pack the unsuspecting public in night after night for "turn & burn" food and a menu that rarely flinches from season to season. Some people like that. It's safe. Meanwhile a few miles away one of the best young chefs working in the region is taking chances, pushing his art and showcasing the real food and flavors of the region in spectacular preparations presented on artisanal dinnerware – literally redefining the term "local plate." Trust me. It's worth the drive.
THE LOWDOWN
Sweetgrass Restaurant and Bar
Dataw Island Marina
Dinner served 5 – 9 pm, Mon – Sat.
Reservations recommended at 843-838-2151
www.sweetgrassdataw.com
ETCETERA
Get more at www.sweetgrassdataw.com and link to reviews at www.tripadvisor.com
Read the online version at www.LowcountryWeekly.com for exclusive bonus content including a Life Behind Bars look at the Sweetgrass "Painkiller."
Find out more about the Beaufort International Film Festival at www.beaufortfilmfestival.com