Eric Smith shoots The Farmer's Table.
The postcard community of Habersham recently hosted the 3
rd
annual Farmer's Table to benefit the Lowcountry Food Bank. The evening brings together a corps of acclaimed local chefs for one of the most anticipated culinary gatherings in the region. This dazzling outdoor supper is sourced entirely from local farms, prepared and served in the heart of Habersham. The 2012 event also featured live bluegrass music, cocktails and hors d'oeuvres at Habersham Farm, a silent auction, fine wine, craft brews, the debut of a new boutique whiskey, and dancing under the stars. And of course, a meal made to remember.
Since 2010 The Farmer's Table dinner has raised nearly $30,000 for Growing Food Locally and purchased nearly 135,000 pounds of local produce for Beaufort County families. The LFB provides food to those who need it most in coastal South Carolina. With distribution centers in Beaufort, Charleston, and Myrtle Beach, the Lowcountry Food Bank distributes over 19 million pounds of food annually to a network of more than 300 member agencies.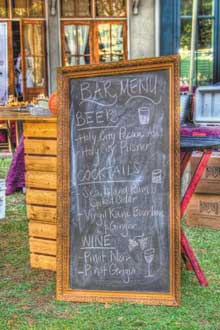 Lowcountry Weekly is a proud sponsor of The Farmer's Table and photographer Eric Smith of Beaufort's Captured Moments Photography documented the evening in stunning detail.
See more of Eric's images online at http://cmoments.com and watch our interviews with the chefs at www.lcweekly.com
Learn more online at www.lowcountryfoodbank.org and find out how to get involved