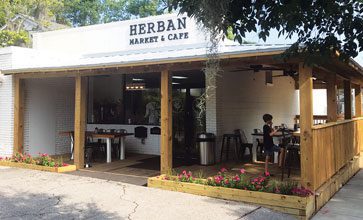 By Mindy Lucas
Chef Anya Chase and pastry chef Emily Benson first met while working at the old Herban Marketplace, a popular health food store on Boundary Street.
The pair shared a love of food, healthy eating and cooking for others. So when the store's owner Greta Lynne decided to retire in 2018, the two decided almost immediately to start their own business together.
"It was a no brainer," said Benson. "Once we sat down and started talking,we thought, 'This is it. There's no going back. This is what we want to do.'"
Originally from Vancouver, Washington, Benson grew up baking with her mother and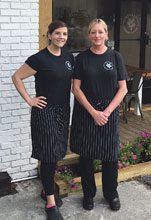 grandmother and started competing in baking contests when she was very young. She attended the New England Culinary Institute for baking and pastry artsand lived in a number of places before moving to Beaufort five years ago. 
With a background in hotel management, Chase has been cooking professionally for over 12 years. She started focusing on vegan and vegetarian cooking about five years ago while at the Herban Marketplace, and is passionate about experimenting with new ingredients.
Lowcountry Weekly recently sat down with the two to talk about their new enterprise, Herban Market & Cafe.

Lowcountry Weekly: You've been in business for a little over a month now. How's it going so far? Were there challenges you had to overcome to get to this point?
Emily: It's amazing. I think it's everything we'd hoped for.
Anya: And more.
Emily: And more. (laughing)
Anya: Honestly, everything really just fell together. I mean it took us nine months, but we just wanted to make sure everything was. . .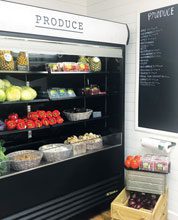 Emily: We wanted everything to be perfect. It's a learning curve because neither of us have ever owned before. We learn something new everyday. But it's like cool, now we know this, so we just progress forward.

LW: Did you have a pretty good idea of the menu before you opened? I guess you almost have to.
Emily: Oh yeah. So we always have our staples and then from the bakery I usually switch up, flavor wise. There's always going to be muffins, scones, gluten-free and vegan options.
Anya: But that helped out a lot, already kind of knowing the menu we wanted to do,and we'd done it before.
Emily: And we knew what sold really well,so that helped out as well.
LW: Let's talk about health food or the idea of healthier food anyway. What is your definition of health food or your philosophy on healthier eating?
Emily: So I think you nailed it with healthy eating. It doesn't necessarily mean that you're not going to gain weight if you come in here. (laughing)
But we use whole food, nothing is fake. There's no preservatives. It's organic. It's made from scratch, so it's definitely on the healthier side. One hundred percent. So one item will have four ingredients versus 50.
Anya: And like you've said, you look at food as medicine. 
Emily: I think it's either going to help you or hurt you, and in here, we aim to help people.
Anya: And we cater to people who are gluten-free, vegan, vegetarian. Emily has incorporated a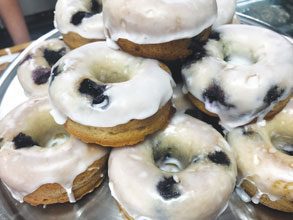 lot of that into her baking, which is great because you can't get those products anywhere else.
Emily: We want everybody to be able to come in here and enjoy it.

LW: The idea of healthier eating ingeneral seems to be enjoying a moment right now. I hate to use the word trendy, but the idea certainly seems to have become more mainstream lately. What's your experience with that?
Anya: Well gluten-free, definitely. I can't remember when that hit the scene, when everybody was so focused on that, but people even come in that don't have celiac, or aren't vegan or vegetarian, and they try it and say, "Oh my gosh." They have a misconception in their heads about what those products are.
Emily: There's always going to be a new trend, but I think we're always going to cater to everyone just because this is what we want to do. 
But I feel like celiac and gluten-free are going to be around for awhile. It has been around for awhile, and it's going to continue to be around for awhile. And we've come so far with what we can make now, for any type of allergy, so that's really cool for those type of people.

LW: Going back to people who have been surprised at how good something ison your menu–do you have any stories of people sharing that with you?
Emily: We get that daily and we love that. And when people see something they may say, "Gross, I'm not going to like that." (laughing) But if they don't know what they're eating necessarily, and then they ask us, it's always the shock value. So part of it is educating people.
Anya: One of our most requested items on the menu is the smoky beet Reuben. It's sauerkraut, Thousand Island, Swiss cheese and sprouted rye. So this gentleman came in, ate the sandwich and then came back the next day and he says, "You might want to tell the chef that she left the meat off my Reuben."
(laughing)
So they explained to him what it was– that it's beets. But he's come back in and now he orders it.

LW: So he's a convert now?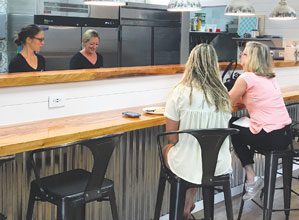 Emily: Oh yeah, and that's what we love doing.
Anya: And that's amazing.
Emily: I'm never going to forget that.(still laughing)

LW: His heart might be thanking you in a couple of years.
Anya: Right? Exactly.
Emily: That's part of it. You can still eat really good food and still have it be healthy. I think there's a misconception that if it's healthy . . . 

LW: There's not going to be any taste or flavor?
Emily: Or, it's going to be boring. But everything we make here we want to shock people.
Anya: I never would have thought he'd come back and order another one.
Emily: So he came in the next day and he was ordering tuna fish and he said, "Is it actual tuna?"
Anya: We said yes, that is actual tuna.
Emily: We promise. 
But we like being different. We like offering different things. We like using different ingredients that people may have never even had before. And then they're going to try it and say, "Wow I actually really like it."

LW: Do you get the feeling people go home and try to recreate some of the dishes for their family?
Emily: Yes. We just want to help as much as we can.

LW: Is it challenging to have a health food cafe in a region that has been largely known for its fried shrimpbaskets or Calabash-style seafood? Or do you think that idea is changing as people's palates are getting more sophisticated? And where do you see yourself fitting in with all of that?
Anya: I don't think we do.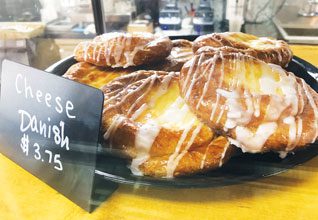 Emily: Yeah, I don't think we do, and we're okay with that. There's always going to be people who, that's more their style, and that's totally fine. I think a lot of people are becoming educated on healthier options, substitutes and a lot of people are getting more allergies unfortunately.

LW: Is it challenging to have a health food place in general?
Emily: No, not at all. I think Beaufort is one of the healthiest, or we're becoming one of the healthiest places. I think I saw where we were one of the healthiest places here.
Fact check: It's true! Beaufort County was found to be the healthiest county in South Carolina, according to a 2018 study by The Robert Wood Johnson Foundation and the University of Wisconsin Population Health Institute.
Anya: And there are a lot of tourists who come here looking for (a place like this). We even just met a couple who came in, they visit here every year, and they were so happy to find a place like this in Beaufort.
Emily: And there's another couple, the restaurant owners. They said, "Oh my God, we're vegan and there's nowhere for us to eat."
Anya: And they come in a few times a week.
Emily: So we love being that option for people.

LW: So it could be that you're the 'go-to' place for that.
Emily: Right. There's other places that are the go-to for what they do, but I love that we are doing what we do. 

LW: On a related note on Southern food and this region, are there any foods, traditions or ingredients, that you've embraced or like incorporating into your menu?
Emily: Tomato pie. So (Anya) is famous for her tomato pie. It's out of this world. 
I had never even heard of it before, and then when somebody described it to me, I was like, that sounds awful. (laughing)
And then I tried hers, and it's super light.

LW: Did they tell you it has a lot of mayonnaise in it? (laughing)
Emily: Yes! And that's where I was like, I'm never going to try that. But then I tried hers, and I was blown away.
Anya: Because I use Greek yogurt, vegan mayonnaise and organic tomatoes.
Emily: We sell out. We can't even keep it in.

LW: Do you have a signature dish or something people ask for regularly?
Emily: It has to be the Reuben. Or the tuna. So the tuna fish, it's delicious, but it's the strangest thing because people. . . 
Anya: Yes, so we had a lady in here the other day who said that is the best tuna she'd ever had. We sell 80 pounds ofit every week. 

LW: What's the feedback been from your customers and do you have a sense of who your customers have been in the last month? Is it a mix of locals and visitors and has the location, being close to Bay Street, had any impact on that?
Emily: We've been getting to know a lot of our customers, which is really nice. I like that. 
Anya: We get a lot of locals, and we're in an area where so many people can walk, with the neighborhoods right around here. But I think it's really a kind of mix. 
But a lot of the locals were so happy this place was turned into a place where they can come and get a coffee in the morning, and pastries. It's a little bit different than being down on Bay Street.
Emily: It's nice to be out of that, I feel like. There's congestion, parking there. We just want to be welcoming.

LW: You started the interview saying you love what you do, you're passionate about what you do. What do you like about it? Is it the café itself, is it the food or meeting people, or is it all of that?  
Emily: For me, it's all of that.
Anya: With the open kitchen, you know you can sit here, and you could be cooking and baking and interacting with the customers and they love it. They're like this. (Stands at the bar and looks over the counter.) "What are you doing?"
They are so curious, so we let them sample things we're doing. We might do cashew cheese and walnut meat, and they'll say what is that? Then they'll try it and say this is great.
So I think just interacting and being able to look out at that every day (points to the view out the café's front window of the Beaufort River). It's fun.
Emily: And everyone who comes in just loves it too.

LW: So you look forward to being here for awhile?
Emily: Oh yeah. 
Anya: Yeah.
Herban Market & Cafe
1601 North Street
(843) 379-5060
Hours:
Mon-Friday, 7am – 4pm
Sat, 7am – 2pm
Sun, Closed
Mindy Lucas is a staff writer for The Lowcountry Weekly and reporter for The Island News.