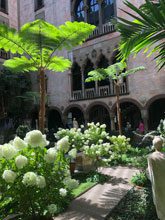 "Years ago I decided that the greatest need in our Country was Art… We were a very young country and had very few opportunities of seeing beautiful things, works of art… So, I determined to make it my life's work if I could." – Isabella Stuart Gardner (1840-1924)
How lovely our lives can be when the wind is blowing right and the sun welcomes everyone.  We get all too few of these times, but when we do the limits we endure, the boundaries and suffering, corrode into sand. Life can be splendid, if only fleetingly.
On Evans Street in Boston lies a grand visual banquet from a distant shore.  A castle of sorts, a nineteenth century mansion. You enter by large glass doors through a garden which encircles the massive building, wreathing it in nature's curtsy to Mrs. Gardner. Staff greet you happy that you have come to visit. My friend Avery and I must have made some kind of impression, for they waved us through without a fee. Maybe it was my Navy submariner hat. My semi-perpetual charm?
I'm no artist or art historian, not an architect or designer. My home is wallpapered with lovely contemporary paintings and photographs which include a cut-out dedicated to my favorite lady blues guitarists. Hard blues, the kind pushed by Samantha Fish, Carolyn Wonderland, Joanne Shaw Taylor, Kara Grainger. Beth Hart, too, though she mostly plays the piano. All drop dead assassin instrumentalists and singers. Ms. Fish often plays a slide guitar made from a kerosene can. That kills me.
The Gardner Museum is like my home if you add classic sculpture, architectural pieces, a huge arboretum, gift shop and upscale indoor and patio restaurant. Plus, of course, tens of thousands of extra square feet. The value of the museum is incalculable. This is clear ten minutes into your first stroll through the endless rooms, alcoves, corridors, and passageways. Even the door that Isabelle used to come home through is a work of art. And why not. She was the queen, la regina.
The Gardner was built from a Venetian palace that was deconstructed and which Mrs. Gardner had shipped here. Willard T. Sears designed it to house Isabella's expanding art collection. Sears had it built from the ground up, "incorporating numerous architectural fragments from European Gothic and Renaissance structures." Rather unfortunately for us plebeian visitors, most of the art pieces are not labeled conventionally, as there can't be labels on the walls. Instead there are laminated information sheets that tell you what each item is.The ambient lighting is subdued. In 2013, the museum was designated a Boston landmark.
Unlike the Museum of Fine Arts in Boston where I melt into the lush strokes of Monet in a three dozen or so collection and cannot seem to leave, the Gardner draws one through its maze of wonders almost in a trance. Almost for me only because my aching back forced me to sit every ten minutes. The attendants were most helpful, men in their 100's or so in drab blue suits and virtually no hair who found chairs for me that weren't essentially marked 'keep your dang butt offn this thang.' 
The book collection tempted me nearly more than the Victorian paintings to touch, feel, smell. There is an ancient tome called The Louvre and what may have been the bulk of Fielding's work, along with Franklin (yep, Ben), Swift, Thackeray, Tolstoy. But ah, the paintings. You bathe endlessly in the works of Botticelli, Degas, Matisse, Rubens, Vermeer. In all, Gardner's collection includes some 7,500 paintings, furniture, textiles, sculpture, ceramics and silver; 1,500 rare books; 7,000 archival objects from ancient Rome, Medieval Europe, Asia, you name it. Ah, Isabella, you were a busy woman, hand picking each object and once brought back with you to America and positioned, never to be moved as stipulated in your will. This of course apart from the 1990 theft of 13 works of art worth a half billion dollars. They have yet to be recovered (see B.A. Shapiro's The Art Forger).
As my artist friend Cynthia put it, "The Gardner Museum is my favorite museum in Boston specifically because of Mrs. Gardner's vision of it and her requirements of what was to happen to her intentional curation after she passed – absolutely nothing. Nothing can move and nothing has moved. From her ornate dress fabrics glued to the walls to each candelabra and painting placed exactly so, we feel Mrs. Gardner's curatorial eye and the fascinating life she lived. Even the empty frames of the stolen works still hang empty, waiting for the paintings to come home."
Just writing about it makes me gasp, so you can imagine what it's like to walk through her home. Thankfully, someone thought to install a delightful restaurant with indoor and outdoor seating. We had the fried calamari with pickled vegetables and roast striped bass with tomato risotto.  Our server, Denise, was over the top cheerful. She sounded like a voiceover actor for Minnie Mouse or Tweetie Bird cartoons. Naturally, I asked Denise about that and no, she had no such sideline. More coffee, sir?
Speaking of birds, sparrows flitted under the pine trees by our table.  I tossed them some bread and watched the commotion. Some of the little tykes stole from each other and flew off with takeout dinner in tow. Others fed each other. I learned that this is called allofeeding. It's charming and perfectly in keeping with Isabelle's spirit of sharing her collection.
Our Uber ride home was the crowning blue sapphire on the cloudless day.  Our driver, Joan (not a typo) was my kind of guy. Charming, talkative, a former Marine who did boot camp at Parris Island. We traded stories about the Lowcountry all the way through a rush hour jam and learned about his deployments to Afghanistan, Kuwait, Greece. He explained how the Marines beat them into the ground before building them up to be better than they ever would have been. Joan said he was forever grateful for the experience.
As we drove, he had lilting Hispanic music on the radio. He told me it was Romeo Santos and the music style was bachata. I learned more from Isabella and Joan than I ever did in a single day in school. And had way more fun.
Earlier in the week, I had a CT scan. My tech was Jackie, a migrant from Guatemala who recently lost her mother. I mentioned losing my lovely hurricane of a bride last year. For a moment, we connected with our eyes and brought each other close to tears. When I showed her a couple photos of Jane, she remarked on her beauty and said, "I can tell you were very handsome when you were younger." Gee thanks, I guess.
A person's physical beauty may diminish with time, not so with art. The ravages of age are far more subtle and endearing. We should all be so lucky.