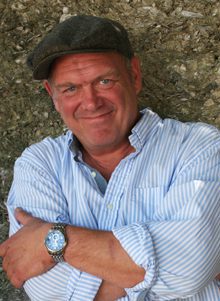 A New Column by John Marshall
I am a chef by trade, a writer by good fortune. As the owner of my restaurant I am the guy with the spinning plates and sticks, each day trying to get all the moving parts together before the doors open at five. Some days I'm better at it than others, and for sure it's not a one-man show. I work a side-by-side with a quirky collection of incredibly hard working characters that come together each day to execute the one imperative I ask of them – make people happy.
I love the daily excitement, the ever-changing assessment and re-assessment of what has to happen and when. I love the sense of teamwork spawned by working under pressure toward a common goal. Living in the moment with the first guest in 1 hour, 30 minutes, 10 minutes . . . music, lights, mise en place . . . candles, menus, smiles – and it's on. Time to give up the love. The barely controlled chaos of dinner service on a busy night – with servers bustling, cooks rocking, plates moving, glasses clinking, guests laughing – and the whole place just inches from coming apart at the seams – is pure joy.
In beautiful Beaufort we have an incredible hospitality community that I am honored to be a part of. I know that behind every restaurant door in this town there lies a team of hard-working people giving it all to make it happen.
Cooks who peek around corners to watch a guest take the first bite out of a dish that they know was perfectly executed with peak ingredients, and delivered promptly. Chefs that eye each plate as it returned to the kitchen to make sure it was enjoyed. Gracious servers, the front line liason between the idea and the reality of the intended experience, who walk away from a happy table with a satisfied smile, bartenders who with a nod, acknowledge their guests appreciation for remembering their favorite drink. They are all in it for far more than the financial rewards.
Restaurants are businesses and need sales to survive, but the rewards of working in a restaurant are not strictly monetary. Through the preparation and service of the foods that inspire them, great restaurants, and those who work in them, are themselves enriched by taking care of their guests. That is the invisible, intrinsic, and perpetuating dividend.
The relationships forged each day, also become part of that dividend. Getting to know the people that supply your food and what goes into the process, honors the food itself and their efforts. Meeting SeanO from Lady's Island Oysters not only introduced me to his incredible local oysters, but through that friendship came the opportunity to forage for Golden Chantrelle's in his secret spots. Michael from Mibek Farms not only supplies me with his incredible Black Angus beef, he introduces me to all his customers while I hang out on his tailgate eating fresh dumplings each Saturday at the Port Royal Farmers Market.
Getting to know the people who are your guests is perhaps the greatest reward in this business. Not only are you honored by their patronage, but their friendships and contributions become part of the fabric of the community a restaurant creates.
Each night, music from Stacie's playlist fills the air. David's donated vinyl sits ready for its chance. Karen's infinity candle glows as a centerpiece. Thoughtful gifts of pasta, of boiled peanuts, of fresh figs, of loquats, of bay laurel, of coconut cream pie, and so much more arrive just because. Those kinds of contributions and acts of kindness never show up on a balance sheet.
As a writer, I am inspired to tell those stories that reinforce the importance of community, at and around the table, and soulfully connect us.
The joy of dining with old friends, the joy of dining with new, the joy of eating a eating a ripe tomato still warm from the sun, the joy of spilling a bucket of steamed crabs over a copy of Lowcountry Weekly with a cooler full of iced beer.
Hope you enjoy . . .

John Marshall owns the Old Bull Tavern at 205 West Street in downtown Beaufort. You can reach him at chefjohnmarshall@gmail.com