Lowcountry Weekly takes you to the Starving Artist Cafe
Editor's note: Each month Lowcountry Weekly invites you to dinner. Or lunch. Maybe even breakfast. This is not a restaurant review. The Big Idea (with apologies to Ernest Hemingway) is to provide you, dear reader, with a vicarious culinary experience, to share something of our rich and diverse food culture and the individuals who labor so hard to put it on the plate.
Our "moveable feast" is a sort of loosely organized, roving dinner party seeking out the best eating experiences the Lowcountry has to offer – high end, low end and every end between. We are dedicated, we are hungry and the food is out there.
"I was at this restaurant. The sign said "Breakfast Anytime." So I ordered French Toast in the Renaissance." – Steven Wright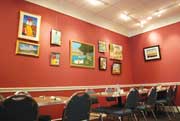 Breakfast. The most important meal of the day (according to your mother and the U.S. Department of Agriculture), and the most neglected. The majority of Americans are too busy rushing around in a semi-conscious state of panic, readying themselves to leap back into the giant pneumatic tube we call The Rat Race to bother with breakfast – real breakfast. And what do you know? An hour after we're at work the last wave of the morning's caffeine or sugar rush leaves us high, dry and twitchy as a long-tailed cat in a room full of rocking chairs. Listen to your mother. Eat a good breakfast. We know a place…
The Lowdown
Location: Adjacent to the Inn at Town Center, 2001 Boundary St.
Atmosphere: "Relaxed, open, friendly."
Motto: "Welcome home."
Cuisine: New England-style diner/deli food.
Alcohol: Not yet
Serving: Breakfast and lunch. Breakfast served all day. Dinner's in the works.
Etcetera: Lunch is available for delivery. Free wi-fi.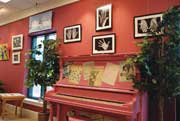 The story behind the Starving Artist Café is one we've heard before but with a different angle. Pat and Patti Aveni (husband and wife, respectively) vacation in Hilton Head and fall in love with the Lowcountry. Eleven years and a couple of businesses later, they're still here. Pat got into the plumbing business along with his son-in-law, Doug Pine. Patti eventually opened the Village Art Emporium in Port Royal, which she says "is the reason we have the Starving Artist today, 'cause I starved down there for a year and three months."
"My dad had a diner back in Connecticut when I was just a kid," says Donna Pine. "He talked about doing another diner and my mom wanted to open an art gallery closer to town. They ended up compromising and this is it." The Starving Artist Café is proof that compromise can indeed be a good thing, even a tasty thing. The space next door to the new Chamber of Commerce Visitor Center just happened to fit the concept: a working restaurant wrapped up in a fully functional art gallery without a wisp of pretense on the menu or hanging on the walls. Or as Donna puts it, "it's relaxed, open, friendly with a homey feeling where people feel free to look at the art work and chat with the people around them."
That "homey" feel runs from the cash register to the kitchen. "We've got no problem with nepotism here," laughs Donna. Starving Artist is one big family affair with Donna and Patti running the floor and gallery while Pat and Doug stick mostly to the kitchen. The Aveni grandkids help out, as well, and Executive Chef, Anthony Linnen's wife, Sheila, is the café's expert resident baker. Did we mention the Starving Artist offers a full service bakery?
We claim a table near a section featuring Pearce Hammond's vivid scenes of Sea Island Gullah Culture. One piece demands attention: a tall, elegant woman in a crimson sun hat and bright yellow dress holds a picnic basket. A matching red and yellow scarf tied around her neck billows in the sea breeze. A little girl peeks shyly from behind her skirt. In the tradition of Gullah painting, both are faceless. I'm still entranced when samples of homemade muffins hit the table.
On Tape:
Lots of "mmmmmm" sounds.
It's like cake.
Yeah! That's real cream cheese frosting.
And lots and lots of butter.
That (frosting) is ridiculously rich.
Chocolate is good.
Ooh, la la from the griddle
The Moveable Feasters opt to concentrate on the breakfast menu and we've brought along a secret weapon: a very precocious six year-old. When I was six (back in the late Cretaceous) my culinary sophistication was pretty much limited to anything involving chocolate and/or lethal amounts of sugar in boxes with goofy cartoon characters going bonkers (how was this not a tip off, America?). Amelia's much more refined. She's all over "The Artist" French toast.
"It's good because (pause for dramatic effect)…it's sweet." Okay. Some things stay the same.
The consensus opinion around the table echoes Amelia's.
On Tape:
"It's good."
"Very good."
"Man, that's tasty. What is that, almonds?"
"That's really good bread."
This is the kind of French toast you find at fancy hotel brunches between the omelet station and the crepes served up by a guy whose real name may or may not be the Jacques stitched to his tunic. This dish is a lot less expensive ($6.95) and consists of three inch-thick slabs of Sheila Linnen's fresh-baked bread dipped in toasted almonds, grilled in egg batter and served with pecan honey butter. Even with four adults and a kid with a sweet tooth, we can't quite manage to finish it off. That fits the Café's philosophy that no one leaves hungry and most diners leave with leftovers.
Also off the griddle comes the Town Center Sampler, a platter slammed with a pair of fresh eggs, a short stack of pancakes, ham, sausage and bacon with scratch biscuits and a choice of grits or home fries. We recommend the latter – nicely browned, seasoned and finished with parsley. This is plenty of breakfast for two people. The eggs are lightly scrambled to perfection with peppers, onions and crumbled sausage. The bacon is lean and smoky and the buttermilk pancakes, fluffy and light. Even the Veggie Omelet – a choice that produced a few groans around the table – is excellent. The veggies are fresh and full of flavor while the omelet itself is turned just right.
Other highlights off the griddle include the Specialty Pancakes (blueberry, apple, banana, pecan and, yep, chocolate chip) and "Pigs in a Quilt," two pancakes stuffed with chunks of pork sausage.
Paging Dr. Reuben
Apparently there is a long-running feud between New York City and Omaha, Nebraska over who has the legitimate claim to the origin of the Reuben Sandwich. Frankly, we don't care (although my money's on Manhattan). What's not up for debate is the origin of Pat Aveni's variation on the legendary sandwich (he named it after his local surgeon) or that lunches are packed with people seeking an appointment with the good doctor's namesake sandwich. In fact, this edition of The Moveable Feast cannot adjourn until we sink our teeth into what all the talk is about.
The corned beef is moist and tender, piled high, smothered in melted swiss, sauerkraut and thousand island dressing and grilled between two thick slices of homemade rye. While I've never been to Omaha, I have had less impressive sandwiches in real New York delis where such things are supposedly taken for granted. And then there are the onion rings.
On Tape:
Oh my gosh, these are good. They're so tender.
They're crispy.
The batter's sweet. And it doesn't overpower the onion. You need to try one.
(munching sounds)
Wow, those are good.
I'm going out on a limb and saying these are the best onion rings I've ever had.

Please Feed the Artists
The "Dr. Reuben" is reason enough to swim the Broad for lunch, but The Starving Artist is, after all, a working gallery that serves food. In keeping with the theme, Patti's placed a price cap on what she sells. Nothing's more than three hundred dollars. That includes original works by the well-known and the yet-to-be-discovered. In addition to Pearce Hammond, paintings by Mac Rogers share space with Eric Horan's striking nature shots and the silk prints of Diane Mullis Waddell, to name but a few of the fifteen or so artists represented in the Cafe. "Everybody is the same in here," says Patti. "Everybody's starving to be out there. That was the concept."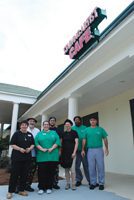 Dione Lucas once said "the preparation of good food is merely another expression of art, one of the joys of civilized living." She would know. As the first female graduate of Le Cordon Bleu, she's credited with introducing America to a simple French staple she considered an art form, the omelet. Whether it's hanging on the walls or perfectly garnished on a plate, art is always a matter of personal taste. You'll find any number of ways to indulge your own at the Starving Artist Café. Oh yeah, and listen to your mother. Have a good breakfast.