The Four Elements of Dining combine to form the Perfect Storm
"All four elements were happening in equal measure – the cuisine, the wine, the service, and the overall ambience. It taught me that dining could happen at a spiritual level."
– Charlie Trotter, famous chef, restaurateur & author
Prologue
I feel a bit guilty about the Charlie Trotter quote. I once walked out of Charlie Trotter's flagship Chicago restaurant feeling a bit slighted by the absence of some of those dining elements. Maybe it was just an off night amplified by our expectations and reservations made weeks in advance. Perhaps it was the overwhelming sense that we were being run through some sort of manufactured experience. The evening wasn't an exquisite blend of those elements so much as it seemed to be a kind of fine dining ride. Things whizzed by so fast I felt in need of a seat restraint. It was sort of like one of those 3-D rides at Universal only with expensive wine and tiny, pretty food.
I hate tiny, pretty food.
Trotter's right, though. At its best dining – and by no means does it have to be "fine" – is indeed a combination of elements that fit and flow in harmonic convergence, suspend time and space and elevate conversation to poetry. At its less than best, it is an exercise in alchemy wherein one or more of the elements usually render the entire experience leaden. At it's worst it's Red Lobster.
For the three partners behind Breakwater the opportunity to create the ideal culinary vessel meant building it from the ground up. It also meant starting from scratch and shutting down the small, funky – and very popular – tapas bar and bistro on West Street and making a giant leap of faith two blocks east to Carteret. In essence it was a bit like trading in a slightly leaky, beat up little runabout for a big, showy custom-built yacht.
"We were out of our comfort zone over here," says Co-owner and Manager, Donna Lang. "It was an entirely new space and concept and a lot bigger."
"Three times the volume," says husband, partner and Executive Chef, Gary Lang.
"We had to learn how to run a high volume restaurant."
"It took us the first couple of months to really figure it out," says Co-owner and Executive Chef, Beth Shaw. "I mean we knew we were going to be busy, but we didn't know we were going to be that busy."
The new Breakwater is the culmination of the dream and vision of the three partners and the cumulative effort of a phalanx of local designers, artists and craftspeople. (Get more online at www.lcweekly.com) Like the sleek, stylish custom crafted vessel she is, the new Breakwater weathered her first year of service in fine form.
"We're as busy if not busier now than when we first opened," says Chef Shaw.
"We've stuck to our menu plan," says Chef Lang. "We've stuck to our wine program, which has been very successful, and we've gotten more efficient."
No ship sails itself, and it takes just a few minutes in the place to realize that the staff here is very special. Donna Lang is quick to point out that much of the staff is made up of long time Breakwater veterans, and a year into the new enterprise, very few changes have been made, even among the rookies.
The biggest change, of course, is the restaurant itself. Donna describes opening night as a time of "shock and awe." I was there. People walked through the doors of the former furniture warehouse and their lower jaws hit the floor. "They just didn't know what to expect," she says. "It's like walking off of Carteret Street and into someplace in New York or Atlanta."
"Our tastes are more modern," says Gary. "We asked the designers for it and that's what they gave us. I call it Modern Urban Chic." The rest of us just call it stunning, a graceful blend of style and function underscored in shades of grey, red and white intimately illuminated by vintage George Nelson bubble lamps and adorned with the original work of local artists. Even the bar has a classic cocktail, jazz era salon feel about it. (Read the special Breakwater edition of Life Behind Bars online at www.lcweekly.com.)
So how did they know that such a radical departure would float in a town known for it's history and tendency toward stodginess?
"We didn't" chorus the Langs.
"It was all a leap of faith," says Gary, "We honestly thought we were going to hear a lot of complaints from regulars about missing the old Breakwater."
That hasn't happened. What has happened is something that was impossible in the old Breakwater. Or as we noted after the grand opening last year, "If Breakwater's much smaller, humbler digs on West Street can be compared to a chrysalis, this is the fully formed butterfly – a thing of unexpected beauty and elegance." These qualities run deep.
"There is a difference between dining and eating. Dining is an art. When you eat to get the most out of your meal, to please the palate, just as well as to satiate the appetite, that, my friend, is dining."
– Yuan Mei (1716 – 1797), poet, scholar and artist of the Qing Dynasty.
The Feast Convenes
One of the most intriguing aspects of Breakwater (enough with "the new") is the Wine Room – a sound proofed glassed-enclosed space adjacent to the bar framed by its wall of wine. Like the rest of the restaurant it has independently controlled sound and lighting and can be made completely private simply by drawing the curtains. It is an intimate space for sharing an evening of fine food, wine and conversation. This evening it belongs to the Moveable Feast and our table of six.
As our wine selections appear in the restaurant's trademark personal carafes, Donna ushers in the Breakwater version of appetizers.
SOUTHERN SAMPLER PLATTERS:
Pickled Shrimp, Crab Stack, Fried Shrimp, Cured Salmon, Fried Oysters, Smoked Duck, Pimento Cheese, Shrimp Salad
Each platter comes with a selection of three house made sauces: cocktail, tartar and remoulade (or as one of the company christens it, "Tarted up French mayonnaise").
Each platter with its four beautifully presented tapas samples is a chef's palette of texture, color and local flavor. The Cured Salmon topped with a flourish of fresh dill is a swirl of red and green. The Pickled Shrimp are a sweet, juicy pink with brigtht crimson tales while the flash fried version is so lightly battered that its naturally robust color comes shining through. The Fried Oysters are a deep golden brown and the Smoked Duck is rare and thinly sliced into a fantail accompanied by a portion of amber fig preserves. The aesthetic is simple and lovely.
Glasses are raised. Platters are passed. Another Moveable Feast is underway.
"The oysters and shrimp are simply beautifully fried."
"The batter's incredibly light and crispy. No grease at all."
"Sometime's duck can be too chewy. This is very tender and a nice balance of smoke and richness."
"The crab tastes really fresh with just a hint of zip to it."
"That's a lemon aioli with dill. It's so subtle."
"Just to be able to graze among all of these things is fabulous."
Indeed. The two platters offer up more than a taste – an appetizer in the truest sense of the word – for all six of us. The Cured Salmon is buttery and complex without being overpowering. The luxurious fig preserves pair nicely with the Smoked Duck – also complex – while both the Crab Stack and the Shrimp Salad are fresh and bright. The Pickled Shrimp is tender and tasty, not at all overwhelmed by the red onion, lemon and capers used in the pickling process. If anything the natural sweetness of the shrimp is sharpened a bit. Both the Fried Shrimp and Fried Oysters are instant Feast favorites – light, crisp and packed with flavor. Even the Pimento Cheese – Breakwater's pepper laced, supercharged version of "Southern Caviar" earns kudos from feasters not normally fond of the usual bland, mayo drenched stuff.
"That's awesome pimento cheese."
"Yes it is."
"I guess it's an acquired taste."
"If you're from the South there's nothing 'acquired' about it. It's more like required."
The New South Cuisine
"Southern cooking has a reputation for being pretty heavy and fattening," says Chef Lang, "It's old style farm cooking where everything is sort of based on the fat from the pig. Fat tastes good and pig tastes good and that was in everything. What we're doing at Breakwater is taking those traditional Southern cooking styles and trying to lighten them up and modernize them a bit. "
The expanded space and state-of-the-art kitchen also means the chefs can actually do what chefs do best: spend time cooking and creating. Chefs Lang and Shaw also saw the new space as a clean culinary slate, the perfect opportunity to experiment, grow and try new things. The concept of
starting over applied to the menu, as well. The lone survivor was the house favorite, Tuna Tartar.
"A lot of people wanted us to keep the old menu," Chef Shaw explains, "but Gary and I didn't want to do it. We wanted to go to a different level of food and we decided to go the Southern route." This route also runs through the region's farms and fisheries as the Chefs incorporate as much locally sourced produce as possible. "Fun, fresh & local" is the mantra.
TAPAS:
Tuna Tartare
Grilled Lamb Rack
Black Pepper Seared Beef Carpaccio
Cornmeal Dusted Diver Scallops
It's important to note that during these excursions a great deal of patience and restraint is required of the participants at the table. The reason has to do with the first rule of the Moveable Feast: no plate is touched until it is photographed. We do this in real time as the food comes out which can be a challenge with the entire table poised for action with forks in hand, nervously clinking wine glasses in anticipation.
"Wait! He didn't shoot that yet. Did you shoot the lamb?"
"Yes. I shot the lamb. Send over the scallops."
Look around. These shots are not the product of studio lighting or a food stylist or even a seasoned
photographer (trust me, I'm not). This is quite simply what comes out of the kitchen before it is set upon by our ravenous horde of gastronomic adventurers. What you see is what you get.
"The lamb's insanely good."
"The scallops are gorgeous. They're not cooked one second too long."
"The tuna is top quality. It's easy to see why it's so popular."
The Cornmeal Dusted Diver Scallops – Donna's favorite dish – is unanimously hailed as perfection. The plump, sweet shellfish sit atop a decadent bed of creamed corn risotto in a butter sauce laced with Tobasco. As someone says, "the risotto just makes you want to stick your face right in the bowl." However, decorum is preserved and no one is rushed to the burn unit with a face full of creamed corn.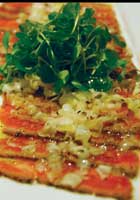 The Black Pepper Seared Beef Carpaccio is thinly sliced New York Strip, drizzled with extra virgin olive oil, sprinkled with sea salt and delicate shavings of truffle infused pecorino cheese. What seems exotic and complicated at first glance is a simple marriage of flavor and texture, each enhancing the other.
While the Tuna Tartar may be the house favorite (and it's very good) I am an unabashed fan of all things lamb at Breakwater. The Lamb Sliders are my favorite bar snack, the Lamb Meatloaf (see below) is just like what mama never made and the Grilled Lamb Rack is a testament to the chefs' central philosophy: don't overpower the food. These gorgeously rare, flame-kissed chops are crusted in herbs and plated on a bed of creamy rosemary grits with julienne snow peas and a drizzle of port mint demi glace. For a dedicated carnivore like myself this is best described as "meat candy." There's a table consensus that the perfect meal might just be a combo order of the scallop and lamb tapas.
ENTREES:
Lamb Meatloaf
Ancho Grilled New York Strip
Seasonal Catch: Triggerfish
Between tapas and entrees the conversation turns to the experience so far, particularly the excellent level of service.
"They understand the spacing. They understand that dining is an event, that it's not to be rushed."
"The staff really knows the menu and the wine. A lot of questions were asked and answered without hesitation which seems to be rare in a lot of places."
"There's been so little that is overly rich – some of the dishes have rich ingredients – but it's not overwhelming. So often when we do this we're all nearly comatose at this point. Not so here."
"And of course this room is an experience unto itself. It's really very special."
So are the entrees, each very different and one almost completely unknown among us. Most of the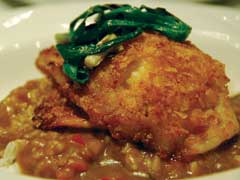 table has never tried Triggerfish and it proves to be something of a revelation prepared Breakwater style. The fish is breaded in Cajun barbecue potato chips (Chef Shaw can't help but grin when she tells us), sauteed golden brown and served over a spicy etouffee. The fish is naturally sweet and firm, handling the subtle heat of the etouffee nicely. The potato chip breading is a simple stroke of genius. Triggerfish is the runaway hit of the evening.
The steak is nicely crusted, simply seasoned, sliced in medallions and served over buttermilk mashed potatoes with seasonal veggies and mushrooms in a savory sauce. Normally I might adhere to the Anthony Bordain Rule of Meat: everything else on the plate is window dressing. Not here. The veggies are a highlight, a little taste of St. Helena in every bite. The meat is properly rare, juicy and tender. I might have mistaken it for a filet had I not been otherwise informed.
"The Lamb Meatloaf is like a warm kitchen on a sheep ranch."
"I'll take your word for it."
"You can really taste the lamb. It's rich but not gamey. "
"This is serious comfort food. And it's so beautifully simple. Makes you wish for a winter's day."
DESSERT:
Key Lime Panna Cotta
Molton Chocolate Cake
Pecan Tart with Bourbon Ice Cream
Dessert at these gatherings always makes me feel like a kid on Sunday night. This means there's school tomorrow. Besides, as regular readers of The Moveable Feast are aware I am no great fan of sweets. I do make exceptions. But mostly during dessert I listen and watch and occasionally take a taste. Tonight there is a bit more groaning than usual.
The Molton Chocolate Cake is a dense, deeply sinful flourless cake with a liquid center, vanilla ice cream and chocolate sauce. I've no doubt this is illegal in Utah. The Panna Cotta is somewhere between cheesecake and custard with a nice balance of sweet to tart. The Pecan Tart vanished mysteriously, but a spoonful of the house made Bourbon Ice Cream hit a final crystal clear note to end the evening. Perfection.
Frank Lloyd Wright once said, "Dining is and always was a great artistic opportunity." That opportunity awaits at Breakwater and I promise you won't need a seat restraint.
The Lowdown
Location: 203 Carteret Street, Historic Downtown Beaufort
Atmosphere: Modern urban chic meets fun and friendly warm Southern hospitality.
Cuisine: New Southern which Chefs Lang and Shaw describe as "younger, lighter, and fresher than traditional 'Old School' deep-fried fare while acknowledging culinary influences from the world beyond." The seasons define the menu.
Alcohol: Full bar with excellent top shelf & well liquors, extensive wine list with more than 75 wines available by the glass, good selection of imported & domestic beers by bottle and tap ($2 pints of PBR), specialty house cocktail menu.
Hours: Serving dinner Tuesday – Saturday from 5:00 p.m. – 9:30 p.m. and Sunday 5:00 – 9:00p.m. The bar is open late. Closed on Monday.
Reservations: Recommended by phone at 843-379-0052 or online.
Website: www.breakwatersc.com and on Facebook.
For more on Breakwater, see Life Behind Bars
Mark Shaffer's email is backyardtourist@gmail.com