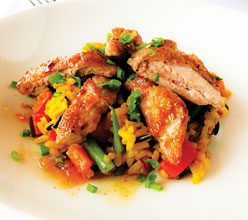 Story and photos by Mark Shaffer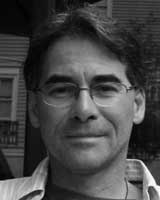 I'm checking my email recently and there's note from Chef Beth Shaw at Breakwater Restaurant & Bar. "Our new dinner menu is out," she writes, "and we've also gone back to Monday, Tuesday and Wednesday specials. I thought it would be a great time for you guys to come in and try some new stuff." There are a lot of things I love about my job, but this sort of thing is pretty close to the top. Hell, this is the sort of thing that makes me sink to my knees and give thanks that I had the good sense to get out of the hard news racket. I mean seriously, I could be out there on the campaign trail slogging after the "presidential" candidates (the horror, the horror).
            No, I left that circus behind to join another kind of circus, one with a much smaller big top and far fewer clowns. A circus based – whenever possible – on self-indulgence and hedonism regardless of the personal risk to cholesterol levels and liver. So, by golly, when I get an invitation from an amazing chef to come try the new spring dishes, I am going to do just that.
            I've known the Breakwater crew since the days of the original location on West Street now occupied by the Old Bull. Partners Gary and Donna Lang and Beth Shaw opened the Carteret St. location in late 2009. I described it thusly:
            "…it is instantly apparent that just like the throw-back leather banquettes (I had to look it up) and George Nelson bubble lamps suspended overhead, the personal attention to the patron echoes another era. Maybe this is a little like the vibe in Sherman Billingsley's famous Stork Club back in the day. It's not hard to imagine Frank and Marilyn canoodling in a corner or Rocky Marciano knocking back a shot and a beer at the bar, his knuckles still swollen from knocking out Archie Moore."
            The vibe's still there, the service is still exemplary, as are the cocktails. Meanwhile the lounge has been expanded, as has the Breakwater brand, with a second location in Greenville.
            Chef Lang's in the upstate, but Donna hangs out to drop a comment now and then. Beth and Executive Sous Chef Megan Horne prepare the dishes for my team of tasters, Everyday Gourmet Debbi Covington and Susan Shaffer. And what dishes. Debbi constantly reminds me on these outings that, "We eat with our eyes first." Indeed, each plate Chef Shaw brings out is eagerly devoured before anyone lays a finger on a fork. Which brings up a question I get with every Moveable Feast, "Is that really how the food looks?" The short answer is unequivocally "Yes." The food comes to the table and I shoot it in the best possible natural light. What you see is what you get.
            The Chef leads off with the Quail Fried Rice and Ricotta Gnudi. The Quail Fried Rice (above) is fresh Manchester Farms quail breast quick seared crispy, tossed with a spicy orange glaze and served over turmeric wild rice sautéed with carrots and green beans.
           Gnudi (left) are gnocchi-like dumplings with ricotta cheese substituted for the usual potato.
            "We start with homemade ricotta," says Chef Shaw, "blanch the dumplings then pan sear them to get them nice and crispy on the outside. We add some arugala, wild mushrooms, tomatoes and finish it with a bit of parmesan."
            "I love the presentation for the quail," says Debbi. "It's almost like a flower. I love the orange glaze."
            "For me quail often seems overpowering," says Susan. "But this is milder, without that gamey taste."
            In my experience quail can be a hit or miss thing mostly due to its unique flavor and delicate nature. Like the Gnudi, this dish is layered with flavor and texture.
            "I love the wilted arugula with the gnudi," says Debbi. "Arugula is one of my favorite things to use in salads, but it's really nice wilted like this."
            It also adds a peppery contrast to the earthiness of the mushrooms and the richness of the dumplings. Like most of these new spring tapas plates, there is a surprising amount of depth contained within such simplicity.
            "This is prime martini food," says Debbi. "Good for sipping and sharing."
            Beth announces the next dish as though acknowledging royalty.
            "Pork belly!"
            Breakwater's version is slow braised in stock with salt and pepper on a bed of carrots and celery for about four hours. But the key is the next step. Once the pork comes out of the oven it's carefully pressed.
            "Often when you get pork belly, you get a lot of fat and not so much meat," says Beth. "When you press it, you get a nice ratio of fat to meat because a lot of the fat is compressed out."
            This pretty much explains why I've not jumped on the pork belly bandwagon just yet. Improperly cooked or prepared pork belly is basically fatty goo. This is something else all together.
            Once the pressing is complete the pork belly is thick sliced, pan seared to a golden brown and served on a bed of ginger parsnip and apple puree with more wilted arugula and au jus. For the carb counters out there, this comes in at zero.
            "Again, the wilted arugula is such a cool idea," says Debbi. "And it's delicious."
            "I've never seen pork belly presented to be so appetizing before," says Susan.
            "The presentation is always wonderful here," says Debbi.
            Amid numerous reminiscences of bad pork belly experiences, we all agree this reaffirms our faith in all things pig. It is indeed a perfect fat to meat ratio. Each bite simply melts in the mouth. And the puree…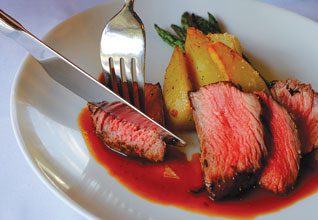 "Oh my gosh," says Debbi. "That is so good! I just want a bowl of that. You expect a kind of mash potato thing and you get this blast."
            "Oh yeah, the ginger just sets it off," says Susan. "It's got this wonderfully bright edge to it – perfect with the pork."
            "Everybody's so carb conscious these days," says Donna. "With that and our cauliflower puree we've got some beautiful carb-free options."
            For my money, this dish is the absolute essence of Breakwater's New Southern Cuisine. It's also a perfectly elegant bar snack. You may now punch three tickets to board the Breakwater Pork Belly Bandwagon.
The Petit Tender (above) and the Nashville Hot Fried Chicken wrap up the small plates. The Petit Tender, sometimes called a Bistro Fillet, is an artisan cut of beef off the shoulder. Chef Shaw marinates it in lavender, rosemary and thyme with a hint of garlic and adds a bit of rub before searing it off on the grill.
"The potatoes are confited in oil and slow cooked until tender," she explains, "and then fried in duck fat."
Everyone sighs.
"I love duck fat," says Debbi.
"They're crispy rich on the outside and tender on the inside," says Beth.
The plate is finished with some grilled baby asparagus and bistro steak sauce.
"With the tapas and the small plates we're seeing that people like to have a small meal," she says. "So this way you can still get a steak without ordering an eight ounce fillet. We can also do the small plates as double portions and make them entrées."
The beef is perfectly rare, tasty and tender with a nice bit of char. Each bite of duck fatted potato is a sin for which we shall all have to atone, yet sin we must and happily. The asparagus is lightly grilled – flame kissed – and tastes of the season.
"Nashville Hot is basically our regular fried chicken," says Beth, "but tossed with our house made hot sauce." She
serves it up with Aligot Potatoes (creamed with gruyere cheese) and sautéed bacon and brussels sprout leaves drizzled with a tiny bit of honey.
It's like a tiny Fourth of July celebration on a plate. The chicken – already some of the best stuff ever – simply goes off like fireworks with the hot glaze. It's hot, but not crazy hot, and the flavor of the chicken still shines through. In a word, "Damn."
"It's one of my new favorites," says Donna.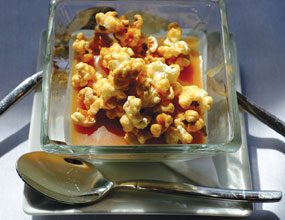 "It doesn't set you on fire," says Susan, "and the chicken is so tender."
We finish off the afternoon with the Popcorn Pannacotta, a light confection topped with homemade caramel corn. It is all at once creamy and sweet, crunchy and salty.
"This is great," says Susan, "and it's the biggest surprise of the day. I honestly didn't know what to expect."
As someone once said, there are all kinds of surprises but none more welcome than the pleasant ones.

Breakwater
203 Carteret Street
843-379-0052
Happy hour daily 5-7pm