You cannot reason with a hungry belly; it has no ears.
-Greek proverb
Editor's note: Each month, beginning with this issue, Lowcountry Weekly invites you to dinner. Or lunch. Maybe even breakfast. This is not a restaurant review. The Big Idea (with apologies to Ernest Hemingway ) is to provide you, dear reader, with a vicarious culinary experience, to share something of our rich and diverse food culture and the individuals who labor so hard to put it on the plate. Our "moveable feast" is a sort of loosely organized, roving dinner party seeking out the best eating experiences the Lowcountry has to offer – high end, low end and every end between. We are dedicated, we are hungry and the food is out there.
The Lowdown
Location: 950 Ribaut Road, directly across from Beaufort Memorial Hospital.
Atmosphere: Greek Isle comfy casual, relaxed.
Cuisine: "Greek, American and an international array of fine food."
Alcohol: Beer and wine
Serving: breakfast, lunch and dinner. Catering is available.
A college professor friend of mine once took a group of students to Spain for a "cultural exchange." The entire bunch unanimously turned up their noses at some of the best food on the planet in favor of the ubiquitous Soylent Green of the Golden Arches. So what does this have to do with a Greek restaurant in Beaufort, SC? More than you'd suspect, really. It seems that we are in danger of dumbing-down our palates to exclude anything even remotely adventurous. This begs the question, if we really are what we eat, would you rather be a Big Mac or a homemade meatball parmigiana slathered in cheese and sauce?
I thought so.
Opah!
The unassuming small white building is almost hidden beneath a sprawling live oak dripping with Spanish moss – not unusual in this part of the world. The promise of authentic, made-from-scratch Greek food served up right in the heart of shrimp & grits territory is – to say the very least – extremely tantalizing. We've made arrangements for the Feast party of four to converge on the Athenian after the lunch rush so we can sample the fare and chat informally with owners, Stefan Balabanis and his mom and chef, Maria. First thing's first: a glass of wine to sip and set the mood while we peruse the specials and the menu.
On Tape:
"We were in Athens. Once a year – we happened to be there – they have a wine festival. One price to get in. They had dancing, food. They must've had a thousand different wines."
"Oh my God."
"Talk about not wanting to get up the next day."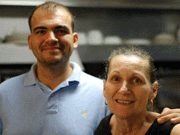 A Family Affair
This place smells like home. And why not? Nick and Maria Balabanis were married for 37 years before Nick's passing in March, 2005. Much of that time was spent in the restaurant business in one form or another, through thick and thin before landing in the current location across from Beaufort Memorial Hospital. Now Stefan runs the floor while "Mama" Maria runs the kitchen. Four decades after leaving her native island of Ionia for a new life in the States, she's never lost what Stefan calls her "Ionian work ethic." Every dish is made fresh, made from scratch, without compromise or short cuts and plated with the pride of a true cook.
On Tape:
"I know why it sounds so familiar."
"Ionia?"
"It's the cradle of Western thought. The very first pre-Socratic philosophers all came from Ionia. The very first philosopher on record, Thales , came from Miletus on Ionia."
"Well, there you go."
Food arrives. Silence.

Maria Balabanis was born near Thales' old stomping ground. Whereas Thales' philosophy centered around a belief that the whole world consisted of water in one form or another, I'm pretty sure Maria's culinary philosophy is more in line with Julia Child's: "You don't have to cook fancy or complicated masterpieces – just good food from fresh ingredients."
The Dish
Stefan and Maria have chosen to serve up the Gyro (pronounced "yee-row") platter, along with Pasticcio (a rich, baked pasta dish) and Maria's take on Eggplant Parmigiana. All three dishes look too good to eat. The photos on these pages have not been doctored. These are the actual plates as they came out prior to being greedily consumed by our participating Feasters.
As the food arrives the place begins to fill up. "I should put you on the payroll," jokes Stefan. "It's never this busy this time of day." Looks like we'll have to navigate these dishes on our own.
On Tape:
Indistinct muffled comments, groans of delight/ecstasy, much clanking of cutlery, flatware and glass.

The Gyro – in this case beef – gets its name from the preferred method of roasting on a vertical spit like a gyroscope. The spiced meat is sliced off as it cooks, served with fresh lettuce, tomato, onion and pita bread with Maria's own Tzatziki – sour cream, chopped cucumber and garlic. The creamy, tangy sauce compliments the subtly spiced meat. Roll it all together in the soft grilled pita and you've got something close to what old Thales himself might have preferred for a light lunch on the go.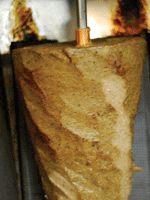 Pasticcio is essentially Greek baked macaroni with meat sauce topped with a thick layer of béchamel sauce, a rich marriage of flower, milk and cheese. This is what mac & cheese wants to be when it grows up.
On Tape:
"Mmm. Usually it's ground beef and ground lamb and spices. You can taste the cumin and the cinnamon. And then it's topped with this really rich béchamel sauce and baked. All kinds of different noodles and cheeses."
"Wow. You can really taste the meat and the spices."
"Just delicious. Delicious."

The term "comfort food" is almost as overexposed as "supermodel" (do they all have powers?), but the next time you feel the need to soothe your culinary soul, Feast highly recommends you do so with a big, melty slab of Maria's pasticcio. And a nice nap.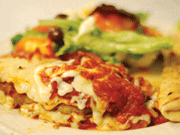 Eggplant Parmigiana is not traditionally found in Greek restaurants. However, Maria's taken a hit or miss Italian staple and re-invented it. This is a savory deep dish pie served in a massive wedge. Layer upon layer of cheese and thinly sliced, sautéed eggplant baked together, not your typical Americanized version: a soggy, fried slab plopped onto a bed of indifferent spaghetti and doused with a watery marinara sauce. And unlike that version, Maria's apparently appeals even to eggplant skeptics.
On Tape:
"I don't like eggplant."
"Why?"
"Something about the texture."
"Just give it a try."
A moment later…
"Hmm. That's pretty good."
Feast also highly recommends pairing the Eggplant with an ice cold Greek Marathon lager from the Athenian's nice collection of imported beers.
The restaurant is packed and it's almost impossible to get a word in with either Balabanis.
This meeting of The Moveable Feast adjourns fully sated with Baklava and Greek Brandy.
Second Course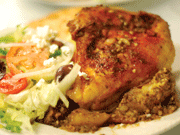 A few days later my wife, Susan, and I return for a late lunch and another chance to chat with Stefan and Maria. Again, a crowd follows us in. In between orders we do manage to cover a few topics while we work on our meals. This is our kind of place. It's friendly, it's casual, there's not a shred of pretense. Sometimes it's noisy, but that's usually a good thing, an indication that everyone's having a good time.
We order roast herbed chicken and an encore of the eggplant parmagiana (yep, it's that good) and are not disappointed. The chicken is golden brown, crisp and aromatic on the outside moist and tender off the bone. The accompanying Greek style potatoes taste like love and, of course, that's the point. This isn't a chain store. This is no model of corporate profitability, there is no brand recognition or marketing campaign aimed at the pre-school demographic. We lament the homogenization of not just America, but of the world. The Athenian Gardens is what a restaurant should be. Real. Good. Food. As long as Mama Balabanis is in the kitchen, that's a guarantee.
Athenian Gardens
843-379-9222
Monday – Thursday: 9am – 8pm
Friday: 9am – 8:30pm