The Moveable Feast gang finds that membership has its privileges…
Story & photos by Mark Shaffer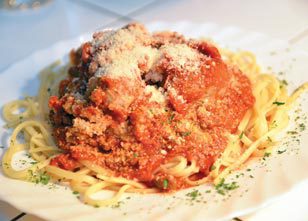 Let's cut to the chase. Right now you're wondering, "So how's the spaghetti at the Spaghetti Club?" It's the obvious question. The short answer is assolutamente fantastico, un lavoro d'amore. And as my colleagues noted many, many times during this meal, both the meatballs and the Alfredo Sauce are "to die for." To. Die. For. But we'll get to that.
   Owners Larry Naylor and Leo Gannon took their own sweet time incubating their new Habersham hotspot. They first looked for a tenant to take over the space and when that didn't happen they decided to go it on their own.
   "Everyone we talked to including our accountants told us we were crazy to do it. So, naturally, we did it," says Naylor.
   God bless the crazy ones.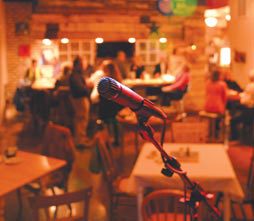 As for the concept, it was pretty simple, according to Naylor. "We wanted a place that we could to come to and our customers could have a great meal and some drinks and not cost $150 a couple," he says.
   "That drove the whole project," says Gannon, "and we've tried to stay true to that."
   They went about shaping the concept in deliberate fashion. The two are partners in a building business, so a lot of the work on tSC was done on weekends and in between other jobs, always with an eye toward detail. It took a year and a half just to collect the gloriously mismatched tables and chairs, a notion Leo took from childhood dinners at his grandmother's house.
   A few things strike you as you step through the tall French doors. The room just oozes casual charm with its eclectic furnishings and art. An original 1972 poster for "The Godfather" (Leo's) hangs above a corner table. Local art is sprinkled among pop culture iconography. The bar is a particular gem – a unique and cozy new addition to the Habersham social scene (read Life Behind Bars for more). When the weather's right you can take your choice of dining indoors or snagging a sidewalk table to enjoy the sunset. A pet friendly rear patio is also in the works. And then there's the stage, born out of Leo's experience as an accomplished musician.
   "I realized that there were so few places that artists of any kind could have a real performance space as opposed to moving tables around," he says. "And I thought I knew enough about it to be able to integrate something else into the dining experience." Gannon views the Spaghetti Club stage as open forum for music, comedy and community voices.

An offer he can't refuse…
   After a long and successful career running kitchens at major resorts and clubs, Executive Chef Paul Hinsley was settling into retirement when Naylor and Gannon came calling. To paraphrase Michael Corleone, "Just when he thought he was out, they pulled him back in." And he's just fine with that.
   "This isn't like a regular restaurant," says Hinsley. "It doesn't have fryers or broilers or a char grill. It doesn't have grease everywhere. It's very clean. We've got a stove and a state-of-the-art pasta cooker, which I've adopted. I may even take it home at night."
   After 46 years in the restaurant business the man who once served as the Executive Chef for The Weather Channel's Atlanta headquarters is having fun and passing what he knows on to Assistant Chef, Wes Lord.
   One of they keys to the restaurant's successful launch is the simplicity of the menu (a single page) and Chef's strict emphasis on consistency, quality and service. No fryers means no fried food and there are vegetarian and gluten-free options, as well. The Big Board features daily specials.

MANGIA, MANGIA!
   Along with Leo and Larry we've got the usual crew, Lowcountry Weekly chiefs Jeff and Margaret
Evans, Everyday Gourmet columnist Debbi Covington and yours truly. Just like a Sunday at Leo's grandmother's house, we've pushed a few tables together and gathered family style in the alcove by the patio entrance. Chef starts us out with fresh bread and dipping oils, one with garlic and red pepper and another with basil, oregano, sun-dried tomato and garlic. The olive oil is fresh and nutty without being overwhelmed by the infusions. Each is brilliant – a velvety blast of flavor on the tongue. I have to make myself stop to save room for what's coming.
  Next comes the Antipasti Salad, which we all agree is a thing of near perfection both on the plate and on the palate, a bright burst of color and flavor.
   "This is a lot of ingredients," says Debbi, "meat, pasta, micro greens, tomatoes, peppers, artichoke hearts, calamata olives and the marinated mozzarella balls. Perfect if you want to come in and have a glass of wine and a nosh. And the price ($3.95) is right."
   Chef's sampling of sauces and pastas run the full spectrum of the menu from the decadent (Cheese Ravioli with Alfredo Sauce) to the sublime (Linguine dressed simply in Garlic, Olive Oil and Herbs). The Bolognese is rich without being terribly heavy. The Marinara, a simple yet deceptively difficult sauce to master, is bright and lively. The meat sauce disappeared out of sight amid much groaning somewhere to the east of my position. But all go silent as the Alfredo makes the rounds.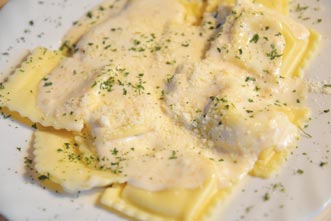 "This is the best Alfredo Sauce I've ever had in my life," says Debbi. "And I'm not being hyperbolic. The first bite took me right back to my childhood."
   For me, it's the meatballs. They are simply too damn good (if that's possible). If you're morally opposed to veal (traditional in most recipes), fear not. Chef uses prosciutto instead, adding an extra layer of flavor. Left alone with a platter of this stuff I could be a serious hazard to myself and others.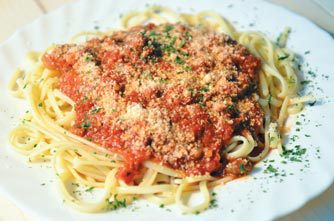 I won't unequivocally call them the best I've ever had (people I know read this column), but I will stick by the initial claim: To. Die. For.
   And lest we forget, every single piece of pasta was cooked to perfection. We highly recommend you join the club.
ETC:
Mornings the Spaghetti Club is home to The Coffee Stop from 7am – 11am, featuring premium roast coffees, bagels, muffins and pastries. Late night means light fare and coffee.
Check out the menu and get more info at www.thespaghetticlub.com
The Spaghetti Club
27 Market, Beaufort, SC 29906
(843) 466-3663
HOURS:
The Coffee Stop: Open Mon-Sun 7am to 11am
Dinner: Tue-Sat 4pm to close, Sunday 3pm to 8pm
Now serving lunch on Fridays from 11am to 2pm
Read about the Spaghetti Club bar.