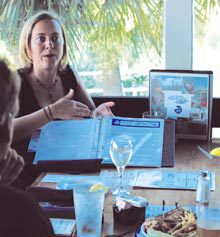 Factory Creek Fish Co. Hosts Landmark Event
November 1
st
Factory Creek Fish Company serves up Beaufort's inaugural Sustainable Seafood Wine Dinner. The event is part of the Sustainable Seafood Initiative headquartered at the South Carolina Aquarium in Charleston. Megan Westmeyer, SSI Coordinator, discusses the program.
Megan Westmeyer: Our Sustainable Seafood Initiative is one of our main conservation programs. We focus on restaurants, trying to get them to make wise environmental decisions on the seafood for their menus. Factory Creek Fish Company and Emily's both just joined the program.
Mark Shaffer: How does it work?
MW: When a restaurant joins the program I meet with the owners and specifically the chefs because they're the ones who do the menu planning and order all the seafood. I do a brief orientation and tell them what Sustainable Seafood is, what our program does and go through our [printed material] to highlight some of the basics and show them the educational resource we're giving them. We urge them to share it with their staff because the staff is the front line of interaction with their guests so the information keeps flowing.
MS: As part of this, you provide the chefs with a wealth of information in an Educational Binder – essentially a big notebook supplemented and updated quarterly.
MW: Additionally I'm an on-call resource, as well. I have a lot of chefs who call, email or text me questions about seafood when they're ordering from purveyors or when they're designing a new menu.
We also have a menu assessment program where we go in-depth. Only about twenty percent of our partners have done that so far. We're really hoping to increase that. This is how a chef or restaurant delves into the sustainability of the menu. They provide all the menu information, where the seafood's coming from and I do the detailed assessments.
They get a detailed report which scores how sustainable each menu item is. If something's not sustainable we provide suggestions and options with better sustainability.
MS: How long have you run these assessments and what sort of results have you seen?
MW: We've been doing these assessments since 2007 and the restaurants are consistently going up in score, taking the information we give them and making better and better decisions. It's very encouraging.
MS: Sustainability is also very trendy at the moment.
MW: We've gotten lucky that it's become so trendy to be sustainable and local over the last five years. The Chefs want to do the right thing. They're making a career out of running a restaurant and so they want good food and they want it to be available. They see the connection between sustainability and what's on the plate.
Reserve your seats for the Sustainable Seafood Wine Dinner by calling 843-575-5822 or email mary@emilysrestaurant.com
Get more on the Sustainable Seafood Initiative at www.scaquarium.org
Read more about Factory Creek Fish Co. at The Moveable Feast