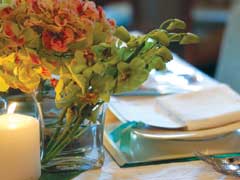 This is one of those stories that might best be served with an opening line like, "Once upon a time." It's the kind of thing that happens in Nora Ephron movies or Sandra Bullock rom-coms (pre-Oscar, of course). It's the tale of two extraordinary people from vastly different backgrounds who meet in an exotic place at just the right time and sparks fly. It's also the story of a pair of world-class chefs and caterers – Christopher and Bethany Hewitt – with a passion to match their motto: Live, love, eat good food!
Christopher and Bethany, Part 1
Christopher Hewitt grew up surfing the celebrity-strewn beaches of upper Long Island by day a
nd working in his family's legendary celebrity-strewn restaurant by night.
"You have to understand that my father had the restaurant in Montauk," he says matter-of-factly. "The Shagwong Tavern's an institution there. My parents were friends with Cheryl Tiegs, The Rolling Stones, Jackie Onassis, Peter Beard. My brother and I grew up at Peter's house." When Christopher was eighteen Beard picked up the Hewitt boys in a limousine with half a dozen Ford Agency models and backstage passes (naturally) to a Stones show in the city. Christopher smiles. "At that age I didn't realize the train ride was going to end at some point. I grew up in those times. It just seemed normal."
Compared to the northern tip of Long Island, Knoxville, Tennessee has 100% less surfing and 86.4 percent fewer celebrities (numbers may vary depending upon attendance of UT home football games). Even so, Quentin Tarantino was cool enough to be born there, as was Bethany Boles. "We had no money," she says. "I was totally clueless about it. My parents were great, but we were broke." In the fifth grade Bethany begged for a subscription to Victorian Magazine ("I don't think I was normal") and by the sixth grade she was planning and hosting formal teas for classmates and neighborhood friends. "I sold tickets for ten dollars each to come to my house for afternoon tea." she recalls "My mom and dad dressed up in Victorian Garb. We had to move furniture because I sold out the dining room space." The twelve year old cleared about $300 in an afternoon. "My mother was speechless." A natural entrepreneur, Bethany funneled her tea party profits into a business making custom hair bows (Bows By Bethany). At sixteen she bought her own car and ran the business until she left Knoxville for college.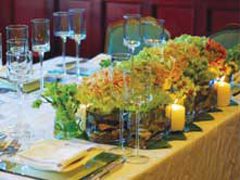 Christopher's approach was more freestyle. He surfed and cooked and traveled the world with his brother, a star on the professional surfing circuit. By the age of 27 he realized that cooking had become more than just a means to an end and he enrolled in the prestigious Culinary Institute of America at Hyde Park. "In hindsight, that wouldn't have worked out if I'd gone there when I was younger," he admits. Timing is everything, it seems. Christopher graduated at the top of his class and was set to travel to Austria and cook for friends who owned an inn there. "I went into New York to get my work visa," he says. During lunch at Bobby Flay's Mesa Grill a friend coaxed the star chef to the table. "I loved his book, Bold American Food," says Christopher. "It really spoke to me. I realized that this was the kind of food I wanted to cook." Flay asked him to come back the next day for an interview. "The meeting was scheduled for 10:30 or 11:00 am," he recalls. "I was across the street at 8:00 am."  Austria never happened.
The Lowcountry Weekly Tasting Party
(The Magnolia Room at The Beaufort Inn, 5:07 pm)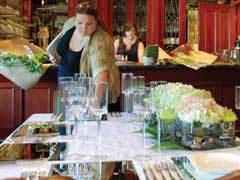 To say that Bethany Boles Hewitt knows how to set a table is a little like saying Michaelangelo is the go-to guy if you need a ceiling painted. Presentation and design are what she does, whether it's for an intimate dinner party of six or giant televised galas like the Country Music Television Awards (she designed the 2004 and 2005 CMTA's). I arrive an hour ahead of everyone else just to watch Bethany and her staff create the table. A long arrangement of delicate mop head hydrangeas, orchids and Fiji mums runs the length of the table. Our places are set with Bethany's own fine china and dramatic, towering stemware.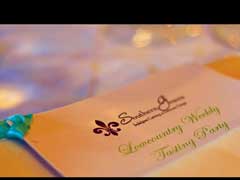 "We've put together a tasting menu for you," says Bethany. "You each have one with all the information on it."
We do. Each place setting is adorned with a three-page set of tasting cards bound at the top left corner with a single elegant bow – a Bethany Bow. Wait a minute, three pages?
"We really hope you haven't eaten in the last seven days," she says. Something makes me think she's serious.
Starters
Smoked Salmon Lollipops
Southern Mezza Platter
Beaufort Bay Shrimp Wraps
Angel Wings
Southern Shrimp Sushi
She Crab Bisque
First out are the Smoked Salmon Lollipops, one of SG's signature hors d'oeuvres and among the most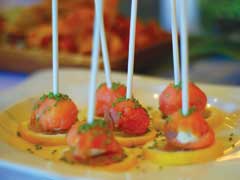 popular at catered events. "It's been around as long as the company," says Christopher. Like most of what Southern Graces has to offer, this is an exotic spin on something that is really very simple. In fact, this is literally simplicity on a stick: cream cheese dressed up with citrus and herbs, wrapped in smoked salmon. All at once it's creamy, savory, bright and so very, very rich – the perfect nosh to accompany a cocktail up to the task, say a vodka martini? The table goes silent as the pops are passed.
"This is what appetizers are supposed to do: make you hungry for more."
The Southern Mezza Platter is a new addition to the fall lunch menu at the Inn. The collection of house-made chips, pimento cheese, relishes and pickles disappear a bit too quickly. Clearly we've not come to terms with the idea of pacing ourselves. The pickles are a consensus "outstanding." I admit that I'm fickle when it comes to pickles. I can take them or leave them most of the time. These I will take. In fact, I will come back for them.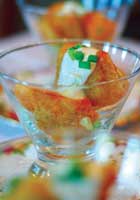 The Angel Wings are Christopher's answer to Buffalo Wings, only without all the mess and effort. Boneless chicken is marinated in a soy-based sauce then slow roasted overnight, stuffed with cheese, wrapped in a won ton and topped with blue cheese dressing. It is an elegant twist on an old party staple. "We are an event company," says Bethany, "and as caterers it's always a challenge to come up with something unique and fresh."
Our resident wing afficianado proclaims them to be "Incredible. So much more delicious than any wing I've tasted." I am inclined to agree. Memo to self: Pre-order a gross before the Superbowl.
The She Crab Bisque is a dichotomy, somehow rich and light at the same time. It's loaded with crabmeat and perfectly laced with sherry to bring out every bit of the so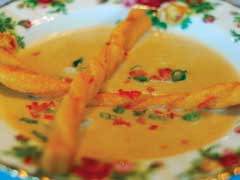 up's decadent potential. The table unanimously votes it "Best She Crab Ever."
The Beaufort Bay Shrimp Wrap served as Southern Graces' culinary calling card during the 2008 Shrimp Festival. "This was the first thing we really ever did in Beaufort," says Bethany, "and we won. It was so much fun." Succulent local sh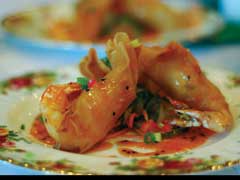 rimp are stuffed with crabmeat and sausage and wrapped in a spring roll with cucumber slaw and a sweet chile and garlic aoli. I still remember biting into one at the festival and wondering who are these guys? Southern Graces literally came out of nowhere to take the top food prize that year.
"This is our Southern Shrimp Sushi," Bethany points out as the plates are set down. "This hors d'oeuvre won the Georgia Professional Shrimp & Grits Cooking Competition down at Jekyll Island."
This is bold food, indeed. Essentially this is shrimp salad rolled in smoked Gouda grits wrapped in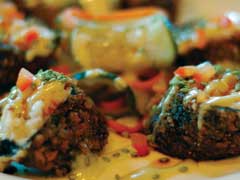 Nori, crusted with panko and fresh coconut and flash fried. On the plate it's topped with a wasabi aioli and a soy reduction. Brilliant.
"When Christopher and I met he had never heard of a grit," laughs Bethany. "I told him I wasn't sure if this was going to work out 'cause I'm a grits kind of girl. Obviously, he figured it out pretty quick."
Christopher and Bethany, Part 2
Christopher soon rose to Executive Sous Chef at Mesa Grill. With the exception of a year running the Manhattan Harley Davidson Café ("Bobby told me not to do it for the money."), he spent the better part of a decade with Flay. "It was great. I did two episodes of Iron Chef with him, got to travel all over. It was just an incredible experience," He says. But eventually he needed a new challenge, something beyond the confines of even the most extraordinary restaurant experience. He developed a passion for recreating that experience at all sorts of events and under every circumstance imaginable. Christopher catered the New York premiers of the first three Harry Potter films. On the flipside he says, "I have literally cooked in a broom closet."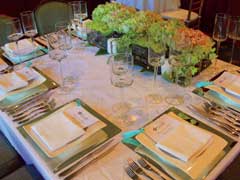 Bethany sailed a similar course. After college in Nashville she spent time abroad cultivating a newfound passion for cooking and entertaining. She returned to Knoxville and formed the first incarnation of Southern Graces Indulgent Catering & Delicious Design, quickly becoming a fixture on Home and Garden Television and a rising star on the catering circuit.
In 2004 they were both attending Catersource, the annual industry trade show in Las Vegas when they bumped into each other on a bus.
"It was the first night of the conference and the first event," recalls Bethany "and I got on the bus and sat beside Christopher."
"Actually I sat beside her," he points out.
"He's right. He sat beside me. It's true."
What happened in Vegas, did not stay there (it never does). After splitting time between Knoxville and New York, they tied the knot and moved to Nashville where they worked extensively with recording industry big wigs and Country Music Television.
"Nashville's a really cool, hip town and we had a good thing going with CMT," says Christopher, "but I just had to be near the water."
"It's in his blood," says Bethany.
(Read the exclusive interview with Christopher and Bethany Hewitt at www.lcweekly.com)
Salads
Fried Green BLT Salad
Vertical Cobb Salad
Lowcountry Chop Salad
I like to think that even the simplest salad is a litmus test of a restaurant's commitment to A) fresh, local ingredients and farmers, or B) the big truck that delivers the exact same bland, corporate-grown, pesticide laced junk to everyone else. It's like buying seafood at a supermarket: most of it's foreign, farmed and traveled farther than Diogenes in his search for an honest man. Meanwhile the good stuff's right around the corner. It's fresh, it's local and in most cases it's also less expensive.
In my experience it's rare for a salad to inspire anything close to awe. Until now I've always been sure that such a salad might exist in much the same way I suspect the existence of extraterrestrial beings – I just haven't had my close encounter yet – until now. All Christopher's Vertical Cobb needs is a little space ship on top sporting a sign that reads "phone home." Epiphany comes in all forms. This one is a molded tower of fried shrimp, chopped egg, avocado, tomato, brown sugar cured bacon (!!!) and Clemson blue cheese on a bed of mixed greens drizzled with black pepper buttermilk dressing. I immediately lose perspective, all sense of pace, and proceed to gorge.
Table Talk:
"This isn't a salad it's a circus."
"The shrimp is unbelievably good. Crisp, crunchy and sweet on the inside."
"Not a hint of grease. None of the fried food has had a hint of grease."
"Every layer's just vivid – so much texture and flavor. The ingredients really sing out."
The Fried Green BLT Salad mimics the classic sandwich with a stack of crispy fried tomatoes and the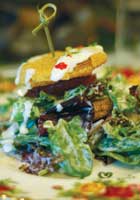 sweet, thick cut bacon on a bed of mixed greens tossed with the peppery buttermilk dressing. "We actually featured this salad at our wedding dinner," says Bethany. "One of the really neat secrets to this is the bacon which is apple wood smoked." The salad is stellar – again, simple ingredients prepared and presented in a remarkable way. But the bacon alone inspires as much comment as anything we've tasted. As the adjectives fly around the table, someone nails it, "This is beyond bacon. This is sublime."
The Lowcountry Chop is a lighter mix of romaine lettuces, pecans, black-eyed peas, tomato, cucumber, white cheddar, country ham, local shrimp tossed with a honey mustard dressing made with Lowcountry honey. "I love chopped salads," says Bethany, "and we wanted to offer something on the lighter side for lunch and do it with local ingredients right down to the honey in the dressing."
Tasting Plates
Shrimp & Sweet Potato Grits
Black-eyed Pea Cake
Tuna Grit Stack
Land & Sea
The Black-eyed Pea Cake was originally conceived and served for a client who wanted a vegetarian alternative to crab cakes for an event. This version is a little sexier, topped with "Shine cured Gravlox" Translated, that's salmon cured in moonshine and finished off with a dollop of light, tangy, citrus-infused crème fraiche. Most of us have eaten black-eyed peas in every way imaginable, except – as someone points out – nobody ever imagined something like this. "The ingenuity of this dish is what's surprising," she says. "On paper it looks like it shouldn't work. On the plate and on the palate it's a simple wonder."
Of course, as everyone knows, wonders never cease – even where something as comparatively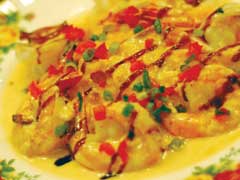 mundane as grits are concerned. Shrimp & Grits is a bowl of ubiquity in the Lowcountry. This used to be classic poor people's fare: grits are cheap and filling and the shrimp are free right out of the creek. Now the dish can be found in any number of variations in just about any place claiming to serve Lowcountry cuisine. Once in a fancy restaurant I was actually served up a bowl of shrimp & grits minus the shrimp – apparently that particular chef's minimalist re-interpretation of a classic. I sent it back.
Even though we're all bug-eyed and bloated by this point, the only sounds audible after the shrimp & grits hit the table are the clink of cutlery on china and subtle exclamations of rapture.  The shrimp are sauteed to perfection, served with a rich, savory prosciutto cream sauce over – hold on – sweet potato grits. The result is strangely, stunningly good. In fact, I was prepared to hate it. I'm normally a purist when it comes to grits and Southern Graces cooks Anson Mills Grits, widely considered to be the gold standard of grits. Christopher's unique approach pushes it to another strata.
Table Talk:
"The over-riding element to everything is the knowledge Christopher has of what goes with what, the things that work together. Money can't buy that."
"Right. Well think about it, the man won a Shrimp & Grits competition in Georgia on his first attempt. And he's from Long Island."
"Bethany says she had to talk him out of wearing his Yankees cap."
"That would have been wrong."
The title on the menu simply reads "Land & Sea." Beneath it the description is somewhat more detailed: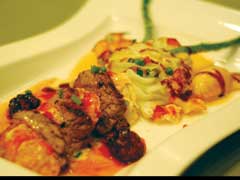 Lobster marinated in Sage Lemongrass then shingled with center-cut Beef Tenderloin medallions offered with Blood Orange Beurre Blanc & Blackberry Gastrique, Whipped Potatoes with Chives & Lemon Zested Asparagus.
The entire table greets this creation with a singular chorus of "Oh, my God!" While the flavors, ingredients and presentations have been beyond impeccable with each plate, this raises the bar to a ridiculous level. This is properly audacious, entirely unexpected and actually quite beautiful to behold. What's more it is another simple thing elevated by design: surf & turf as edible art. "The concept is to make it look like a lobster," says Bethany, "however everything on the plate is completely edible."
Everything on the plate is also amazing and delicious, as evidenced by the fact that even though we are stuffed beyond reason, the platters are nearly polished clean when they leave the table. It is a fitting pièce de résistance to an evening of world-class food, a spectacular experience on every single level.
The Sweet Life!
Peanut Butter Chocolate Crème Brulee
White Chocolate Banana Pudding
Cake Walk Trio (Celebration Cake, Hummingbird Cake, Chocolate Layer Cake)
By this point dessert is practically an act of cruelty. Nevertheless, we press on as the conversation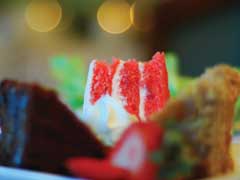 plays out over coffee and the exquisitely decadent sweets.
Table Talk:
(The Magnolia Room at The Beaufort Inn, 7:27 pm.) 
"This evening has been absolutely lavish."
"That's the word I've been looking for."
"I don't know when I've felt so pampered. Everything has been spot on."
"It feels very intimate, very special."
"From the table to the service to the food, everything's been taken to the next level."
"I've had eight different forks."
(Laughter)
"This is hyper food. The presentation is so perfect that you almost don't want to eat it. And because it looks so good, it's going to taste even better."
"In a word: lavish."
Post Script
Contact Southern Graces Indulgent Catering & Delicious Design for your next event. Parties of six or more are welcome at the Beaufort Inn. And don't miss out on the utterly indulgent Sunday Brunch featuring omelets cooked to order, applewood smoked bacon and cheddar biscuits, the Chef's carving station, edible martini grits station and much more.
The Lowdown:
Location: The Beaufort Inn (and wherever your next event is catered)
Atmosphere: Antebellum elegance (the inn is considered among the nation's best)
Cuisine: Laidback Lowcountry gourmet.
Hours: Lunch is served Tuesday – Saturday 11am – 2pm; Afternoon Tea served Tuesday – Saturday 2- 4pm; Dinner served Tuesday-Saturday at 5 pm
Reservations: phone 843-379-0555 email reservations@southerngracescatering.com
Online: www.southerngracescatering.com, www.beaufortinn.com
Etcetera: Accepting cash, checks or credit cards: Visa, Mastercard, Amex & Discover. Guests may bring their own wine to enjoy
The Lowcountry Weekly Tasting Party
(The Magnolia Room at The Beaufort Inn, 5:07 pm.)
Get more Southern Graces online at www.lcweekly.com including exclusive monthly video segments and don't miss Mark Shaffer's interview with Chefs Christopher and Bethany Hewitt. Mark Shaffer's email address is backyardtourist@gmail.com