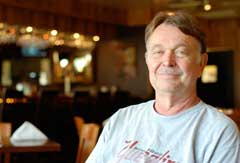 Mark Shaffer chats with Foolish Frog Chef and Co-owner Bob Roderer
A few minutes into a conversation with Bob Roderer, and a couple of things are obvious. First, he's as easy going as a sea breeze on a spring day. I've known and interviewed a lot of chefs and cooks and a surprising number generally come off like Tony Bourdain – which is very cool, as long as you are Tony Bourdain. I get none of that attitude here, not a shred. Second, man I wish we had the time to crack a bottle of good whisky and listen to some of the stories this man has to tell, because I know he's got some doosies. Roderer spent years fishing and skippering charter boats out of North Carolina's Outer Banks before getting into the restaurant business in 1985. Jockey's Ribs is still going strong in Nag's Head while the new restaurant marks the culmination of a decades-long dream shared by Roderer and his long time pal, Beekman Webb (see The Moveable Feast).

Mark Shaffer: One of your top priorities was to find sources for the best and freshest local ingredients for the menu. Coming in from an outside market, was that a challenge at all?
Bob Roderer: No. It was simple. Real simple. All you have to do is ride around the roads here and you can figure out who's growing what. It's real easy to get fresh local produce here.
MS: It shouldn't be too hard to find a tomato smack dab in the middle of St. Helena.
BR: If you can't find great produce here, there's something wrong.
MS: Although I know of a few places that do seem to have that problem.
BR: They're looking for the Big Can.
MS: And you're not all that fond of cans.
BR: I'm not fond of cans. I'd rather not, you know? As for meat, I buy extremely good beef – all the beef I do is certified Angus. My pork's real good because I'm real picky about what I buy.
MS: And then there's the seafood, something you've got a bit of experience with.
BR: Before I got into the restaurant business I fished for quite a while. I've oystered, I've shrimped and crabbed, I scalloped. I flounder fished. I long-lined for grouper for a while and I sport fished for a lot of years.
MS: You know a decent piece of fish when you see it.
BR: Yeah, I've been around fish for a long time. When you fish and you catch fish you know what fish is supposed to be like. You're seeing the freshest – you're seeing it lit up in all its glory. It's good stuff.
MS: And there's great stuff to be had here.
BR: You've got to find the suppliers and you've got to let them know if you're not happy, then you get great stuff. All this winter we were serving local single oysters on the half shell. Not clusters. Singles.
MS: That's pretty rare around here.
BR: That's very rare. You've just got to know where to get them and if you're well established in the area and know everybody like Beek, it's easy.
MS: And having a partner like Beek's very key because it seems like everybody in the Lowcountry either knows or knows of Beekman Webb.
BR: You can't talk to 50 people without finding somebody who knows him.
MS: I've just recently met the man, but I'm pretty sure we share about a dozen mutual friends and his name comes up constantly. You two go back a ways.
BR: 1974. We met in Wanchese, North Carolina at Phillips Boat Yard. He was working in the yard and I was working on sport boats at the time. It was the spring season and that's where you'd come in and make ready for the summer, get [your boat] all painted up and polished and wait for the tourists to come and charter it. Since 1974's a long friendship.
MS: The idea for a restaurant has been bouncing around for a while, then?
BR: I remember coming down and hanging out for a while at different times, cooking and drinking wine and just talking. I already had my restaurant in Nag's Head going and he thought that was really cool, and I told him it was a lot of fun and I had fun doing it – the most fun I'd had in a long, long time. I don't really do a lot of stuff unless I have fun at it. Life's too short, man.  Have a good time.
(Laughter)
MS: Amen to that.
BR: Eventually we started talking about a restaurant. At one time we considered the bottom floor of the Elliott House in Beaufort, but that just didn't work. And then a few years down the road Beek called me up and said "Man, you've got to get down here. I think I found it. I think I found the restaurant." So I came down and it's this old cinder block post office that didn't look like much of anything.
(Laughter)
We tromped all around it and as soon as I walked out back and saw that [marsh view], I said, "Man this is cool. This is real cool." I've always loved this little area here. And Beek said, "Can you see a deck here?" and I said, "I can see it all." It took five years to do and during that time I got sick, had to go on dialysis and had a kidney transplant. But Beek was in no hurry so I hung out and got better and here we are.
MS: It's a hall of fame deck and one of the first things that caught my eye. A great deck – particularly one with a view like that is surprisingly hard to come by around here.
BR: The thing is, so many people come in who've been driving by this place for years and say, "I never knew that [view] was out there." They couldn't see it because this whole property – even the parking lot – was all overgrown.
MS: The "Gone Green" theme applies there, too.
BR: We didn't cut any major trees or do any hard pavement when we cleaned it out. It's kind of like a park, real casual.
MS:  What sort of reaction do you get from first timers?
BR: We'd been open about three weeks and this woman came up to me at the end of the evening as I'm standing by the bar there and she says, "I feel so comfortable here, it feels like I could take my shoes off."
(Laughter)
She felt at home, completely relaxed. I get that comment from a lot of people. They feel at ease here. It's warm.
MS: There's no pretense, which is nice. So when it came to actually hammering out a menu how did you two work it out?
BR: He said, "What do you want to do?" I told him I didn't want to get away from what I do now because I know it well. I don't want to just stumble. Let me do some of the stuff I know how to do really well and have been doing for over 20 years. So we used part of the Nag's Head menu here, but we needed some Lowcountry stuff. So instead of regular grits we came up with the fried grits. Of course there's the Frogmore Stew and shrimp burgers at lunchtime. And the fish: I get Cobia up there but not as much as I can get here. This area's known for Cobia and Cobia fishing.
MS: And it is a spectacular piece of fish, particularly the way you do it here.
BR: We do a lot of Wreckfish because it's only caught off of Charleston. Tonight [for example] we've got Grouper with Mussels, Tuna on the grill and Flounder that's being fried.  The vegetables come from right down the road, either Barefoot Farms or Dempsey's. Everybody's got good stuff.
MS: Speaking of good stuff, we covered most of it in the Moveable Feast – including those amazing ribs and a really unique wine list – but the other key ingredient to The Foolish Frog is music. It's part of the ambience and Beek's integral to that.
BR: Back when we first met he was playing mandolin and I lived on an old Chris Craft – a 1954, fifty-two foot flying bridge command. I was working on that. Beek had an old Duck Island Hunt Club boat that had actually sunk that he bought for a couple hundred bucks and rebuilt. He was living on his boat and about 5:30 every morning you'd hear mandolin coming across the creek. He was doing a lot of Bluegrass and I had an interest in it – I don't play, Beek plays and he's really good at it.
MS: The music's always been part of the friendship and now part of what makes The Foolish Frog unique. The Tuesday night jam is quickly becoming legendary.
BR: Yeah, last week we had 30 musicians playing on the deck. That's a lot of people. They're going to have to start car-pooling.
Visit www.thefoolishfrog.com to see Beekman Webb perform the song the restaurant's named after.