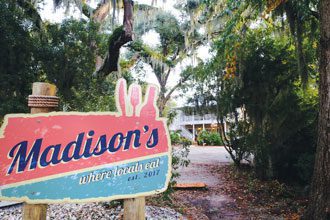 New Port Royal Restaurant Raises The Culinary Bar North of the Broad
Story and Photos by Mark Shaffer
The story goes that not long ago Chef Evan Hallinan's young daughter, Madison, asked if he would buy her a horse. He laughs at the memory.
"We're living in a rented beach house at the time. We don't even have a yard." He smiles. "So the story I tell is that I bought her a restaurant because it's cheaper. Told her a horse costs money, at least with a restaurant we might be able to make some back."
Hence the name on the sign over the door of the former Port Royal stalwart, Moondoggie's (there's an homage on the menu). And like the previous iteration, Madison's is a family affair.
Evan runs the kitchen and brother Brent serves as General Manager. "Our mom retired and moved down, too," says Evan. The staff features some well-known faces from the local F&B scene including our server, Cody and old friend, Thad Lane, Manager and Executive in Charge of Ornithological Development.
The brothers Hallinan honed their skills mostly in the unforgiving culinary arena of Charleston. "I started at a Shoney's in West Ashley when I was a 15 year-old kid," says Evan. Through it all, one influence mattered most for him. "I've always had a passion for what was fresh off the boat," he says.
The brothers vacationed as kids in the Beaufort area and the lure of the place lingered on.
"This reminds me of the way Charleston was when I was a little kid," he says. "Before Hugo. Pre-Wild Dunes. When it was still charming," he says.
That charm is reborn in Madison's with loving care, and old fashioned sweat and blood.
"We got here the day after Christmas and Brent and I literally crawled around on all fours seven days a week until it was time to just stop and open."
This repurposed house is steeped in character. But somehow – until now – it always felt a bit unfinished. The Hallinans have seen to that. Key additions include an intimate full-service bar with pet-friendly outdoor seating. The newly renovated porch wraps around the main dining room – a vaulted chapel of exposed beams and glass. The floors are made of heart pine the original owner salvaged out of old boxcars, polished like tiger's eye by the cargo of time. All nestled snugly beneath towering live oaks dripping in Spanish moss in the heart of Port Royal. This is authentic Lowcountry.
For this iteration of the Moveable Feast I've invited my foodie friends, certified barbecue judges and Madison's regulars Richard Brooks and Brenda Little to lend some perspective along with Executive Editorial Culinary Assistant, T.L Conner.
 
Starters
She Crab Soup with blue crab roe, mace and sherry
Deviled Egg Flight w/ classic, oyster & fennel, pickled shrimp and spicy blue crab
Chargrilled Oysters with white wine, garlic, butter and herbed breadcrumbs
Madison's Branded House Burger
"I love the smoky flavor of the oysters" says Richard.
"They are phenomenal," says Brenda.
Moving onto the deviled eggs, Richard chooses the spicy crab. It's a trend.
"It was delicious, and I'm all about the crab."
T.L. takes the oyster, Brenda scoops up the pickled shrimp.
"It's just a mouthful of flavor," says Brenda.
T.L. proclaims the oyster-topped egg, "Decadent."
The She Crab Soup com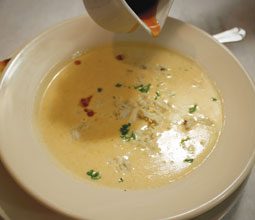 es as God intended with extra sherry on the side and a lot of lump crab meat in the bowl.
"That is a wow," says Richard. "Evan cooked at Hank's, our favorite seafood restaurant in Charleston. When we heard that, we had to come."
Between bites, T.L. is busy scribbling notes under the table. "You'll get them later," she says.
And then the burger; a custom blend of brisket, short ribs and chuck, chargrilled medium rare and topped with bacon, house-made "pate of the south" (pimento cheese) and tomato jam. The Madison's logo is branded into the bun for kicks and served with a heaping stack of fresh-cut shoestring fries. There are plenty of terrific burgers around Beaufort, but this one hits the top of the charts with a bullet. Consensus, once again.
Entrees
Seared Scallops with creamed corn, candied pecan, balsamic and lemon vinaigrette
Shrimp 'n' Grits w/ pork belly, mushrooms and tomato in shrimp gravy over smoked cheddar grits
Stuffed Flounder w/ blue crab and shrimp broiled in white wine
Captain's Platter of fried shrimp, oysters, scallops, crab cake and flounder with hand-cut fries
Chef Evan's choice of entrees showcase a selection of some of the most popular items available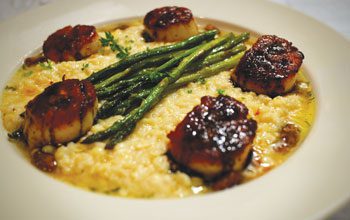 every night. He leads off with the Seared Scallops.
"It's hard to single out any one thing as the best on the menu," says Richard, "but the scallops? He just does them right."
"The texture and the flavor are beautiful," says Brenda. "But the creamed corn is ridiculous."
"His grandmother's recipe which, by the way, has no cream in it."
"The candied pecans make it pop," says T.L. "And scallops are my favorite."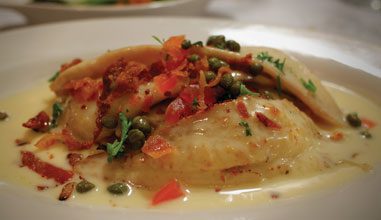 Agreed: the stuffed flounder is bursting with deviled crab, sweet shrimp and flavor.
"There is a lot going on in this dish," observes T.L.
More than 30 years ago, in another life, legendary Southern culinary pioneer, Chef Louis Osteen made shrimp n' grits for me and my TV crew in the kitchen of Louis's Charleston Grill – what many consider the beachhead of Lowcountry cuisine as fine dining. Louis literally put the dish on the map and I still consider his to be the standard by which all others are judged. In the interest of space, I will tell you that Chef Evan's version is as close as I've had since. Period. Moving on…
"The Captain's Platter is our Seafood 101," says Chef Evan. "We start with quality ingredients and gluten free flower – a half & half blend of rice and corn flower. That 50-50 ratio was the key. It also makes the best fried chicken you've ever tasted."
None of us have experienced gluten-free fried seafood before. The verdict is once again unanimous. The crust is light and crisp and allows the flavor of the fresh seafood to bloom. Not your old man's calabash platter.
T.L.'s Notes
Waitstaff: Friendly, personable, unobtrusive. Just the right blend of friendly with attention to detail.
She-Crab Soup: Delicately flavored with mace, rich and creamy. Sherry topper pulled the whole dish together.
Deviled Egg with Fried Oyster: No greasy-ness; bursting with flavor, juicy and tender.
Fries: I'd come here just for the shoestring fries. Finally, someone in this town does them properly.
Crab-Stuffed Flounder: By far my favorite. Delicate yet complex, fills the mouth with flavor; the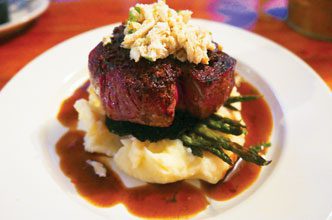 lemon burre blanc sauce adds brightness.
Epilogue
Stuffed beyond reason, we reconvene in the bar to distill the experience. Brenda leads off.
"In Beaufort you want a place where you can hang out, see people, get great food and have a wonderful dining experience. You get all of that here."
"I think everything that comes out of Evan's kitchen is delicious," says Richard, "but the man's a crab meat genius. It started with the deviled egg and just when I thought it couldn't get any better the crab cake came out. The lightest, fluffiest crab cake I've ever had. 99% crabmeat held together with faith." Amen, brother.
Madison's "Where Locals Eat"
925 10th Street, Port Royal, SC 29935
Lunch: Tuesday-Saturday 11am-2pm
Dinner: Tuesday-Saturday 5pm-9pm
Closed Sunday-Monday
Phone 843-524-3663 for reservations
Madison's is happy to cater or host your next event. Find out more at www.madisonsportroyal.com