When Bernadette Guimarin of Placerville, CA popped into Beaufort River Glass on Bay Street and met owner Jennifer Wenk, it was a meeting of kindred spirits.
            "I have a tendency to converse with most people willing to engage in my shop," says Jennifer, "and Bernadette happened to be one of them. We got talking about spun glass and she asked if I had any. I said no. One thing led to another and she revealed what she does for a living and the nature of the business. I was terribly intrigued and completely got their mission."
            Bernadette and her sister Cathy Porter own Forever Glass, a company that creates beautiful keepsake bowls out of recycled glass. And not just any glass, either. They use personal memorabilia: a goblet from a wedding, for instance, or a wine bottle from a special birthday party. They're not just recycling glass; they're recycling memories. It's spiritual and material sustainability we're talking about here.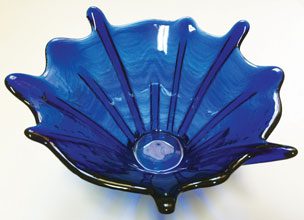 But there's more to the aforementioned "mission." This extraordinary company was founded with the express purpose of providing meaningful work to young artisans on the autism spectrum, like Cathy Porter's son, Richard.
From an article earlier this year in the Sacramento Bee:
            "We started this in 2016," says Porter, who co-founded Forever Glass with her sister, Bernadette Guimarin, a retired U. S. Air Force veteran. "We realized we were nearly out of our fabulous 50s" — Porter is 59, Guimarin 57 — "and I wanted to make sure my son, and others on the spectrum, would have a good way to make a living when my husband James and I aren't around anymore."
            The bowls are "spun," a rare glass-art process that repurposes pieces of buyers' memorabilia, which, with other glass chunks, are mashed and hashed in a firing oven at 2,250 degrees Fahrenheit. When they reach that temperature, which you really can say is hotter than hell, they're molded into the new bowls.
            For a particularly personal touch, the bowls can even be engraved.
            The Forever Glass project immediately resonated with artist/environmentalist/humanitarian Jennifer Wenk.
            "At a very early age, growing up in New York, I was very concerned for those who were obviously challenged," she says. "I would wonder what would become of them. I happen know several people who have young children with autism and continue to be concerned about their future. So, back to Bernadette and Cathy – their mission helps create independence, provide skills and a social environment all in one. I love it and I wanted to be a part of it and bring awareness to "Going Green for Autism."
            (That's the company's slogan.)
            "Beaufort River Glass has always offered, among other things, functional art made from recycled mat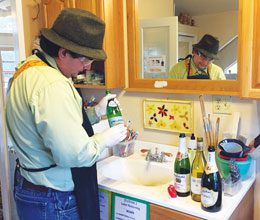 erial," says Jennifer. "It's a personal mission of mine to help people understand the importance of recycling and the need to take it seriously. So given these factors, I thought we'd make a great team."
            And so they do. Beaufort River Glass is now the only "brick and mortar" gallery in the country – besides the Forever Glass studio/shop outside of Placerville, CA – where these delightful spun glass bowls are available for purchase. Along with the custom keepsake bowls, the company also produces spectacular pieces from less sentimental (i.e. random) cast-off glass wear, and several of those are now on display at Beaufort River Glass. Jennifer Wenk will be happy to show them to you, and she'll also help you coordinate with the sisters in California to create your own Forever Glass keepsake bowl.
            Don't let good glass – or good memories – go to waste. Recycle them. Everything old can be new again with Forever Glass.
Learn more about Forever Glass at www.foreverglass.works. Visit Beaufort River Glass at www.beaufortriverglass.com or 812 Bay Street, Beaufort.