Mark Shaffer and his merry band of feasters find fresh local flavor in Port Royal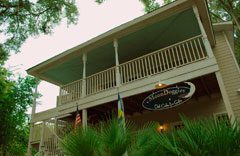 The Lowdown
Location: 10th Street at Paris Avenue in Historic Port Royal
Atmosphere: Relaxed and casual "like coming into someone's home"
Cuisine: "Fresh local seafood & hand cut steaks"
Alcohol: Beer, wine, cocktails
Hours: Tuesday – Saturday, Lunch 11:30 – 5:00, Dinner 5:00 – 9:00.
Reservations: 843-522-1222
Etcetera: The homey, ivy covered screened-in back porch and fenced courtyard is dog friendly with a complimentary serving of roast beef for your Scooby to snack on. Wednesday night is Prime Rib Night (two for one). Live music Friday and Saturday evenings.
Website: www.moondoggiescafe.net
Prologue
First of all, the name MoonDoggies has absolutely nothing to with Gidget's boyfriend of the same name from the old surfer movies of the last millenium. For those of you who have no reference for this, one word: Google. However, co-owner, chef and chief guitar player, Jeff Harris does confess to growing up in northern Florida practically attached to a surfboard. And MoonDoggies' menu does embrace a certain "surf-sational" sensibility (entrees are "Big Kahunas," etc.). The name, though, comes courtesy of Harris' beloved Weimaraner, Miss Tascha (registered as Tascha's Moon Cyndre) who celebrated Super Bowl Sunday, 1994, by whelping ten pups. Whether this was a breed-specific appreciation of the NFL or just Miss Tascha's way of rooting for the Cowboys remains a mystery. Miss Tascha lives on in the restaurant's logo and in the main dining room's famous mural as she watches over her daughter, Dallas Alice, from above on a Lowcountry crescent moon. Were I only as keen on symbology as Robert Langdon, I would have foreseen that we would all be over the moon by evening's end.
Part I: Drinks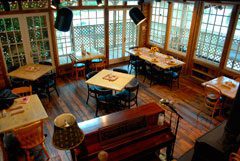 MoonDoggies has welcomed patrons beneath stately, moss-drenched oaks here in the heart of Port Royal's Historic District for nearly half a decade. The homey feel to the place is no mistake – there's a lot of family involved in MoonDoggies. The building is an old converted Lowcountry home just a good chuck of an oyster shell from the marsh and Sandy Point, a nice thing to remember on a moonlit evening if you're in the mood for an after dinner stroll. Most of the first floor is wrapped in a rambling screened porch. A quarter of this is completely covered in English Ivy, floor to ceiling, creating a kind of leafy green grotto. The main dining room, or Lodge Room is a vaulted chapel of wood, exposed beams and windows – rustic and airy. The richly stained flooring is tongue and groove heart pine salvaged by the original owner from old boxcars, polished by the cargo of time. Combined with the intimate lighting and the ivy draped porch the ambience is almost surreal – like a Lowcountry "Midsummer Night's Dream" – in the waning of the day.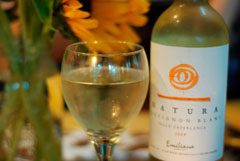 "Could I offer anyone a cocktail?" asks our hostess for the evening. Nancy Vista is part owner and Jeff Harris' sister. What used to be the gift shop off the front foyer will soon become a low-key cocktail lounge where customers "can wait comfy," says Jeff. Don't expect the trendy, roving bar crowd, though. The priority at MoonDoggies, says Jeff will always be about the food, always fresh and local.
"I'm making Mai Tai's and Cosmopolitans this evening," Nancy announces. In a sudden and disturbing move the majority of the table orders Cosmos, including one of the guys (you know who you are). The rest of us wisely elect to sample from the restaurant's compact but well-rounded wine list with Nancy's suggestion of two whites and a red: the Natura Sauvignon Blanc (Chile), the Little Black Dress Pinot Grigio (Italy) and the Bonterra Merlot (California).
Table Talk:
(on the Natura)
"Unbelievably smooth, very fruity – I'm not playing with you – definite hints of apple. A bit of oak, but definitely very light the way Sauvignon Blanc should be.
"That's a winner. That's a Granny Smith."
All three wines represent something terrific. Each is made with organic grapes and is a phenomenal value by the glass or by the bottle. The word "value" tends to crop up a lot these days and often has little or no application when searching a wine list for something that is both drinkable and decently priced. Moodoggies offers both and more so. The Bonterra Merlot (which our end of the table labeled "exquisite") took "Best of Show" at the 2008 Hilton Head Wine Festival. At $8/$29 it's the priciest thing on the menu. There are plenty of bottles under $20 and everything's available by the glass, most starting at around $5.
Part II: Before the Breakers (appetizers)
Fried Pickle Chips with Horseradish Sauce & Ranch Dressing
Roasted Red Pepper & Artichoke Bake
Shrimp on a Stick with Remoulade
Coconut Shrimp with Orange Marmalade Horseradish Sauce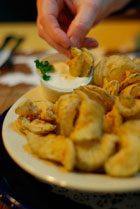 Table Talk:
"I've never been a fan of fried pickles, but I think they may be on to something here."
"It's just the right blend of salty, crunchy and juicy. And the horseradish, that'll open your sinuses."
Fried pickles. Yeah, I know a lot of people love them, but until now I've never had one worth recalling. Whole fried pickles are always hot grease torpedoes and fried pickle spears are usually no better. Apparently the path to fried pickle perfections lies through yonder kitchen door and involves good, garlicky Boars Head dill pickle chips, a lighter-than-air house batter and a secret seasoning that sounds like a World War II film, "Red Sand." Trust me, this is an insidiously addictive thing to put on a table at the very beginning of a long night.
"This is our Roasted Red Pepper and Artichoke-Leek Bake." Nancy sets down a platter large enough to accommodate a medium-sized goat. Okay, so I'm beginning to sense a trend. The table is momentarily speechless at the sight and scent of the bubbly, cheesy dish surrounded by wedges of toasted focaccia bread. And it only gets better. "Y'all aren't going to believe this," she says, "but I've had this recipe for twenty years – it is actually low in calories." There is much rejoicing (particularly among the Cosmo set). The leeks and the parmesan cheese work nicely with the peppers and sharpness of the artichokes in a rich, indulgent sort of way (which, of course, we now know it isn't). This is a perfect snack to share on a crisp fall afternoon.
The Shrimp on a Stick is actually simplicity on a skewer – fresh large local shrimp, peeled and de-veined and grilled with house spices. "The nice thing about these is that they're not over-cooked," someone observes. "They're still nice and succulent. Very nice." The remoulade is laced with capers, adding a unique texture and tang to the sauce.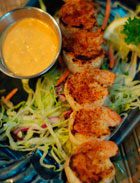 Table Talk (The Coconut Shrimp with Orange Marmalade Horseradish Sauce):
"Take a bite without the sauce – it's very sweet and good and crispy. It's not over-battered at all and most importantly it's not too coconutty."
"Coconut Shrimp is a big menu item throughout the Lowcountry and this one is completely set apart by how light it is. It's almost always over done. Not here."
Part III: On the Ocean's Edge (sandwiches, etc.)
Boomer's Beef on Weck
Buellah's Bodacious Reuben
Pan-fried Lump Crab Cakes
The bread and butter, so to speak, of the MoonDoggies lunch menu are their sandwiches and the undisputed number one bestseller practically since the doors first opened is the Reuben. "It's about 30 percent of our lunch business," says Nancy. Indeed, she tells us, there are regulars who have never ordered anything else in nearly five years of lunches, one of our own among them. The consensus opinion among the devout "Reubenites" around the table is that this is an exceptional sandwich.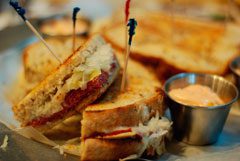 Table talk:
"This is one crisp Reuben."
"We're all saying the same thing."
"The sauerkraut's not soggy, the bread's not falling apart and the beef's not runny goo. It's just perfect."
The Reuben may be the big seller, but according to Nancy the Beef on Weck (short for the Kummelweck roll) is the sandwich that put MoonDoggies on the map. "It's Steamship Round prime roast beef, shaved and cooked in its own juice," she explains. "Because of the salt and caraway seed the rolls have to be made-to-order." The result speaks for itself. In the midst of the passing of the plates, a conversion of sorts occurs. After five years of nothing but MoonDoggies' Reubens, one bite of the Beef on Weck is all it takes. The sandwich is an exercise in simple layers of savory flavor. The caraway and Kosher salt make the roll and add a little extra punch to the beef. It comes with both au jus and horseradish sauce for dipping.
I'm on record in this very publication as an admitted crab cake addict, and good ones can be remarkably hard to find. Too often there's more "cake" than crab. Not here. This is as pure a crab cake as you're likely to find. There's a very good reason for that. This isn't just a menu item, it's a mouth-watering bit of the Moodoggies' philosophy. "We've all lived on the coast our entire lives and seafood's always been a big staple with us – just good Southern cooking," says Jeff. "We thought we'd like to provide the kind of place, service and atmosphere that we'd enjoy. I've never been the type who feels I have to go to someplace to be seen. When I go out to eat I want to have a good meal, enjoy myself and relax. And that's what we try to do here." This is evident all around but most importantly on the plate where the absence of pretense is practically a secret seasoning.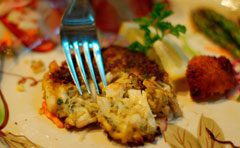 Table talk:
"I don't think there's any filler at all. Just pure crab."
"It's so fresh, I can taste the lady's nail polish who picked them."
"She would have been wearing gloves, you know. But that's still funny."
Our suspicions are later confirmed: there is no filler. "The Crab Cakes really are our pride and joy," says Nancy. Again, as is so often the case with really good food this is a remarkably simple thing done really well. Select lump crabmeat is seasoned with a blend of thirteen herbs and spices (including a hint of mint), sautéed in the butter Nature intended and served with perfectly grilled, fresh baby asparagus and house made hushpuppies. As for the latter, few things aside from religion and politics are capable of inspiring such heated debate as hushpuppies in Southern Coastal climes. MoonDoggies' are dense, sweet and peppery. Discuss.
Part IV: The Big Kahunas (entrees)
Pete's Petite Filet with Garlic Smashed Potatoes
Almond Crusted Pan Sauteed Flounder with Rosemary Potatoes
Table talk:
"You know what's nice about the food here? Everything that's breaded or crusted is really light. It's all been like that."
"I've had almond crusted fish elsewhere, only I couldn't find the fish. Not like this."
"Next time, no eating for three days before."
The Flounder gets high marks for flavor and texture. The crust is golden brown and perfectly crunchy without overpowering the delicate flavor of the fish, a crime too-often committed. Like everything here at MoonDoggies, the portions are (appropriately) doggy bag big. This piece of flounder is not only fresh and right out of these waters, but would more than likely count as a double portion in many restaurants. The mountain of buttery, herbed potatoes offer a nice compliment to the slight peppery finish on the fish. Again, the fresh asparagus is a highlight.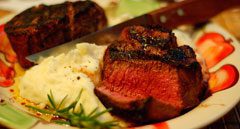 "Here comes the fillet," someone says. Or was it more like "for the love of all that is holy, why did I eat those hushpuppies?" (Wait, that was me.) There's nothing "petite" about the so-called Petite Filet. This is the 10-ounce Big Dog Cut (there is also a 6 ounce Puppy Cut). "This most definitely is not tiny, pretty food," someone finally observes. Okay, it's definitely not tiny – nothing's been tiny, but this is a thing of beauty. This steak is right to my carnivorous liking: big, bloody and satisfying, yet somehow not quite what I expected – a lot like a Quentin Tarantino movie. "We get all of our meat from Islands Meat Market," says Jeff. "And we make a lot of trips to Lady's Island."
The fillet is perfectly crusted and rare (as ordered) yet incredibly fork tender backing up the menu's claim that "we'll bring you a steak knife, but you won't need it." The garlic smashed potatoes live up to their billing, as well, the perfect way to sop up the beef's rich juices and enough garlic to warm Emeril Lagasse's heart. Is it just me or is the room beginning to tilt?
Epilogue: Sin-Sational Sunsets (Dessert)
Moonslide
Key Lime Pie
Caramel Walnut Cheesecake
Chocolate Peanut Butter Pie
Dessert? Really? After all this? No, I couldn't possibly. Oh, all right…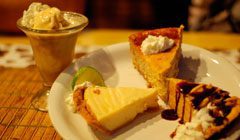 What can I tell you? We are all lightheaded after the steak and I for one am certain that all I need to re-enact Monty Python's infamous "Mr. Creosote" scene is one "wafer thin mint." Nevertheless, we press on against the odds, our judgment obviously impaired by the lack of blood circulating in our brains. As all of these in-house, scratch made confections are rich beyond belief, I shall hereby spare you the repetition of that descriptive. The Key Lime pie is a tart delight (my personal favorite), the cheesecake qualifies as an act of the purest decadence (cover your eyes, kids!), and the Chocolate Peanut Butter Pie is surefire indication of the fall of western civilization as we know it. But the Moonslide is perhaps the most devious of all: an unholy sundae of vanilla ice cream, Bailey's and Godiva Chocolate, in this case the dessert equivalent of a coup de grace. We are done.
Sometimes the simplest benediction provides the best summation for an evening such as this. As the last of us struggle to our feet one of our number sighs heavily, his gastronomic marathon finally run, the odds beaten. "Man oh man, was that good," he says. Amen, brother.
Get more exclusive content online at lcweekly.com and join the conversation on Facebook. Mark Shaffer's email address is backyardtourist@gmail.com