Story & Photo by Mark Shaffer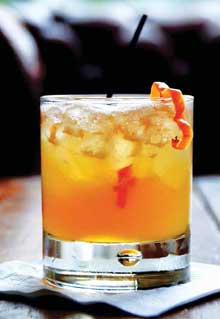 There are two kinds of bars in this world: one kind pours booze while the other sort makes cocktails. The Old Bull Tavern makes cocktails. There's a sense of a bygone era of elegance about the place in general and the bar in particular. It's evident in the bar menu, where the short list of classic beverages includes old stalwarts like the Cosmopolitan and the Sazerac, with the drink's origin referenced beneath the ingredients.
The intriguingly named Corpse Reviver #2 is credited to Harry Craddock, who wrote about the potent mix of gin, Lillet Blanc, Cointreau, lime juice and Pernod in his 1930 classic, "Savoy Cocktail Handbook." He also cautioned that, "Four of these taken in swift succession will quickly unrevive the corpse again."
Something tells me Mr. Craddock would have enjoyed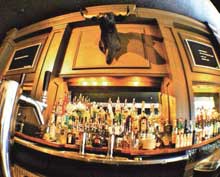 most of the OBT's "house innovations." But I'd bet real money Harry would go straight to Purgatory – the cocktail, that is. My friend and fellow bar afficianado, Dave, first insisted I try the Purgatory. I was skeptical at first. On paper it simply didn't appeal to me: Corazon Blanco tequila, fresh grapefruit juice, honey and (here's the kicker) habanero pepper.
One sip and I was hooked. It's sweet, tart, and sassy, with a slight kick of heat on the back of the palette – a beautifully refreshing beverage for a hot summer's day. In short, it's a drink to die for.
Read more about the Old Bull Tavern at Burger Beat