A Lowcountry Weekly Guide to bar hopping the Historic District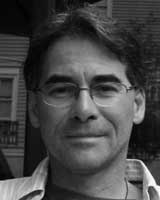 PART ONE: THE WATERFRONT
Story and photos by Mark Shaffer
"The Hitch-Hiker's Guide to the Galaxy"… says that the best drink in existence is the Pan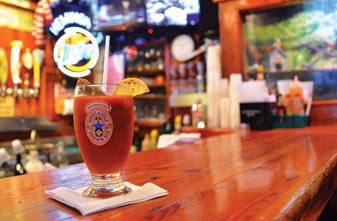 Galactic Gargle Blaster, the effect of which is like having your brains smashed out with a slice of lemon wrapped round a large gold brick. – Douglas Adams, The Hitchhiker's Guide to the Galaxy
I've not noticed the Pan Galactic Gargle Blaster on any local cocktail menus recently, but I'm guessing that if you walked into to some of these establishments and ordered one, you might just get it – or a reasonable facsimile thereof. Beaufort is, after all, known to be a quaint little drinking village with a fishing problem. That means there are plenty of options to consider when cocktail hour rolls around and quite a few more that open considerably earlier.
What follows is a breakdown of some of our favorite Beaufort watering holes. Keep in mind the list is not complete – so many bars, so little time. We'll stick to the waterfront in this outing with pretty much everything else to follow in Part Two. Sure, the task at hand seems never-ending and yet we remain committed to it. And that's just the brand of journalistic commitment you can expect from this column because if you can't find the truth in a bar, where the hell can you find it? Let us begin.
Hemingway's
920 Bay St. (843) 521-4480
www.hemingways.org
Open daily at 11:00am.
"Always do sober what you said you'd do drunk. That will teach you to keep your mouth shut." – Ernest Hemingway  
Papa would approve of his namesake watering hole for a lot of reasons. Chief among them is character. The bar's loaded with it. Located in a subterranean corner of the magnificent Thomas Law Building, beneath the huge columns and impressive palmettos Hemingway's is a first class dive bar – and this is no bad thing. In fact, this makes Hemingway's unique in Beaufort and the bar of choice for local Food Service Industry professionals. This is where bartenders, servers, chefs and line cooks come to drink. On an average night you might need a shoehorn and a can of Crisco to squeeze into the joint. It's also the perfect spot for a pre-lunch eye-opener or one of the bar's famous custom Bloody Marys in the shade of the pergola on the breezy dog-friendly patio. According to the staff it's been scientifically proven that Hemingway's is at least 10 degrees cooler than any other bar in the summer and significantly warmer in winter.
The actual bar – crafted from salvaged heart pine – seats half a dozen patrons with a few tables along the whitewashed brick wall. The place is festooned with an impressive accumulation of autographed currency – an old sailor's tradition. Back in Beaufort's movie-making days this was a hangout for stars and crew alike. The "Wall St." subway sign from "Die Hard: With a Vengeance" hangs on the wall. A faux gold brick from the film sits behind the bar. Happy hour runs from 5-7 daily (bring cash) with 50 cents off beer and $1.50 off liquor and the usual cheap shots, so to speak. Sundays feature live music, exotic adult beverages, complimentary snacks for humans and pets alike (doggie snowcones!), and corn hole. Pretense is strictly forbidden. Fun is mandatory.
Luther's Rare and Well Done
910 Bay St. (843) 521-1888
Find them on Facebook
Open 11 am daily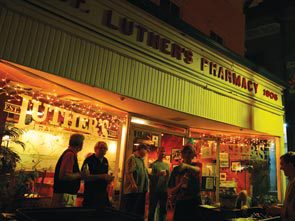 Sam: What'll you have, Normie?
Norm: Well, I'm in a gambling mood Sammy. I'll take a glass of whatever comes out of that tap.
Sam: Looks like beer, Norm.
Norm: Call me Mister Lucky.
– from "Cheers"
If in some parallel universe Cheers was transported from Boston to Beaufort you'd find Norm Peterson and Cliff Claven arguing over "Final Jeopardy" right here. In fact, Luther's has a serious Cheers vibe to it, only with a terrific view of the river, pet-friendly deck and more of The Corps. The Marine Corps flag flies over the shady pet-friendly deck and families pack the place during graduation weekends at Parris Island. The Corps motto "semper fidelis" or "always faithful" certainly applies to Luther's crack team of regulars. You'll find the usual suspects polishing the same bar stools on any given day swapping war stories, fish tales and more than a few lies. If you're a regular here – or even a semi-regular – your usual is in front of you before your butt's on the stool.
The place even looks a bit like Cheers although the big rectangular bar is curiously split level with one half higher than the other, a reminder of the building's long history as the town pharmacy. Portraits of the former owners Charles and Julie Luther hang on the east wall. A sign beneath them reads, "You can't drink all day unless you start in the morning." This is a fact the faithful have taken to heart. Mrs. Luther appears to be less than approving.
When the weather cooperates the massive windows overlooking the park are open to the river breezes. Luther's is one of two spots on the park that double as sports bars. There's a TV strategically placed in every direction. The bar offers a good selection of bottles and taps and is the only place in town you'll find Crispin Cider. There's something going on most nights with trivia on Monday and karaoke each Tuesday and live music Thursday through Saturday. Happy hour is daily from 4-7 with booze & beer discounts. Luther's is a red meat kind of place and Wednesday's burger night is highly recommended as are the steaks and the fall-off-the-bone slow cooked ribs.
Plums
904 Bay St. (843) 525-1946
www.plumsrestaurant.com
Open daily at 11 am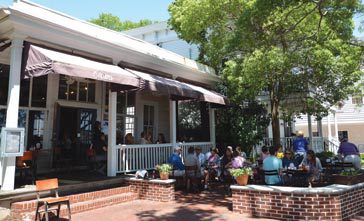 When Plums first opened its doors on Beaufort's waterfront "Top Gun" was blasting away at the box office. Approaching its third decade, the place has aged a lot better than Val Kilmer. Both Plums and its fine dining sister establishment, Saltus, pack in locals and seasonal visitors alike. It's not uncommon to pull up to the bar and strike up a conversation with someone who's been making annual pilgrimages to Beaufort and Plums for decades. I recall a bar conversation with a couple from Chicago who'd been coming to Beaufort every spring for nearly two decades. They looked forward to sitting in the window seats at the bar all year long. "Why here?" I asked, curious. The woman just grinned. Her husband flung an arm out to the view. "Because we don't have that in Chicago," he said. "And here it comes with cold beer and fried oysters." 'Nuff said. That's Plums in a nutshell. When soft shell crabs are in season you've got a better chance of scoring backstage passes to the Stone's farewell show than a bar seat during lunch or dinner rush. But in between it's a great place to enjoy a quiet drink, watch the water and soak up some authentic Lowcountry atmosphere.
Like most waterfront establishments, Plums leads something of a double life – a Jekyll and Hyde life. Thursday through Saturday, after the dinner crowd clears out around 10 o'clock, tables and chairs disappear, amps and speakers materialize and shortly thereafter the musicians to which they are attached. Dancing generally follows.
The raw bar on the Bay Street side of the restaurant is a great spot to enjoy a cold beer and some fresh oysters. Claim a stool and order an icy pint of a seasonal draft with a dozen "on the half" shucked to order right in front of you. And just between you and me, Friday between 5 and 7 p.m. is "Free Oyster Friday." It doesn't get much better on Bay Street.
Q On Bay
822 Bay Street (843) 524.7771
www.qonbay.com
Open every day from 11:00 am – till.
There's a real throwback sensibility to Q on Bay. Stepping into the building off of Bay Street is like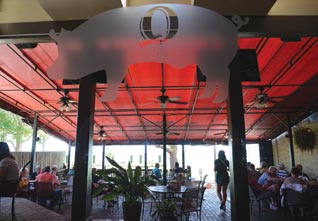 walking into a bygone era. Old timers can recall a long list of previous names over the door. None of them looked like this. The owners call it "upscale rustic" and that pretty much nails it. The dining room off of Bay Street is relaxed and family friendly and the expansive covered porch on the waterfront side is prime seasonal seating. But it's what's in between that we're concerned with and that's the bar.
Four things matter most at Q: barbecue, beer, sports and music. Some might even ask, "What more is there?" Well, here there's also a full bar and a decent wine list, but we came for the 'cue and the brew. They do not disappoint. There's a long list of imported and domestic bottles, but what Q does better than anyone else downtown is draft. Sure, you've got the ubiquitous PBR and Bud Light
because the unenlightened masses demand them. But Q specializes in regional and seasonal micro brews in a wide variety of styles and alcohol content in 11 and 16 ounce pours. Beer flights are also available and a fun way to taste your way through the high gravity stuff while avoiding the usual consequences, which often involves gravity, as well.
Q features a daily happy hour from 4-7 with discounts on beer and well liquor and there's live music from Wednesday through Saturday. Thursday nights bear witness to the growing local legend of the Bull Grapes. There are few spots better to watch the big game on the abundance of giant flat screen TV's or just sit and soak up the laid back Lowcountry vibe. Oh yeah, and there's barbecue – all manner of barbecue. Through exhaustive research we've found that the pulled pork sliders and a fresh IPA go extremely well with baseball. The wings, however, rule. These babies are slow smoked for four hours then fried crispy and served with your choice of any of the house made sauces. Dang, they're tasty.
Saltus River Grill
802 Bay St. (843) 379-3474
www.saltusrivergrill.com
4pm – until
Some years ago I paraphrased Winston Churchill to describe Saltus as "a riddle, wrapped in a mystery, inside an enigma – only with sushi and premium cocktails." I'm sticking by that. If owner Lantz Price's flagship Plums is the grand dame of Beaufort bars and restaurants, Saltus River Grill is her sophisticated urban offspring. If it weren't for the perfect view of the Woods Memorial Bridge the Napa style patio might fool you into thinking you were in California wine country, particularly when the fire pit's ablaze.
Inside this historic Lowcountry building you'll find a metropolitan chic that could easily translate to Manhattan or San Francisco. In fact, most evenings the bar clientele at Saltus may be the best dressed bunch of drinkers this side of the Vanity Fair Oscar party. This is fitting since Saltus hosts the official after party for the Beaufort International Film Festival each year and more than a few Oscar winners have attended. Here we begin the search for Beaufort's best craft cocktails – specialty drinks made from fresh ingredients that are either invented in-house or riffs on classics. Saltus changes its menu seasonally and that includes the specialty drinks. One of the most popular heading into summer is a house original, The Jenny. Each year the bar staff crafts a unique thematic cocktail for the film festival crowd. The 2014 festival marked the 20th anniversary of "Forrest Gump" and thus The Jenny was born. Made with South Carolina Meyer lemon-infused vodka and sweet tea served "up"
with a lemon and sugar rim, it's practically perfect on a dog day afternoon in the Lowcountry.
Saltus boasts a world class wine list, much available by the glass. However, if you really want the '09 Shafer "Hillside Select" cab you'll have to buy the bottle ($380). The bar offers a good selection of draft and bottle beers, including seasonals and micro brews. Saltus is known for its sushi. In fact, it's the only sushi downtown and makes for a great light bite with a cocktail before the nightlife kicks into high gear. Like Plums, Saltus also has a raw bar with select oysters and seasonal specials and be sure to check out Chef Brian Waters' small plates. The country style pate of South Carolina quail and chicken livers is to die for.
Panini's Café
926 Bay Street (843) 379-0300
www.paniniscafe.net
Open 11:00 am daily.
There really aren't too many bad spots to enjoy a sunset view of the Beaufort River with an adult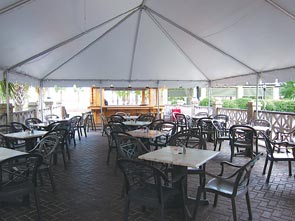 beverage in hand. But the deck at Panini's has a couple of distinct advantages. It's higher than the rest with the only open-air bar on the park. And with the giant tent covering the entire deck it's a perfect spot for the weekend party crowd with live entertainment Friday and Saturday nights from 9 – 1 am.
Prefer to do your imbibing out of the weather? Head inside to the main bar, an ornately carved and canopied 200 year-old testament to English artisanship. It simply begs you take a seat, pull out your journal and order a drink. As for what sort of drink or happy hour and cocktail menus, we're told something new and exciting is in the works. Details to come…
TO BE CONTINUED IN THE JUNE 4 ISSUE