MARK SHAFFER's abbreviated guide to the watering holes of downtown Beaufort
"I feel sorry for people who don't drink. When they wake up in the morning, that's as good as they're going to feel all day." – Frank Sinatra
There's a scene in Lawrence Kasden's 1985 western, Silverado, when Kevin Kline as Paden first encounters Linda Hunt's saloon keeper, Stella. As he basks in the splendor of her establishment, The Midnight Star, the exchange goes something like this:
Stella: You like a good saloon?
Paden: The only place I'm happy.
Stella: Me too. What's wrong with us?
I know what they mean. Like the crew of comically dysfunctional regulars holding down the stools at Cheers, or the desperate gin-soaked refugees from a world gone mad at Rick Blaine's bar in Casablanca, sometimes you want to go where everyone knows your name – or no one does. Or maybe some do and some don't. In fact, that's a pretty good scale. Some places are more Cheers than Rick's and visa versa while some are a bit of both.
Downtown Beaufort has a pretty good selection of watering holes, most attached to restaurants and several cleverly disguised as restaurants. The waterfront off of Bay Street offers half a dozen spots to quaff a cocktail in as many distinct atmospheres. Whether you're in search of one of those pink thingies the girls guzzle on "Sex and the City," a manly shot and a beer, or a good deal on a glass of Spanish wine you can find it downtown.
On The Waterfront…
Saltus River Grill
802 Bay St. (843) 379-3474, Bar opens at 4pm every day.
www.saltusrivergrill.com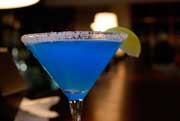 To paraphrase Winston Churchill, this is a riddle, wrapped in a mystery, inside an enigma – only with sushi. The patio looks out on the Atlantic Intracoastal Waterway but it's designed to look like something out of California wine country. The bar and restaurant housed in this historic old Lowcountry building mimic something called Manhattan chic. Carrie Bradshaw and the girls would be right at home sipping those aforementioned pink thingies at the bar. In fact, more often than not the bar clientele at Saltus may be the best dressed bunch of drinkers this side of a Donatella Versace afterparty during Fashion Week. During the week the after hours business crowd mingles with golfers and Day Frippers in from the island. On the weekends this is where the Beautiful People gather to see and be seen, the heady scent of titanium credit cards sweet as magnolia blossom in the air. In other words, this is a class joint and even if you're in search of the perfect appletini (urgh), they've got a Bud Light behind the bar with your name on it. This is South Carolina, after all. We like the Perfect Blue Margarita and a bar snack. Perhaps the flash-seared ahi tuna with the soba noodle salad?
Cheers or Rick's? Rick's. Bogey and Bergman would fit right in. Then again, so would Peter Lorre.
Kathleen's Grille and River Bar
822 Bay St. (843) 524-2500. Open daily at 11:00 am.
Speaking of conundrums…In keeping with the movie references, Kathleen's is a lot like Ruth Gordon in the cult film "Harold and Maude" – that sweet little old lady will knock back a shot, punch you in the mouth and steal your boyfriend given the opportunity. The quaintly elegant dining room off of Bay Street is a bit misleading. So is the large covered porch on the waterfront park. It's what's in between that really counts at Kathleen's and that's the River Bar. During the day the bar is a great spot to enjoy a cold beer, a glass of nice wine or a house special $3 Bloody Mary. But once the dinner crowd has strolled back to their B&B's the seriously dedicated partiers claim the bar. Each night this mild-mannered family restaurant transforms itself into the loudest, most raucous scene of rock 'n roll debauchery known to Beaufort proper. I've listened to bands playing on Kathleen's porch from a seat inside Saltus, a couple of doors away. And sometimes there's Karaoke. In fact, there's some sort of live entertainment every night just check the calendar in the front window. Happy hour runs from 4 – 7 daily with nightly drink specials.
Cheers or Rick's? Rick's. This is as close to a bona fide night club as you'll find in downtown Beaufort. Expect lots of chaps and leathers on weekends.
Plums
904 Bay St. (843) 525-1946
www.plumsrestaurant.com
The restaurant's been a favorite among tourists and locals alike for two decades, which is like a century in restaurant years. When soft shell crabs are in season you've got a better chance of getting backstage at a Stone's show than scoring a porch seat for lunch. But like most waterfront establishments, Plums leads a double life – a Jekyll and Hyde life. Most nights, after the dinner crowd clears out around 10 o'clock, tables and chairs disappear, amps and speakers materialize and shortly thereafter the musicians to which they are attached. Plum's offers a spectacular view of the park and river and the bar's a great place to meet up for a quiet drink and a top notch nosh between lunch and dinner rush. There's no happy hour, but there are drink specials after 10pm during the middle of the week. Tuesday is open mike night and we hear "Wii Wednesday" (bring your own games/controller or use the bar's) is a growing phenomenon. The Davis Marshall Band jams each Thursday.
Cheers or Rick's? Cheers. I'm betting Woody and Sam would dig Wii Baseball. Of course, there would be bar damage.
Luther's Rare and Well Done
910 Bay St. (843) 521-1888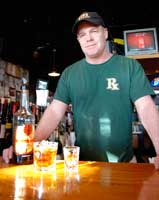 Imagine Cheers transported from Boston to Beaufort and you'll find Norm Peterson and Cliff Claven arguing over "Final Jeopardy" right here. In fact, Luther's has a palpable Cheers vibe to it, only with a spectacular view of the river and a pet-friendly deck. There's also a brimming shot of semper fi, the Marine Corps motto which – come to think of it – translates to what I like to call the Regular's Creed: Always Faithful. In fact, had Luther's been around when Pat Conroy was hammering out The Great Santini, my guess is that Bull Meachum and his pals might have hung out here, maybe even tried that gag with the can of soup. If you're a regular or even a semi-regular, chances are your beverage of choice is on the bar before your butt's on the stool. Claim a table or a seat at the big rectangular split-level bar (curiously, one side's taller than the other) to watch the game or the race on a plethora of screens. We recommend the house's famous wings, and Fred Flintstone would dig the burgers.
Cheers or Rick's? A brief dramatization:
Sam: What'll you have Normie?
Norm: Well, I'm in a gambling mood Sammy. I'll take a glass of whatever comes out of that tap.
Sam: Looks like beer, Norm.
Norm: Call me Mister Lucky.
Hemingway's
920 Bay St. (843) 521-4480 www.hemingways.org
Open daily at 11:00am.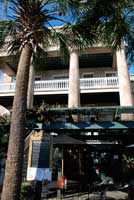 The framed black and white poster behind the bar of Papa drinking from an old pewter tankard kind of sums up the feel of the place. If Ernest were still around I have a feeling you might find his beloved Pilar tired up at the city marina and her master holding court at his namesake establishment probably puffing on a fat Cohiba, smoking ban be damned. This is that kind of place. In fact, the bar at Hemingway's is a first class dive – or as I prefer to term it, a bar bar – and that is no bad thing. Great bar bars are hard to come by in this age of proliferative corporate homogenization. Dive bars or bar bars are never designed. They just sort of happen over time. Hemingway's is a prime example. Located in a subterranean corner of the magnificent Thomas Law Building, beneath the huge columns and equally impressive palmettos, the bar is a lot like a '68 Mini Cooper – unique, well driven, and classic but not for the claustrophobic. The actual bar seats half a dozen patrons with a few tables against the wall. The place is festooned with an impressive accumulation of autographed currency, memorabilia and bar bar bric-a-brac and the clientele is just as eclectic. Late night this is where Beaufort's service industry comes to unwind, which is the sort of ringing endorsement any bar bar worth it's Jägermeister craves without ever really seeking it. Happy hour (4-8pm) is cash only, pay as you go for half priced wells and drafts. There's an ATM on site.
Cheers or Rick's? Cheers, but I'd have to go more Rick's if The Richard Brooks Memorial Press Room had not been de-commissioned.
Panini's Café
926 Bay Street (843) 379-0300 www.paniniscafe.net
Open at 11:00 am daily.

During warmer weather there is no better spot in town to sip a frosty beverage and watch the sun set beyond the city marina than the deck bar at Panini's Cafe. It is also the only full-service outdoor bar on the waterfront for some inexplicable reason and when the torches are lit, there's a definite Tiki vibe. This time of year the heaters are fired up on the weekends, weather permitting. Inside, the restaurant is a cozy multi-level mix of faux Tuscan, although I'm pretty sure the paneling on the western wall could be called Polynesian. Completing this beguiling cultural schizophrenia is the 200 year-old testament to English artisanship at the Bay St. entrance. The ornately carved, canopied bar simply begs you take a seat, pull out your journal and order a classic cocktail – or maybe a pint? The house specialties include bellinis (Prosecco and fresh fruit juice), seasonal martinis and scratch-made sangrias in a variety of flavors and potencies. Sip a drink, catch up on your thoughts and try one of Panini's gourmet brick oven pizzas. There are none better.
Cheers or Rick's? Definitely Rick's. The ambience is almost there. Just add a couple of white linen suits a Claude Raines look-alike and round up the usual suspects…
Off The Beaten Path…
Breakwater Restaurant and Bar
205 West St. (843)379-0052 www.breakwater-restaurant.com
Open 6:00 pm Tuesday through Saturday.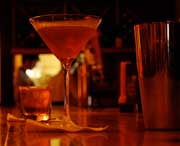 Located half block off of Bay Street up West, the modest storefront exterior barely hints at the jewel within. The space has a Mediterranean glow to it like some intimate grotto suspended in perpetual sunset. Delicate blown-glass lamps and Japanese lanterns provide the mood lighting against the richly finished stucco walls and table linens. But the heart pine bar is pure Lowcountry. Belly up and get into the spirit with a Sazerac or one of Thad's secret recipe Manhattans (we know the secret, but fear the retribution). The wine list is adventurous and eclectic as are the menu and the selection of micro brews on tap. The tapas is highly recommended. You won't regret the Mongolian beef egg roll and you just won't find another experience like this in town. In fact our only problem with Breakwater is that it's not open seven days a week. But we'll take what we can get.
Cheers or Rick's? Rick's with the part of Sascha the Russian bartender played by Thad Lane.
Emily's Restaurant and Tapas Bar
906 Port Republic St. (843) 522-1866 www.emilysrestaurantandtapasbar.com
Open at 4:00pm Monday through Saturday.

Hang a left half a block up West from Breakwater and you're on Emily's doorstep. I'm on record as saying this is Beaufort's living room and I'll stand by that. The restaurant's been around for years, a longtime local favorite, but the current bar is a relatively new addition – and a unique one. The restored antique bar (found on E-bay) is shaped like a giant coat hanger. There's no happy hour but the price of cocktails drops once you set foot on Port Republic. 12 year old Glenlivet is under $7, so is its Kentucky cousin, Woodford Reserve. You get the idea. The wines are terrific values either by the glass or by the bottle and there's a decent selection of bottled beers. In the mood for a nosh? The tapas menu is a packed two full pages. We're partial to the grilled Andouille sausage and the Lobster Ravioli and (gasp!) the Garlic Beef. Three big screen TV's make Emily's a great spot to meet friends, catch a game, catch up on what's happening around town or simply seek shelter from the throngs on the waterfront.
Cheers or Rick's? Cheers, but on any given night, of all the gin joints, in all the towns, in all the world, she could walk into this one.
The Blue Crab
1001 Boundary St. (843) 521-0500
Straight up Charles St., the Blue Crab Seafood Restaurant is one of a few newcomers to stake a culinary claim on the fringe of Old Beaufort. The restaurant is unexplored territory at this writing, but the bar is among the best happy hour deals in town, particularly if you enjoy a good pour for an outstanding price in a relaxed atmosphere where conversation doesn't involve screaming or elbows. Catch some rays on the patio, weather permitting. The motif – like the mosaic tile bar back – evokes the sea in subtle blues and greens in a soothing, relaxed environment. For a quiet drink with friends near Pigeon Point, catch the Crab.
Cheers or Rick's? Rick's but Cliff and Norm would cheat for Happy Hour and inevitably bump into Frasier and Lilith.
Bricks On Boundary
1422 Boundary St. (843) 379-5253
To borrow a line from Casablanca, "Everyone comes to Bricks" – in droves. This is the new "it" spot in Beaufort even though it's among the newest. The reasons are pretty simple: combine an upbeat, casual atmosphere (think Outback without all the Aussie affectations and better lighting) with equal parts sports bar and restaurant. Bingo. A friend recently described the menu as "comfort food with a kick" and that's pretty close, but there is a sense of finesse that elevates something like a run-of-the-mill platter of nachos beyond the usual, generic bar grub to a recommendation. There's a good – and hopefully – growing selection of interesting draft brews and all bottled beer is iced down as God originally intended. Liquor is another matter and in my experience (for better or worse) pours tend to be inconsistent and often a bit on the skimpy side. Pay for a drink, get a drink, that's my bar philosophy. That being said, this is my top pick off the waterfront to watch sports, primarily because of the widescreen projection TV that essentially turns an entire wall of the bar into a sports theater. The bar staff is way ahead of what I'll call the "regulars' curve." Here, everyone knows your name – in short order. All they need now is a guy named Norm.
Cheers or Rick's? Cheers. In fact, I've got friends I'm pretty sure they'll have to cover with a tarp when they repaint the place.
In conclusion, another brief dramatization:
Sam: What's the story, Norm?
Norm: Thirsty guy walks into a bar. You finish it.
Contact the Backyard Tourist at backyardtourist@gmail.com