MARK SHAFFER drops in on the revamped downtown Beaufort favorite for a little shock and awe. And a drink. The Lowdown
The What: Breakwater Restaurant and Bar
The Where: 203 Carteret St. Beaufort SC (in the old Furniture Warehouse location)
The Why: Because it's cool, hip, sexy and sophisticated. And so are you.
The Web: www.breakwatersc.com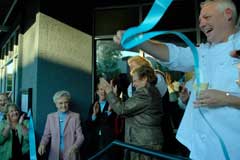 Opening night of the new Breakwater Restaurant and Bar. It's been about five months since "last call" was heard for the final time at the old location, just two blocks away on West Street. Every face in this eager, diverse crowd – particularly the old regulars – bears a similar slack-jawed expression of shear wow. If Breakwater's much smaller, humbler digs on West Street can be compared to a chrysalis, this is the fully formed butterfly – a thing of unexpected beauty and elegance.
"I'm guessing the reaction has been a bit of shock and awe."
A couple of weeks later I'm talking to Manager Donna Lang and Wine Director Terry Sweeney (see the sidebar interview). The other two principal players in this latest chapter of the Carteret Street Renaissance are Chef Gary Lang (Donna's lawfully wedded) and Chef Elizabeth Shaw, both hard at work in the spacious new state-of-the-art kitchen. Just after the doors open at five o'clock and both the bar and the restaurant are filling up fast.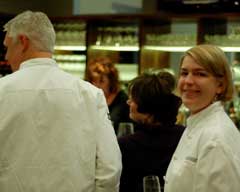 "I think it is shock and awe," says Donna "because they walk through the doors and can't really tell from the outside what it looks like and then their mouths just drop open. It's not what they expect."
Indeed. I'm not exactly sure what my own expectations were – perhaps an expansion on the original theme, a funky storefront fusion of stucco, wood and glass that somehow always made me feel like I'd walked out of Beaufort into a back street in Madrid. The new place has a distinctly less Bohemian vibe. Even the adjectives are more upscale.
"People tell us it's hip and sexy and modern," says Donna. "It's almost like being in New York." Okay, just as long as I don't have to slap anyone around to get a drink.

"But the difference," points out Terry, "is that we recognize the regulars and old timers and we know their names and we know what they drink and we make sure that they're taken care of. So they feel like they're back, they're back home."
This new home is a little like moving into a luxury penthouse after living in your parents' basement – albeit a basement in which everyone loved to hang out. This is grown up, damn it. Great attention and detail have gone into every aspect of the place and it's apparent. The glassed enclosed Wine Room opposite the bar showcases a wall of wines from around the world – the most extensive cellar in Beaufort, nearly all of it available by the glass. The gold-flecked marble of the bar simply demands something like an Old Fashioned or a house martini made with Bombay Sapphire Gin, or (for those of us who spell "whisky" without and "e") a rich, smoky Scotch from the expanded list.
All dedicated bar patrons know that the key to any successful watering hole, from the tony lairs of Manhattan to the smoky catacombs of Boston's South End, is your own butt and what it's perched on. Breakwater is watching out for your butt, so to speak.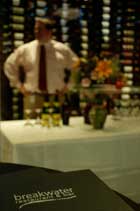 "And that's because of this woman right here (Donna)," laughs Terry "who went to Atlanta and sat on chair after chair after chair until she finally went 'aaaaah'."
"I refused to buy anything online," she says. So devoted was she to finding the most luxurious cushioning for her patrons' posteriors that she undertook this mission while still undergoing chemotherapy. "If your customers aren't comfortable, you're not going to keep them," she says matter-of-factly.
"People take a seat and they don't want to leave," says Terry. "They don't have chairs this comfortable at home." You know something? I really don't.


So with all this style, sophistication and leather the prices have to be pretty luxurious as well, right? Wrong. In fact some of the bar prices have been adjusted down and drinks are actually discounted during happy hour from 5 to 6:30. And just a few yards north of that swanky wall of wine a frosty pint of draft PBR – yes, Pabst Blue Ribbon – is two bucks all night long. And everything on the eclectic new menu can be enjoyed at the bar. "Even if the restaurant's jammed people can come here and have dinner," says Terry.
I'll be dutifully working my way through the menu for some time to come (after all, it simply must be done), but I can recommend a few of my new favorite bar snacks. The Fresh Crab Stack Salad (hand picked crab, grilled corn relish with fresh tomato and basil) is light, bright and refreshing – perfect if you're not looking to fill up. The Cornmeal Dusted Diver Scallops are pan seared to succulent perfection, served with sweet corn risotto and Tabasco beurre blanc for a little extra kick. The Grilled Lamb may be tapas, but it's easily a meal. The plump chops are coated with a savory herb crust, roasted rare and served atop a bed of rosemary grits with julienne snow peas and port mint demi. (Can I get an "amen!"?) But my current favorite bar noshes are the Lamb Sliders, two mini lamb burgers served up in toasty home-made mini-buns with minted yogurt, feta cheese, a pickle and the kitchen's addictive hand cut fries. Dang, they're tasty.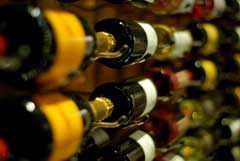 Watching Donna and Terry work the house, it is instantly apparent that just like the throw-back leather banquettes (I had to look it up) and George Nelson bubble lamps suspended overhead, the personal attention to the patron echoes another era. Maybe this is a little like the vibe in Sherman Billingsley's famous Stork Club back in the day. It's not hard to imagine Frank and Marilyn canoodling in a corner or Rocky Marciano knocking back a shot and a beer at the bar, his knuckles still swollen from knocking out Archie Moore. "It's important to make sure people are comfortable, having a good time and getting what they need," Terry explains. "It's my job to recognize people and welcome everybody as much as I can. That's what I like to do."
"We want everyone to have a good experience," adds Donna. "That's the bottom line."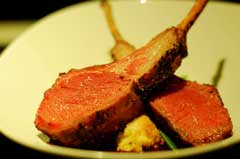 A mug like Marciano wouldn't know from ambience, but this joint is jumpin' with it. New faces mix with familiar ones. The lounge buzzes with conversation underscored with an aural tapestry of cool jazz, popping corks and the clink of glasses. Long time Breakwater bartender Terry Guinn sums it all up. "This is a showcase for what Breakwater's potential always was," she says. Here's to living up to your potential.
Phone Breakwater at 843-379-0052 for reservations or go online at www.breakwatersc.com
Mark Shaffer's email address is backyardtourist@gmail.com