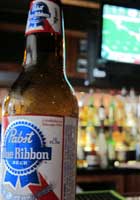 In the interest of full disclosure I have to admit that I'm not usually a big fan of sports bars. In my experience (particularly in major cities) they tend to be overblown in almost every conceivable way. They're too big, too noisy, too chaotic and almost always way too expensive. During a trip to Atlanta last spring we met friends out at a sports bar roughly the size of Turner Field only with fewer bathrooms. We proceeded to spend a relaxing evening screaming trivia answers across the table at one another surrounded by giant banks of video monitors, attended by servers in the usual skimpy pseudo-referee uniforms. How original.
And that's exactly what we're looking for in a sports bar – some sort of originality. Hell, the place doesn't even actually have to be a sports bar (there are a couple in this group). It just has to be a place where we'd actually want to go and watch sports and have some fun with friends. I had help with my friend, Richard Brooks, on these expeditions. In fact, in true sports bar fashion, we occasionally had fun while our teams folded like cheap lawn chairs.
South of the Broad: Bluffton
A guy walks into a bar, part 1
A guy walks into a bar in Cork, Ireland, and asks the barman: "What's the quickest way to get to Dublin?"
"Are you walking or driving?" asks the barman.
"Driving," says the man.
"That's the quickest way," says the barman.
Jocks
95 Baylor Drive, Bluffton (Publix Shopping Center)
Phone: 843.815.7474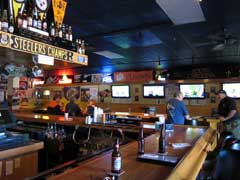 Jocks owner, John Dempsey, grew up a die-hard Steelers fan in Morgantown, West Virginia. So, as you might expect there's just a hint of the black and gold in his Bluffton bar, although it's discretely mixed among an enormous collection of professional and collegiate pennants, posters, banners and logos. "Majority rules here," says Dempsey. "It doesn't matter who you're pulling for. The team with the most fans gets the biggest screen."
"Even the Patriots?"
"Even the Patriots."
Jocks isn't just a sports bar, it's more like a sports temple. This isn't just a place to watch sports it's also a place to participate. The sprawling bar features pool tables, interactive Wii games, NTN Trivia, darts, ping-pong, Tee Golf and the currently ubiquitous corn toss game sweeping the Lowcountry. The bar sponsors an assortment of sports teams throughout the year including co-ed softball and a championship full contact football team. Dempsey also makes sure Jocks is involved in the community. While we watch football he's ironing out the details of a raffle to benefit an injured patron. The object to be raffled off is a large framed and autographed photo of the Steelers' Troy Polamalu picking off the Ravens' Joe Flacco. Perfect.
"We do a lot of fundraisers," he says.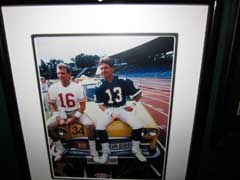 Before opening his own place Dempsey spent a decade as Food and Beverage Manager for Sea Pines and prior to that he opened hotels for Hyatt. The sports bar business might even be in his blood. If the name "Dempsey" rings a bell, it should – literally. He's a distant relative of the legendary heavyweight champ, Jack Dempsey. A modest shrine to the boxer has a special place on a wall among autographed pictures of famous sports figures. The Manassas Mauler would be proud. Jack had his own joint that was something of a sports hangout in its day. Jack Dempsey's Broadway Restaurant was a Manhattan landmark for decades until it closed in 1974. And as all fans of The Godfather know it's where Michael Corleone waits for Solozzo and McCluskey prior to the infamous restaurant scene.
At Jocks it's all about having fun without breaking the bank.
"We're a family friendly extension of the living room," says Dempsey. " Everybody feels comfortable here and we keep the prices down. We make it affordable." Indeed, just about everything on the menu is around seven bucks including the bar's daily specials (rib eyes are five bucks on Monday) and famous burgers. Dempsey's particularly proud of The Pittsburgher served Three Rivers style with a hunk of American cheese, coleslaw and fries right on top of the beef. There are plenty of beers on tap and a bucket of six domestic longnecks is $15 with daily happy hour specials from 4 to 7. Oh yeah, if you actually want to watch sports, Jocks has more screens than a Vegas sports book. There are even screens outside on the patio. And you can update your fantasy league via the bar's free wi-fi.
"We've got a little something for everyone," says Dempsey.
Capt. Woody's
Calhoun Street Promenade, Bluffton
843-757-6222 www.captainwoodys.com
The first time I sat down in the upstairs bar at Capt. Woody's new Bluffton location the skies opened up in Biblical fashion and Mr. Brooks declared the episode "a rain in." No rain in on this gloriously crisp fall day. In fact, the day's so gorgeous it's practically a sin to sit inside a dingy bar watching football. Which is why we are here.
Capt. Woody's is, well, woody with rough-hewn walls and exposed beams. The bar area is an old school throwback to a time when people gathered around a radio in plank shacks to listen to the ballgame and pull ice cold longneck's out of galvanized buckets. That's all the fashion here where buckets of Bud are $12 for a half dozen. Order up some fresh, local oysters fried or on the half shell while you watch the game on one of the bar's four big flatscreens. But the best thing about this bar is that it's all open-air. Weather permitting, one side of the bar opens onto a huge deck overlooking the interior courtyard of the Promenade. No guilt here. You can watch the game and still enjoy the cool breeze and blue sky, ice-cold beverage in hand.
North of the Broad: Beaufort
Rosie O'Grady's
2127 Boundary Street, Beaufort Town Center (next to Kmart)
843.379.7676
"We are a Lowcountry Sports Bar, Beaufort's only Irish pub and the coolest little bar in town," says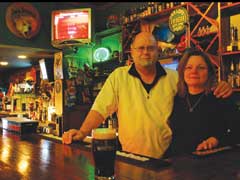 Rosie's owner, Michael Pressley. Like John Dempsey, Mike and his wife, Leslie, bought the bar after nearly three nomadic decades in the hotel business in places like the Doral Country Club and the Sheraton Music City. "I've done sous chef, executive chef, food and beverage director – everything," he says. Now Pressley puts that experience to use in his own kitchen where he cooks at least four times a week and makes just about everything – including all of his own sauces – from scratch. His habenero sauce is legendarily lethal in certain circles. I still break out in a sweat just thinking about a batch of Mike's hot wings I tangled with more than a year ago. As I recall it was the third wing that nearly did me in. "You've gotta watch that third wing," he says. "The third one always gets you."
Pressley's half-pound burgers are thought by some to be among the best in the Lowcountry. He won't argue. "We have a very fun menu with the best burgers in town," he writes in a recent email update. "We have 4 to 5 specials all the time."
Rosie's reminds me of a neighborhood joint I used to frequent in Boston's Back Bay. Walk through the door and you could be anywhere. There's a classic neighborhood vibe to the place. It's appropriately dark without being dreary with a fine and varied collection of what Pressley calls "bar crap." There are also plenty of screens and plenty of sports to be watched on those screens.
"We have the NFL Ticket & MLB package as well as additional sports programming which gives us crazy sports programming. We run food specials all the time like "Futball Wings" 10 for $5 and Fried Chicken Livers on Thursday's Man Night." In addition to daily food and drink specials Pressley writes, "We have drink specials all the time like $2 Peppermint schnapps and Kamakazis, $2 Pabst Blue Ribbon, Busch, and Icehouse. And we have an outdoor space with a full bar and a 20×30 event tent under which we host a number of Oyster Roasts and numerous Charity events during the year." Recent events include oyster roasts for Maranatha Farms Animal Rescue of Ridgeland and the Wingmen Motorcycle Club's Toys for Tots effort.
Pressley spent part of his childhood on Hunting Island where his dad served as Park Superintendent back in the 1960s. Beaufort feels like home and the Pressleys treat their regulars like family.
"We've been here for six years and hope to be here for six more," says Mike.
Get more on Rosie O'Grady's at lcweekly.com and check the Club Scene section for live entertainment and special events.
A guy walks into a bar, part 2
A guy from up north walks into a bar down south during the Christmas holidays. He notices a tiny nativity scene behind the bar and says, "That's a nice nativity scene. But how come the three wise men are all wearing firemen's hats?"
The bartender says, "Well, it says right there in the Bible that the three wise men came from afar."
The Office
2121 Boundary Street, Beaufort Town Center
843.524.GAME (4263)
The moment you clear the threshold there is no doubt that this is the work of serious sports fans. The walls are lined with pennants and memorabilia representing just about every college and pro sports affiliation imaginable – some have faded into the mists of sports history. Word has it that a few big names on the PGA tour can be spotted on a regular basis, checking out the competition on one of the bar's 20 plasma TVs.
"You never know what'll happen at the Office," says owner Jim Laferriere. The Office is a family affair with Jim's wife, Ruth, and daughter, Kalin, both involved in the business. "There's almost always a family member here," he says.
After a couple of decades in the restaurant business on Hilton Head, Laferriere was looking for a change when this former brewery space became available about two years ago.
"When I first saw the place I knew it would make an unbelievable sports bar," says Jim. The real challenge was to make a place that appealed to more than just the die-hard sports fan, and that means more than cold beer and a few nuts. "The food sets us apart," says Jim. "It's not just bar food, it's bar food with a flare. And everything's homemade, even the chips and salsa." The menu offers an inspired variety of appetizers, burgers, soups and salads – more than forty items – all at a considerable value. "Everything's six, seven, eight bucks," says Jim. "And nothing will ever be over ten dollars."
The Office features a different special/theme each night of the week like $2 vodka drinks on Tuesdays, $2 wells and wines on Working Women Wednesday and, of course, Sunday Bloody Sunday means $2.50 bloody marys. But nothing compares so far with the controlled madness that is Thirsty Thursday when $2 buys 24 ounces of margarita with which to lube up the pipes for Karaoke from 7 to 11.
Happy hour at The Office is 4-7 pm seven days a week, all year long and the taps are seasonal as well as regional with the exception of the ubiquitous and bestselling Bud Light (the beer for people who fear beer). The office also has a covered outside patio and upper deck featuring plazma screens and a cigar-friendly environment for the sports fan who enjoys a good stogie with the game. "The ultimate sports experience," insists Jim. "It's all good fun," he says.
The Office is family friendly. Kids have a special menu and access to Wii games. All major sports packages are available for viewing with private space and service available for groups. Get more at lcweekly.com
A guy walks into a bar, part 3
A guy walks into a bar and asks the barman, "Was I in here last night?"
"You certainly were," replies the barman.
"And did I spend a lot of money?"
"You spent well over $100," replies the barman.
"Whew! Thank God for that," says the man. "I thought I'd wasted it."
Luther's Rare & Well Done
910 Bay Street, Downtown Beaufort
843.521.1888
Luther's is a bit of a hybrid and something of an anomaly – equal parts restaurant, sports pub and waterfront refuge. This is the one waterfront location in Beaufort where sports fans regularly gather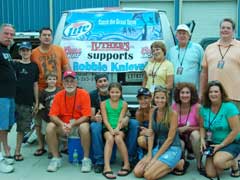 to cheer on their teams. As we've previously noted here the place has a palpable Cheers vibe to it, only with a spectacular view of the river and a pet-friendly deck. It's also brimming with semper fi, the Marine Corps motto which – come to think of it – translates to what I like to call the Regular's Creed: Always Faithful. And the regulars are indeed faithful. World famous motorcycle daredevil Robbie Knievel is a patron. A bunch of the Luther's staff and faithful recently road-tripped to see Knievel jump a lake at an amusement park in the wilds of South Georgia (chronicled in the Backyard Tourist by Richard Brooks and yours truly).
If you're a regular or even a semi-regular, chances are Stretch will have your beverage of choice on the bar before your butt's on the stool. Claim a table or a seat at the big rectangular split-level bar to watch the game or the race on a plethora of screens. We recommend the house's seasoned wings – a nifty variation on the usual – and Fred Flintstone would dig the burgers. Happy hour runs from 4 to 7 and there are daily food and drink specials as well.
Emily's Restaurant & Tapas Bar
906 Port Republic Street, Downtown Beaufort
843.522.1866 www.emilysrestaurantandtapasbar.com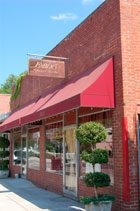 I'm on record as saying this is Beaufort's living room and I'll stand by that – except when there's a game on. Then it's more like a big den with bartenders. The adjacent restaurant is one of Beaufort's long time favorites for fine dining, and the room reflects that. The actual bar is a beautiful piece of antique art deco wood owner Tommy Winburn found on E-bay (ask him to tell the story). There's not a lot of bar crap here – nothing in the way of the usual sports bar trappings. This is a class joint except of course when there's a partisan crowd watching their team take the gas (cough-Gamecocks at Kentucky – cough!). In situations like this some of Beaufort's finest, most upstanding and well-behaved citizens have been known to scream epithets of such a fowl nature as to cause extreme unease among tourists in horse-drawn carriages for several blocks around.
There's no need to squint here. Four giant flatscreen TV's make Emily's a great spot to meet friends for the big game. There's no happy hour but the price of cocktails plummets once you're off the waterfront and on Port Republic. The wine list is full of terrific values either by the glass or by the bottle. There's no draft beer but there is a decent selection of bottled beers. If the mood for a nosh strikes, Emily's tapas menu is a full two pages packed with all sorts of delicacies. We're partial to the grilled Andouille sausage, the Lobster Ravioli and the Garlic Beef. On game days Chef Mike usually offers up killer burgers, brats, wings and assorted "man food."
Get more on Emily's in our Moveable Feast section
A guy walks into a bar, part 4
A guy walks into a bar and orders a beer but before he can take a sip a monkey swings down and snatches the pint right out of his hand.
The guy asks the bartender, "Who owns the monkey?"
"The piano player," replies the bartender.
The guy walks over to the piano player and asks, "Do you know your monkey stole my beer?"
The piano player replies "No, but if you hum a few bars I'm pretty sure I can pick it out."
As I mentioned in the beginning, this is an incomplete list. There are a lot of bars out there – sports bars, dive bars and karaoke bars to name a few (okay, maybe not karaoke bars) and the small but dedicated team at Life Behind Bars remains committed to seeking out the best regardless of sacrifice. What may seem at first glance as a complete waste of time and money to some is what we like to call "research." And we are nothing if not committed researchers.
Get more online at lcweekly.com and email us the reason we should include your favorite watering holes at backyardtourist@gmail.com.