MARK SHAFFER chats up Breakwater's Donna Lang & Terry Sweeney
To say that the opening of the new Breakwater was highly anticipated in Beaufort is a little like calling Bernie Madoff a crook or The Rolling Stones a band – it just doesn't quite do the subject justice. Breakwater also represents the continued evolution of what we've dubbed the Carteret Street Renaissance, with the newly opened City Loft Hotel barely a block away and Wren Bistro just across the street. Like City Loft and Wren, Breakwater also anchors ancillary economic impact. City Loft houses a coffee house and gym (City Java and City Fit). Wren is also home to a bar and a market featuring baked goods, rare cheeses and wine. With Breakwater the owners have moved their Firehouse Kitchen Store into the new space and rechristened it under the Breakwater banner.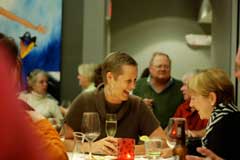 But the bar is our chief concern this time around. The town of Beaufort has never seen the likes of it. On our Life Behind Bars scale of Cheers or Rick's Café American (from Casablanca) the old space was a bit more Cheers. This is so Rick's I half expect to bump into Bogey or Bergman. I recently talked about that with Manager Donna Lang and Wine Director Terry Sweeney*, who also happens to be one of this publication's own Happy Winos.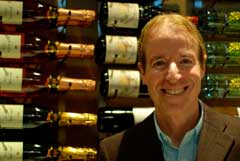 Mark Shaffer: There is a serious buzz in the room – and I'm not talking about over-served patrons. There's a real pulse.
Donna Lang: You can get a lot of information in here, you know. Just play your cards right and hang out at the bar. You'll learn a lot.
Terry Sweeney: I don't know if you could print any of it…
DL: You'd have to change the names to protect the innocent – or guilty.
(all laugh)
TS: Guilty's more likely.
MS: All seriousness aside…
TS: Of course.
MS: Let's talk about the feel of the place – specifically the bar and lounge. How would you describe the vibe?
TS: I think it feels hip when you come in.
DL: Really modern, but it's still comfortable
TS: Absolutely.
DL: Some bars you go into just don't give off a comfortable feeling. This one feels comfortable, comfy cozy.
TS: One of the most telling things about it is that people come in for a drink before they eat, then they eat and come back for drinks. They're here for the whole night.
DL: That's a new thing for us because of the bar we had at the old Breakwater. It wasn't really conducive to conversation and hanging out and socializing. Now with the new bar, you can sit around and have a conversation and not worry about bumping into someone who's dining right beside you.
MS: This is a real lounge with a distinctive jazz feel to it.
TS: It is. (indicates painting of jazz quartet) And this band is here every night, by the way.
MS: After the lessons learned with the old place, was it a priority to build the comfortable bar?
DL: Absolutely. After the difficulties we had in the old space we really wanted a place where people could come in and have a nice drink before dinner and relax. Breakwater is a huge locals hangout, so we wanted people to be able to mingle in a space that didn't feel cramped whether they wanted to sit at a high top and have dinner or lounge in the white banquettes, or just sit at the bar.
MS: The Gathering Table seems to be a huge hit.
DL: It's just awesome. Whether you have eight people sitting there who are all together or different groups or individuals sharing the table, they all end up talking to each other.
MS: It's unique to downtown Beaufort.
TS: It is and it's perfect for Southerners 'cause they'll talk to whoever's sitting next to them having a drink. People love it.
MS: One of the most amazing aspects of this is that in spite of the upscale elegance you really haven't raised prices.
DL: We actually went down on some of our prices. What we did not want is the perception that we have this nice, beautiful space –
TS: And you're going to pay for it!
DL: I actually went through all of our liquor prices from the old place and actually adjusted some of them down. And we still pour 1.5 ounces which some places don't do anymore.
TS: And in some restaurants if you get a bottle of wine you still end up paying by the by-the-glass price. We don't. It's the old fashioned way, it's cheaper to buy a bottle of wine than by the glass.
DL: And with the exception of our reserves, our entire wine list is available by the glass.
MS: That's very cool.
DL: No one else in Beaufort does that.
TS: That's 75 wines available by the glass. And we don't think twice about giving a taste.
DL: The reason we can do this is that we purchased a wine preservation system this summer and did a lot of testing. We opened a bottle and poured a glass and put it away and 30 days later it tasted just the same as when the bottle was first opened.
MS: Sounds as if exhaustive research was needed.
TS: Oh, I suffered terribly; so did Donna.
DL: Just weeks and months of just torturous wine tastings.
MS: Obviously the wine list is more expansive than before.
DL: It is, but it still stays true to us because we try very hard to find value priced wines. We always have. One of the things we challenge our wine reps with is to bring us wines that cost ten tot fifteen dollars and drink like forty.
TS: And that is the trend throughout the entire nation. We have a lot of reps, so we're drawing from a lot of wells.
DL: More than two hundred wines were tasted over the summer. What we ended up with is the best of the best.
MS: What are you most proud of on the list?
TS: I'm really proud of the selection, that we have Spanish wines, Chilean wines and wines from South Africa. And because it's all by the glass, we can get people to try wines they might not try by the bottle. We have a wine called Zestos from Spain. The first couple of days no one knows Zestos. Then one person tries it, then another and all of a sudden it's flying off the shelves. No one had had it before and now they're excited about it.
MS: And the wine room itself is pretty impressive.
DL: It's just spectacular when you walk into the bar and the first thing you see is this twelve hundred-bottle wine cellar.
TS: So, if Beaufort ever has to evacuate, (thumbs toward the wine room) we'll be in here.
DL: That's my hurricane shelter.
TS: This building's been here a long time.
DL: We'll start with the reserves and work our way over.
TS: Dessert wines at the end!
(laughs all around)
MS: So is it safe to say Terry is the only local in the restaurant business who can claim to be a former cast member of Saturday Night Live*?
TS: I think it's safe to say that.
DL: You never know when he might put on his Nancy Reagan costume.
TS: That's closing time, big time. (a la Nancy Reagan) We're closed. Get out."
MS: So how would you describe your management relationship?
TS: Well, she's the Donna and I'm the Prima Donna.
(Laughter)
MS: I think this is a good place to stop.
*Terry Sweeney is also an actor and comedy writer. Check him out on IMDB.com