Mark Shaffer checks out four notable watering holes South of the Broad (and previews coming attractions NOB)
When this feature debuted last year we included a kind of sliding bar scale explained thusly: "Like the crew of comically dysfunctional regulars holding down the stools at Cheers, or the desperate gin-soaked refugees from a world gone mad at Rick Blaine's bar in Casablanca, sometimes you want to go where everyone knows your name – or no one does. Or maybe some do and some don't. Some places are more Cheers than Rick's and visa versa while some are a bit of both." I'm invoking this scale once again, although something tells me this time there may be changes. Let's cross the river.
Say WHAT?
My tin roof…rusted.
The B52's "Love Shack"
Part I: Bluffton
Captain Woody's Bar and Grill
Calhoun Street Promenade. Phone 843-757-6222. captainwoodys.com
There is something quintessentially Southern about the sound of rain falling on a tin roof.
There is also something unmistakably Lowcountry about the scent of salt marsh and pluff mud mingled with storm borne wind and water while sipping a cold beer and listening to rain pound the roof. Indeed, this is an ideal way to pass a stormy August afternoon in the Lowcountry. Line after line of thundershowers blow through Bluffton as we sit high and mostly dry at the upstairs bar in Captain Woody's new location. This is sort of like the bar equivalent – the Norm Peterson equivalent – of taking out a boat for a shakedown cruise, which for a bunch of landlubbers is the nice thing about shaking down a bar in foul weather – bars rarely sink. Although the storm blows so hard at one point the staff is forced to roll down the weather rigging to stop the influx of rain – a first according to the bartender. My friend Richard makes note of the fact that we are "rained in," which, in this situation, is the opposite of being "rained out." Still, it's a good thing the concrete floor is equipped with a drain.
For years the original Captain Woody's Bar and Grill at Hilton Head's Palmetto Bay Marina has thrived with an essential Lowcountry blend of local seafood, proper cocktails, cold beer, and a laid back, casual atmosphere. Visitors are always welcome and regulars are practically family. The new location in Bluffton's Calhoun Street Promenade brings the Captain Woody's experience a little further inland. In fact, this is a pretty bold move in tough economic times, but one that appears to be paying off. The new store is a rustic, raw-boned clapboard building that brings some much needed character to the mixed use, residential and commercial development on the north end of Bluffton's historic district. The ground level features plenty of umbrella-covered patio seating, the main restaurant and a smaller "U" shaped bar. The main bar's a flight up and a cut above.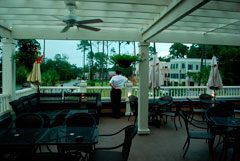 Out on the expansive deck water beats down in sheets while John Fogerty belts out "Who'll Stop the Rain?" "Well, if you've got to be rained-in," someone says, "it's always best to be rained-in during happy hour." Captain Woody's 4 pm -7 pm happy hour is basic but serviceable with $4.00 well drinks and 50 cents off wine by the glass. Beer runs two bucks for domestics, three for premiums and all of it comes in bottles. In an effort to keep costs down there are no taps, therefore no draught beer – I repeat, no draught beer – and no plans for any in the future.
There are plenty of house specialty drinks to aid in that all-important end of the day attitude adjustment. The Captain's Famous Bloody Mary is made with Grey Goose Vodka, Your Mom's Bloody Mary Mix (with a little extra kick) and Old Bay on the rim. The May River Sunset is a local homage to the classic Island Rum Runner. Myers Rum is shaken with a splash of grenadine and "exotic fruit juices." Bar snacks run from fresh local shrimp and oysters to grouper bites (hand cut and fried) and the slightly hyperbolic Ultimate Nachos. Ultimate? Not really, but the platter's pretty impressive and it comes accessorized with your choice of chili, shrimp or chicken and enough melted cheese to fill a fondue set. Not that I would know how to do that.
This version of Captain Woody's is a full-blown throwback to a time when people gathered in rough-hewn plank shacks and drank cold longnecks pulled from icy coolers in whatever breeze happened to blow off the marsh. This one also happens to have three giant screens behind the bar and plenty of parking – the perfect spot to relax in a fall breeze, or find yourself rained-in.
Cheers or Ricks? Cheers, definitely. Belly up to this bar a few times and claim your stool as a regular, although no draught beer would definitely disagree with Norm.
Corks Wine Company
Calhoun Street Promenade. Phone 843-815-5168. corkswinecompany.com. Closed Sunday.
Just across the green from Captain Woody's, a simple wooden sign hangs in front of one of the Promenade's nondescript brick facades. The windows and glass doors are blacked out, there's no clue from the outside as to what lies beyond. Walk through the doors and cross the threshold into another world. I've obviously passed through some sort of time/space continuum – perhaps one of those pesky dimensional rifts everyone's always having problems with in Star Trek? Just a few blocks off the May River, this could easily pass for Napa or maybe one of the elegant new wine-centric bistros in Walla Walla or the Willamette Valley. Hell, for that matter this might be anywhere that appreciates a sophisticated atmosphere with an accent on good wine and all that goes with it.
This is the kind of place that could easily be attached to a winery. The bistro is an elegant blend of clean lines and right angles wrapped in earthtones and textures, soft, intimate lighting and tempered with cool jazz in the background. There's plenty of exposed brick and dark wood. The bar is a rosy, polished marble and the high backed bar stools and club chairs are richly upholstered and damned comfy. Roll back the antique sliding metal warehouse door near the entrance to reveal a larger yet equally elegant space used for live music (Thursday through Saturday), special events or nights when there's need for overflow space – which happens pretty regularly these days. Throughout the entire space there is a sense of well-worn comfort and age far beyond that of the address. Owners Josh Luman and Gabby Ferrell cobbled the place together with reclaimed brick, wood and fixtures from wherever they could find them. The sliding door is out of the old Seed & Feed in Savannah. Some of the ancient weathered brick is from Chicago and an old estate in Virginia.
Sure, this is "Bluffton's original wine bar," but the place practically screams "martini!" In fact, apart from the massive, yet manageable wine list, premium cocktails are a specialty. In the unlikely event that, say, Alessandra Ambrosio should sashay in I'm betting The Brazilian Bikini would catch her eye. That's Oronoco Rum with soda and a twist of lime – like Ms. Ambrosio, simple, delicious and scantily clad. A little concoction called The Bluffton Housewife did get our attention. Essentially, this is a very dirty martini packing a mean right cross – Bombay Saphire Gin, olive juice and jalapeno stuffed olives. Feeling a little retro? Knock back a shot of Macallan whisky old enough to vote while your date goes all Bergman (Ingrid, of course) with a Classic Champagne Cocktail featuring bubbly and bitters spiked with a sugar cube. Here's looking at you, kid.
Robert Louis Stevenson once said, "Wine is bottled poetry." If so, this is a place for poets, indeed, but no place for the usual pretense that so often accompanies both wine and verse. Josh and Gabby say Cork's is built as much for the novice as the enthusiast. In fact, says Josh, wine is a never-ending education and Cork's "Uncorked Flights" present some fine learning opportunities. Each flight showcases a different theme (The Italian Job, A taste of Argentina, Pretty in Pink) and a chance to sample three distinctly unique wines in two-ounce pours. The globetrotting wine list is divided between "blondes" and "redheads" with a large selection available by the glass. Featured pours and specials are listed on the board behind the bar and if you don't see something you want or have a question about a particular wine, don't hesitate to ask.
With good wine comes good food and Cork's offers up a nice selection of what Josh terms "fresh creative renditions of vineyard fare and Italian bites" with "Big Small Plates." Pair a hearty red with the Rustico Antipasto, a mélange of Italian meats, marinated veggies, buffalo mozzarella and parmigiano reggiano served with warm bread. The Artisan Cheese Plate is a selection of handcrafted Farmstead cheeses from the storied dairy at Flat Creek Lodge in Swainsboro, Georgia, served with organic honey and fruit. There's also wild sockeye salmon, ahi tuna sashimi, fresh and unique salads and local Bluffton barbecue to choose from. "We're not what you'd expect," says Josh.
Cheers or Ricks? Okay, so there is draught beer – rotating taps of craft-brewed goodness – but I don't think that's going to tip the scales in Norm's favor. Nope. Any place that serves a classic champagne cocktail is a place where you might suddenly hear snappy dialogue…
Captain Renault: I've often speculated why you don't return to America. Did you abscond with the church funds? Run off with a senator's wife? I like to think you killed a man. It's the Romantic in me.
Rick: It was a combination of all three.
Definitely Rick's. Which means, of course, this could be the beginning of a beautiful friendship.
Part II: Hilton Head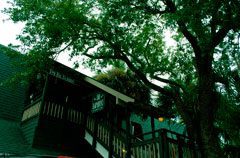 Big Bamboo, Coligny Plaza, oceanside at the end of Pope Ave. Phone 843-686-3443.
Bigbambooofhiltonhead.com. Closed Sunday.
Right off the bat the Big Bamboo is going to force a change in the Cheers vs. Rick's sliding bar scale. It's the vintage South Pacific World War II vibe. As the name implies, it is both big and heavy on the bamboo. The place seems to ramble on forever like a giant, bamboo maze filled with all manner of memorabilia from vintage posters to modern neon. But co-owner Kieron O'Grady is quick to point out in an accent right out of a Guy Richie film that the theme "is definitely island, not tiki."
According to the bar "legend" the current operation is a homage to the original Big Bamboo opened on the tiny equatorial island of Tarawa by a young recently discharged fighter pilot named Jimmy Phipps on March 3rd, 1944. Phipps built his bar and grill right on the Pacific out of whatever he could find, mostly native bamboo and scrounged corrugated metal. He had booze and food flown in on the weekly transports still fueling the war effort and catered mostly to American soldiers, sailors and airmen with food and drink they hadn't tasted since the States. It's said that pilots flying near Tarawa experienced a high rate of "engine problems" in the vicinity. Most legends achieve such status for a reason. Jimmy Phipps and his Big Bamboo passed into legend just two months after the Japanese surrender when a typhoon ripped through the island destroying everything – man and bar included. The re-imagined version of Big Bamboo opened in 1995, the brainchild of a couple of young entrepreneurs with ties to the Disney Corporation and a flare for the dramatic.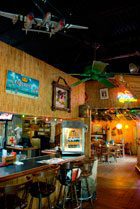 All of this can mean only one thing: Donovan's Reef goes on the scale. All this place needs is Dorothy Lamour quietly sipping a cocktail while John Wayne and Lee Marvin as Michael Patrick "Guns" Donovan and Thomas Aloysius "Boats" Gilhooley (ya think?) beat the hell out of each other just for fun and Cesar Romero pretends to be French. Which means I like this place. A lot.
[Gilhooley about to throw bottle during fight]
Michael Patrick 'Guns' Donovan: Not the brandy, you dope!
Thomas Aloysius 'Boats' Gilhooley: [puts bottle carefully down on bar] Sorry!
Scale models of vintage World War II fighter planes patrol the airspace over the bar as Kieron tells the tale of how he and his brother, Tristan wound up owning a little piece of the South Pacific just a stone's throw from the Atlantic. "We used to come up and enjoy it quite a lot," he says. Then shortly after the millennium he got a call. "I was living in London and my brother rang me up in February and he's like, 'The Big Bamboo closed. I think we should buy it.' So I came over and had a look. I didn't realize it had such a huge food operation. I just used to drink here." Nevertheless and perhaps even appropriately, the bar re-opened under the Brothers O'Grady on April Fools Day, 2000 and has since become something of a legend itself. My guess is next spring's tenth anniversary party's likely to be pretty legendary, as well.
"We've just always loved it," says Kieron. "It's got a relaxed vibe, good food. Reminds me a bit of the atmosphere of an English pub where you can sit down and talk." (Only with more bamboo, of course.) "We didn't want someone to buy it and put in head-banging music and flashing lights. We just wanted a mellow place."
It is indeed a mellow place to sit at the bar and enjoy any of the rotating taps of microbrews or bring the family in for lunch or dinner. Chef Karl's been a fixture on the Island for nearly three decades, the last right here with the O'Gradys. And there is music, lots of it, just about every night and sometimes twice a night. "Musicians love hanging out here," says Keiron, who also plays bass in the REM cover band, Murmur. My guess is a killer happy hour (daily 4-7pm) and a beaucoup of dining specials and early bird deals don't hurt. The free popcorn is definitely a factor.
Up The Creek Pub
18 Simmons Rd. (off Marshland Rd.) at Broad Creek Marina. Phone 843-681-DOCK
Should you find yourself up Broad Creek without the proverbial paddle, this is a good place to take stock of the situation. One of Hilton Head's best kept secrets, the Up Creek Pub (hereafter the UCP) and it's ample decks sprawl right alongside the marina's boat ramp.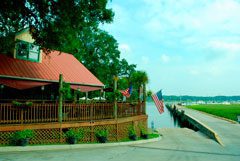 We come full circle.
This is quintessential Lowcountry stuff, a bar on the water next to a marina shaded by live oaks and Spanish moss serving ice-cold buckets of frosty longnecks. Thirsty, yet? It's the kind of place that should always be within walking distance but never is. Inside the pub is as nautically themed as one might expect, although not to the point of kitsch. The ceiling is low, the bar is long and the view is spectacular, particularly at sunset. Pub Manager, Rita Godfrey says that during the summer season the deck is packed every Tuesday night for the fireworks show across the creek at Shelter Cove. Fall means weekend oyster roasts and barbecues.
Happy hour is the usual 4-7pm (Monday through Friday) featuring $1.50 draught beers, $3.00 wells and $2.00 off the appetizer menu. The UCP has a full bar and as one might expect considering the location, Bloody Mary's made with an indigenous island concoction are big sellers. Football specials are on the way. The menu is loaded with fresh seafood including a personal favorite, conch fritters. But according to Bar Manager, Joseph Pistolesi, meat is the real draw. "The smoked chicken and pulled pork is all done in-house," he says, "and the burgers are the best around. We are known for our hamburgers."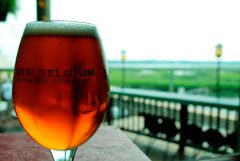 Cheers, Rick's or Donovan's? Cheers for sure with maybe just a shot of Donovan's. To paraphrase Norm Peterson, the only thing going down is my butt on that barstool. Pass the beer nuts.
Part III: Coming Attractions
Meanwhile, North of the Broad…
Several new spots should be open or close to it about the time this edition hits the streets. Richard Wilson's busy tweaking the last details of his new venture in the Habersham community. Maggie's Pub is a modern take on the classic English pub from the man who created the late and legendary Bateaux. Check out the menu and follow the progress at maggiespub.net.
Beekman Webb is reportedly putting the finishing touches on his long-awaited Foolish Frog on the marsh in the heart of Frogmore. The former Blue Crab at 1001 Boundary Street in Beaufort transforms into the Uptown Grill. Find out more online at theuptowngrill.com. Downtown Beaufort, Emily's on the corner of Port Republic and West opens its doors for the first time on Sundays. The unofficial satellite office for Life Behind Bars now features two giant 55-inch flat screens behind the bar and the full DirectTV NFL package. I'll see you there.
Mark Shaffer's email address is backyardtourist@gmail.com