It's that time of year again. When the excitement and rush of the Holidays are past, the weather is cold (or as cold as it gets in Beaufort), and the winter doldrums start to set in. That's when we want to settle in at the hearth for a toasty fire, pour a big glass of red wine, and sink our teeth into some ooey, gooey comfort food. Fortunately for us, Hearth Wood Fired Pizza along downtown's Bay Street serves up all that ooey, gooey goodness to help us get through the long, dark winter until spring blooms.
Hearth Wood Fired Pizza is the newest offering from the good folks at Plums, Inc., the company behind several of Beaufort's favorite restaurants, including Plums and Saltus. We say newest, but Hearth has actually been open since 2017, and has securely found its way into our hearts, as well as many other Beaufortonians'.
Our first visit was shortly after they opened, as we were entertaining then-food editor of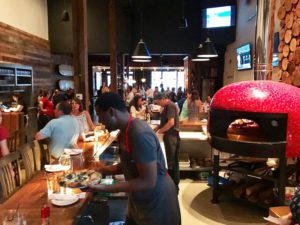 Charleston's Post and Courier. We were trying to show off our newly adopted hometown as she pursued a Beaufort dining story and Hearth was on our short list of places to impress her. We started with the luscious Meatballs & Sunday Sauce (which we'd stack up against any Italian grandmother's recipe) followed by the 'Shroomage Pizza and we were hooked.
The minute you walk in the door at Hearth, you are enveloped in a convivial neighborhood joint, where you swear people are going to yell out, "Hey, Norm" (or whatever your name is). Sporting a woodsy decor, the walls are covered in sophisticated reclaimed wood wall coverings on two walls and a hard-to-describe—but incredibly cool—cut firewood floor-to-ceiling panel on the third wall. Wooden longboards, pizza paddles, and pieces of driftwood fill the space as artwork, and twig lampshades on the chandeliers keep the theme going. Sort of fish-camp-meets-surf-camp-meets-Italian trattoria, which is exactly the look that Lantz Price, owner of Hearth and surfer dude and pizza lover from way back, was going for. "I have always admired wood fired pizza and decided to revisit my childhood with a rustic, campy feel in a barrier island sort of way," he says.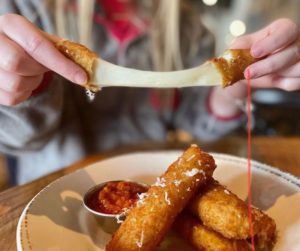 The cozy bar at the entrance is typically bustling at all times of the day, with downtown workers, locals and tourists having lunch or enjoying an impressive wine list (they even have a section called Pizza Wines, which we know well and love), beer selection and specialty cocktails for happy hour and evening cocktails. It's also the perfect spot to enjoy an adult beverage if you are waiting for your take-out order (as we know from our many pandemic pick-ups). Local author and Hearth regular, Wendy Nilsen Pollitzer, goes three or four times per week for either lunch or happy hour. "Hearth truly is the Cheers of Beaufort," she says.
The dining room is equally warm and inviting, with its stunning red-domed Marra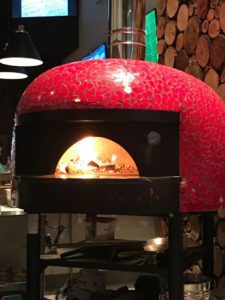 Forni brick oven taking center stage. One of the top-of-the-line authentic handcrafted commercial brick ovens, the Marra Forni—also found in Eataly stores (just go!), Whole Foods and Wegmans across the country—is custom-built and tiled to order, with bricks imported directly from Campania, Italy. Heating up to a scorching 1000 degrees, this drool-worthy pizza oven makes for the perfect leopard-scorched rustic Neapolitan-styled pizza that Hearth is known for.
"I love Hearth pizza," says local artist Louis Bruce, whose art studio is located above the restaurant. "It reminds me of our time in Italy. I love having people over to the studio and ordering pizzas upstairs to have a little something to eat and hang out." We're fortunate enough to have hung out up there many times, enjoying the vibe, the company, the pizza (Hearth keeps 'em coming all night long), and a nice red. And, yes, we're also fortunate enough to own a Louis Bruce original.
The pizza oven also hosts a dining bar, with stools bellied up to the action. There is also plenty of spacious (and socially distanced) booth and table dining, as well as lots of outdoor seating along Bay and Scott Streets.
The lunch and dinner menus are similar—except for savory sandwich offerings at lunch and pasta aplenty at dinner—and both ooze Italian specialties across the board. Starters shouldn't be overlooked, in that there are some great options like the aforementioned meatballs, Fritto Misto (featuring calamari and local shrimp), Mussels Marinara, the über-popular handmade Mozzarella Sticks, Bruschetta, and a perfect-for-sharing Meat & Cheese Board that overflows with both, along with pepperoncini and grapes.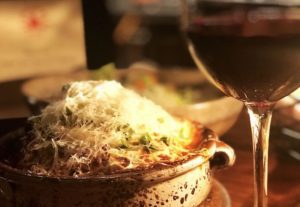 If salad is more your style of a starter, Nancy's Antipasto Salad or the Arugula Salad are perfect options, as is the House Italian Salad, which can be served family-style. Sandwiches at lunch are definitely Italian leaning, including an Italian Hero with pepperoni, salami and prosciutto, a Meatball Sandwich, and either Chicken or Eggplant Parmesan.
For dinner, pastas rule, with Bucatini & Meatballs with Sunday Sauce being our current fave (something about those pork & beef meatballs). But if you prefer a Bolognese, Amatriciana, or Alfredo, you certainly won't be disappointed. They even offer a wood fired Lasagna. For Pollitzer, her go-to meals are the lasagna paired with an arugula salad on the side and the chicken marsala (although she often wrestles between those and the 'Shroomage pizza). Mangia!
Now, when it comes to the pizza, that's where Hearth truly shines. With ten creative options on the menu, it's hard to have everyone agree. But, with their pizzas coming in at 12", they are the perfect one-serving size. Or get a few for the table and share away. Our personal favorite is the 'Shroomage, with garlic mushrooms, marinated kale, sauteed onions, shaved parmesan, white truffle oil and ricotta béchamel. Oh my! However, many Hearth veterans, like Louis Bruce and his lovely wife Kit, swear by the super simple Margherita, with fresh mozzarella, olive oil, basil, and flaky sea salt deliciously served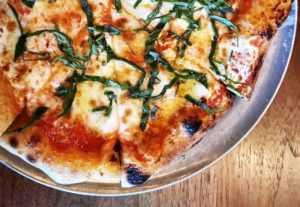 over Hearth's red sauce.
"I like the Hawaiian and mushroom pizzas, but my benchmark for really good pizza is the Margherita," says Kit, the food-and-farmer-focused force behind ever-popular Port Royal Farmers Market. "It's simple and delicious. I like to put the arugula salad on top of my pizza. The perfect combination."
But don't let that stop you from checking out the Prosciutto & Arugula, The Meat with pepperoni, bacon lardons, house fennel sausage and, yep, you guessed it, meatballs, the BBQ Chicken (they use wood fired chicken and a smoky BBQ sauce base), Buffalo Chicken, or any of their other tasty options. The Hawaiian, with wood fired pineapple, ham, bacon lardons and pickled jalapeños, might just be the perfect choice to warm you up on a frosty winter Beaufort night.
Hearth Wood Fired Pizza
802 Bay St.
Beaufort, SC 29902
(843) 379-9806
www.hearthpizzabft.com
Sunday-Thursday 11:00a.m.-9:00p.m.
Friday-Saturday 11:00a.m.-10:00p.m.