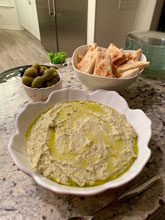 I love Christmas! I love December! What other month of the year is so overloaded with parties? It's so much fun to dress up a couple of times a week and spend happy time with our friends. Vince and I hosted our annual Christmas party last weekend. Fifty-five of our dearest friends graced our home on Saturday night. Merriment ensued. We ate, drank, laughed, took a zillion photos and even sang a few carols around the piano. At the end of the evening, I asked some of our party guests to choose three of their favorite offerings from our cocktail buffet.
The Bourbon Cocktail Meatballs won and the Lima Bean Hummus and Buffalo Chicken Dip came in close behind. I'm sharing those three delicious recipes this week. Vince and I wish you all the very merriest of Christmases and a healthy and prosperous New Year!
Lima Bean Hummus
I like to use lemon flavored olive oil for a drizzle at the end. It gives the hummus an additional blast of brightness.
1 (15-ounce) package frozen baby lima beans
2 teaspoons minced garlic
¼ cup extra-virgin olive oil
¼ cup tahini
6 teaspoons lemon juice
6 tablespoons water
Pinch cayenne pepper
Sea salt, to taste
Extra-virgin olive oil, to garnish
Cook lima beans according to package directions. Place all ingredients in a food processor and mix until smooth. Place in a serving dish and drizzle with a bit of extra-virgin olive oil. Serve with pita bread or pita chips. Serves 6 to 8.

Buffalo Chicken Dip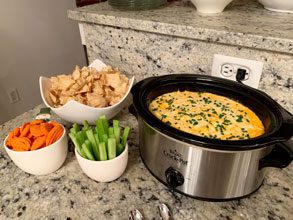 Spicy and delicious! Use your favorite bottled hot wing sauce to make this wonderful dip. We like Texas Pete Buffalo Wing Sauce.
4 boneless, skinless chicken breast halves
1 cup bottled hot wing sauce
2 (8-ounce) packages cream cheese, softened
1 (16-ounce) bottle ranch dressing
½-¾ cup chopped celery
1 (8-ounce) package Monterey Jack cheese, shredded
Celery leaves, optional
Tortilla chips
Celery, cut into 3-inch sticks
Boil chicken breasts until cooked through. Cool and shred.  In a medium mixing bowl, combine shredded chicken with 1 cup hot wing sauce. Spread chicken mixture evenly in a lightly greased casserole dish.  In a saucepan, combine cream cheese and ranch dressing over medium heat until smooth. Pour cream cheese mixture over the chicken.  Sprinkle with chopped celery and then with the shredded cheese.  Bake, uncovered, at 350 degrees for 30 to 40 minutes or until bubbly.  Remove from oven and let stand for 10 minutes before serving.  Garnish with fresh celery leaves, if desired. Serve warm with sturdy tortilla chips and celery sticks.  Serves 8 to 10.

Bourbon Cocktail Meatballs
I debuted these yummy meatballs at our Christmas party earlier this month. At the end of the night, there wasn't a single one left.
For the meatballs:
1 pound ground beef
1 pound ground pork
½ cup finely crushed cracker crumbs
½ teaspoon finely chopped yellow onion
1 egg
¼ teaspoon salt
Freshly ground black pepper
For the bourbon sauce:
1 (18-ounce) jar apricot preserves
½ cup barbeque sauce
¼ cup brown sugar
½ cup bourbon
3 tablespoons sweet chili sauce
1 tablespoon molasses
Preheat oven to 350 degrees. Place all meatball ingredients in a large mixing bowl. Mix together, using your hands to combine. Form meat mixture into 1-inch balls. Place meatballs on a baking sheet and bake for 10 to 15 minutes, until cooked through. To make the sauce, combine all of the  ingredients in a large mixing bowl. Place cooked meatballs in sauce and toss gently to coat. Pour meatballs and sauce into a large baking dish. Cover with aluminum foil and bake in preheated 350 degree oven for 30 minutes or until sauce is bubbly and meatballs are heated through. Serve hot. Makes 40 to 50.
The writer owns Catering by Debbi Covington and is the author of three cookbooks, Celebrate Beaufort, Celebrate Everything! and Dining Under the Carolina Moon. Debbi's website address is www.cateringbydebbicovington.com. She may be reached at 525-0350 or by email atdbc@cateringbydebbicovington.com.