Picture this.
You're aimlessly scrolling down your Facebook feed, when suddenly the most dazzling garment appears before your eyes, that perfect piece of clothing that you may – or may not – have been dreaming of . . . but you know you have to have it. It just screams YOU. Or, more specifically, YOU as you aspire to be. And – praise Jesus! – it's been "marked down" to a shockingly low price.
We've all been there, right?
In this case, it was a Bohemian-style velveteen jacket in a deep, rich blue, with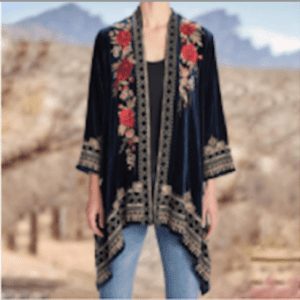 floral embroidery. It would be great for holiday parties, I thought. According to the ad, if I ordered it "today" I would receive it between December 17 and 24. Maybe too late for Christmas parties, but surely in time for New Year's Eve. Score!
But wait, there's more . . .
After clicking on the ad, I was led to an entire website selling a variety of such jackets. The site called them "cardigans," which made me giggle. These were not your grandmother's cardigans. They were cool, funky, hippie-esque.
Best of all, they were cheap. I ordered three.
Reader, you've probably already guessed that they did not arrive between December 17 and 24. I wasn't surprised. By that time, I had figured out that they were coming from China, an unfortunate fact the website had gone to great lengths to disguise. ("Cardigans" should have been my tipoff, but I'm thick when salivating over the prospect of a whole new outerwear wardrobe.)
Still holding out hope for New Year's Eve, I emailed the company on December 22: "Hello. I placed an order on December 8, based on the statement – on your website – that I would receive it between December 17 and December 24. I have not yet received a Shipping Notice, so I assume that's not going to happen now, even though I paid extra for faster shipping. Could you please check on my order status and let me know when I might realistically expect to receive it?"
I think I was very polite, considering.
Two days later, I received the following response: "Dear Customer, Thank you for contacting us regarding the status of your order. We have confirmed your order #QQM76449. We are now processing with orders according to the time of the customer places the order. And you will receive a shipping info as it shipped. If you have any questions, pls contact us."
(This is verbatim. China, remember?)
Okay. I'd already figured New Year's Eve was off the table, but I had some parties coming up in mid-January, then Film Festival in late February. There were still plenty of cool events and cool weather ahead to make use of my cool velveteen jackets.
On December 30, I finally received word that my order had shipped. "Please waiting for the arrival of your package," I was instructed via email.
In a reply email, I wrote, "Thank you. In the future, perhaps you shouldn't advertise that an order will be delivered a full month before it can possibly happen. That's false advertising. I ordered these clothes on December 8, hoping to wear them to parties on Christmas Eve, New Year's Eve, and New Year's Day – all based on your website's promise of a delivery between December 17 and 24. I even paid extra for shipping, to insure that timely delivery. I have some events to attend in February, and I'm really hoping my order arrives by then. Thank you for your time."
That poor customer service rep. But I couldn't help myself. I was a woman possessed.
I began tracking my order obsessively on 4PX. (For those of you smart enough never to have ordered anything from China, that's their shipping tracker.) I really wanted these jackets. I fantasized about them. I envisioned the way they would change my life, the way I could just throw one on over black leggings and have a whole dang party outfit. I imagined myself wearing them with jeans and boots. I would be so insouciantly fabulous. So effortlessly hip. So Cheryl Crow-meets-Stevie Nicks-meets-Emmy Lou Harris.
I would be a whole new me in these jackets.
I'm not sure why I let myself dare to dream. The couple of times I'd (accidentally) ordered from China before, I'd been pretty disappointed with my merchandise, which was slow to arrive, ill fitting, and cheaply made. Still, these jackets didn't look cheap. And they weren't cheap, originally. According to the website, they were merely "marked down." Way down.
And so I tracked on. Every morning and evening I'd check 4PX. For days, nothing would happen. But occasionally, there would be an update – my jackets had passed through customs, a shipping label had been created, a partner facility had received them, etc. – and that was enough to keep me hanging on, even as my "estimated delivery date" kept moving further into the future.
That delivery date was now January 17, so I knew I wouldn't have the jackets for my January 14 Boys & Girls Club fundraiser. But I was still holding out hope for Film Festival in February when I checked the latest update on 4PX one evening and was shocked to read: "Your item was delivered in or at the mailbox at 5:28 pm on January 11, 2022 in Beaufort, SC 29902."
What?! Somehow, my order had gone from "probably arriving January 17" to "it's in your mailbox" in less than 24 hours. I was elated! The Boys & Girls Club event was still three days away. Woohoo!
I rushed to the mailbox, and sure enough, there was my package. After all this time, my life-changing fantasy jackets had arrived! Heart pounding, I brought the package inside, ripped it open, and… well, I'll let the pictures speak for themselves. Along with my final email to that poor customer service rep:
"My order finally arrived – 18 days later than promised on your website – and it's completely wrong. The first picture here is the merchandise I ordered. The second picture is the merchandise I received. Not only is it ugly, poorly made, and nothing like what I ordered… but it appears to be made for Halloween, which happened over two months ago. At this point, I know I will never receive the beautiful velvet jackets I ordered – if they even EXIST –  and I can't imagine you'll refund my money, like you should. But I will never order from your website again, nor will anybody else I know. You are deceiving the public."
The moral of my story? There are several, I think: 1) You get what you pay for. 2) If it seems too good to be true, it probably is. 3) Buy American. 4) No jacket will turn you into Emmy Lou Harris.
Epilogue: The long-suffering customer service rep surprised me by responding to my diatribe, graciously offering me a 10% refund on my order. I don't even have to return the items. Anybody in the market for a boxy nylon cardigan featuring pumpkins and black cats?