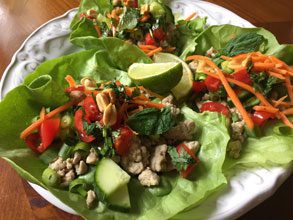 I wish I had a really good tale to share in this issue, but I don't. A combination of busyness and laziness has kept me at home for most of the week. I have, however, been trying some new recipes that I thought Vince and I would enjoy. So, they're my column for this week.
Lucky for all of us, the recipes are easy and delicious. Each one boasts a brightness of fresh citrus. Great for dinner on hot nights, the Vietnamese Pork Salad and Beef Satay Noodles only need a chilled glass of wine to make a complete meal. Trust me, you'll love the icing on the cake. Excellent summer supper food!
Vietnamese Pork Salad
1 pound ground pork
9 tablespoons fresh lime juice, divided
2½ teaspoons sugar plus 2 tablespoons sugar, divided
4 teaspoons fish sauce, divided
2 tablespoons chopped peanuts
2 tablespoons sliced green onions
2 teaspoons sriracha
4 cups chopped romaine lettuce or Boston lettuce leaves
1 cup diced English cucumber
1 cup shredded carrots
½ cup diced grape tomatoes
¼ cup chopped fresh cilantro leaves
¼ cup chopped fresh mint leaves
Heat a large skillet over medium-high heat. Add pork to pan; cook 8 minutes, stirring to crumble. Combine 3 tablespoons lime juice, 2½ teaspoons sugar and 2 teaspoons fish sauce; add to pan. Cook for 1 minute; remove from heat. Combine remaining 6 tablespoons lime juice, remaining 2 tablespoons sugar, remaining 2 tablespoons fish sauce, peanuts, green onion and sriracha in a bowl. Arrange lettuce, cucumber, carrots and tomatoes on a plate. Top with pork mixture, cilantro and mint. Drizzle lime juice mixture over the top. Serves 4.

Beef Satay Noodles
1/3 cup crunchy peanut butter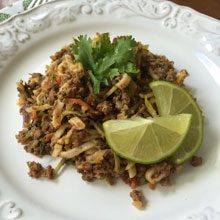 2 tablespoons soy sauce
2 teaspoons minced fresh ginger
Dash salt
Few grinds of black pepper
1 pound ground beef sirloin
1 tablespoon sesame oil
1 tablespoon vegetable oil
2 large shallots, thinly sliced
1 (12-ounce) package broccoli slaw
1 (7.1-ounce) package Ready to Serve Thai Rice Stir Fry Noodles*
1 teaspoon sriracha, plus more for serving
½ cup chopped fresh cilantro
Lime wedges, for serving
Whisk the peanut butter, soy sauce,ginger salt and pepper in a large bowl. Add the beef and mix well to combine. Heat sesame oil and vegetable oil in a large skillet. Add the shallots and cook, stirring, until softened, about 4 minutes. Add the broccoli slaw and cook, stirring, until is starts wilting, about 3 minutes. Transfer the vegetables to a medium bowl. Add the beef mixture to the skillet. Cook, stirring occasionally, until browned, about 7 minutes. Return the vegetables to the skillet with the beef and stir to combine. Add the noodles and the sriracha. Cook, gently tossing, until warmed through, about 4 minutes. Top each serving with cilantro. Serve with lime wedges and additional sriracha. Serves 4. (*If ready to serve noodles are not available in your area, substitute 8 ounces of stir-fry rice noodles, cooked according to package directions.)

Dark Chocolate Cake with Orange Buttercream Frosting
1 dark chocolate cake mix, baked according to package directions
1 stick butter, at room temperature
1 (16-ounce) package confectioner's sugar (about 3½ cups)
½ teaspoon vanilla extract
1½ teaspoons orange extract
Zest of 1 large orange
Juice of 1 large orange (about 3-4 tablespoons)
Bake cake according to package directions, cool completely before frosting. In a mixing bowl with electric mixer, combine the butter, confectioner's sugar, vanilla and orange extracts until blended. Add the orange zest and fresh orange juice, as needed for spreading consistency. Makes about 2½ cups of frosting, enough for a two layer cake or 24 cupcakes.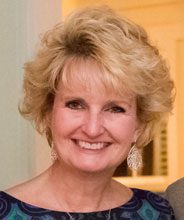 The writer owns Catering by Debbi Covington and is the author of two cookbooks, Gold Medal Winner of the Benjamin Franklin Award, Celebrate Everything! and Dining Under the Carolina Moon. Debbi's website address is www.cateringbydebbicovington.com. She may be reached at 525-0350 or by email at dbc@cateringbydebbicovington.com.