It's hard to believe that Christmas is less than four weeks away. So much to do, so little time! What it is about December that pulls us into our kitchens with bags of flour, sugar, nuts and cranberries? Why do we develop a sense of determination that makes us want to bake every Christmas sweet recipe that we've seen in magazines, on Pinterest and (hopefully) in Lowcountry Weekly's Celebrate Every Day columns? Well, I'm not a philosopher so I can't answer either of those questions. However, I do know a thing or two about cooking. From my perspective, Christmas is a time for sharing, and gifts from the kitchen are the best presents of all. I've mentioned before that my maiden name is Baker. I've also noted that I don't really like to bake. I've had several magazine and Pinterest recipe fails over the years. My three dessert recipes in this gift guide are totally no-fail! They're fun to make, easy, delicious and impressive. One is even no-bake. Best of all, they all three make great gifts. Happy Christmas baking!
Cranberry Cake
If you don't have a 10-inch springform pan, this recipe will make four 4-cup loaves or 24 to 28 cupcakes. Just be sure to reduce the baking time.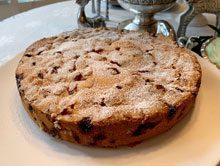 3 large eggs
2 cups sugar
¾ cup butter, cubed and softened at room temperature
1 teaspoon vanilla extract
1 teaspoon almond extract
2 cups all-purpose flour
2½ cups fresh cranberries (12 ounces)
Confectioner's sugar, for dusting
Preheat oven to 350 degrees. Lightly grease and flour a 10-inch springform pan. Use an electric mixer to beat the eggs and sugar until very smooth, about 8 minutes. The egg and sugar mixture will double in volume and turn a very pale yellow, leaving ribbons on top of the batter when you lift the beaters. Beat in the butter, vanilla and almond extract until the butter is smooth and incorporated. Use a spatula to fol in the flour and cranberries. The batter will be thick. Spread gently into the prepared pan. Bake for 60 to 75 minutes, or until center is set. Cool for 20 minutes and then run a knife around the inside edge of the pan and remove the cake. Dust with confectioner's sugar before serving. Serves 10 to 12.
Hollyday Mint Pie
A delightful Christmas dessert! I use Keebler Grasshopper Fudge Mint Cookies. Girl Scout Thin Mints would work great, too!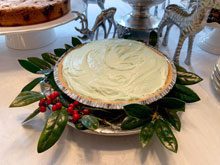 1 prepared graham cracker pie crust
1 (10-ounce) package chocolate-mint cookies
6 tablespoons hot water
1 (8-ounce) package cream cheese, softened
2/3 cup sugar
½ peppermint extract
7 drops green food coloring
1 (8-ounce) container frozen whipped topping, thawed
Place chocolate-mint cookies in the bowl of a food processor; process until cookies are fine crumbs. Mix crushed cookies with water and spread evenly over bottom of prepared graham cracker crust. In a mixing bowl, beat cream cheese, sugar, peppermint extract and food coloring. Fold in whipped topping.  Spread on crust. Smooth top. Chill 3 hours before serving. Serves 6 to 8.
Walnut Baklava
Very simple to make – and time well spent!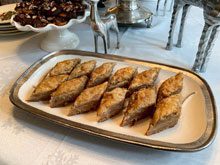 1 (16-ounce) package frozen phyllo dough
1½ cups sugar
¾ cup honey
1½ cups water
1 teaspoon lemon juice
1 small cinnamon stick
4 cups (1 pound) walnuts
½ cup sugar
1 teaspoon ground cinnamon
¼ teaspoon ground nutmeg
2 cups butter, melted
Thaw frozen phyllo dough in refrigerator, according to package directions.  Combine 1½ cups sugar and next 4 ingredients in a saucepan and bring to a boil over medium heat.  Boil for 15 minutes, stirring frequently.  Discard cinnamon stick and chill syrup mixture in the refrigerator.  Process walnuts in a food processor until finely ground.  Add ½ cup sugar, cinnamon, and nutmeg.  Mix well. Brush a 9×13-inch baking dish with melted butter.  Reserve 4 sheets of phyllo dough for top of baklava.  Layer 4 sheets of phyllo in dish, brushing each sheet of dough with melted butter.  Sprinkle with a portion of the walnut mixture. Continue layering with 3 sheets of phyllo, brushing each with melted butter and sprinkling third sheet with walnut mixture until all of the phyllo dough and walnut mixture are used.  Top with reserved 4 sheets of phyllo dough, brushing each with melted butter.  Cut into diamond-shaped pieces.  Pour any remaining butter over top.  Bake, uncovered, in a preheated 350 degree oven for 30 minutes.  Lower heat to 325 degrees and bake for an additional 30 minutes. Pour chilled syrup evenly over hot pastry. Cool completely.  Cut through diagonals again before serving. Serves 15 to 20.