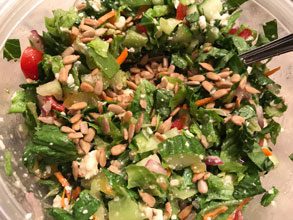 How many pounds did you gain during our recent visit from Hurricane Irma? When Vince and I realized that Irma could be a real threat to our beloved Beaufort, we stocked up with all of the hurricane "essentials."€ You know, the important stuff like batteries, bottled water, a first aid kit, Little Debbie nutty buddies, Pepperidge Farm cookies, two kinds of nabs, potato chips, Cap'n Crunch, pretzel chips, tortilla chips, nacho cheese sauce, onion dip and canned soups – all stuff we never have in the house, at least not all at the same time.
Good gracious! While we were glued to the television watching the Weather Channel for five days, it was so hard to not dig into the "€œhurricane stash"€ -€" after all, the point was to have that food for after the hurricane hit and we were possibly without power or water. What to do? I think I'm going to call it "€œStress Nesting."€ I kind of lost my mind. All I wanted to do was cook and bake. Baking is my least favorite part of cooking, but there I was ripping out pages of Southern Living magazine and whipping up batches of cookies like we didn't have a bite of anything sweet in the house. I made shrimp salad, lasagna, pasta salad and chopped salad. Trying to eat all of the meat out of our freezer, we grilled filet mignon, pork tenderloin and chicken tenders. I even cooked beef tips in the crockpot. All this food in five days for two people! Typically, when I'm in crisis, the first thing to go is my appetite. Evidently, that's not going to be the case with hurricanes. And, being the non-waster of food that I am, I of course, felt compelled to eat everything that I had made. Monday night, after the storm was pretty much over, Vince and I looked at each other and and said, "€œwe've gotta start eating better, my pants are tight." Both of us. So, today is Thursday and I'm squeezed into a pair of yoga pants. Our diet has improved over the past couple of days but we still have a few pounds to go before things get back to normal around here. The recipes this week are a few from my "€œStress Nesting" phase. They're each good in their own right. You just don't need to eat them all at the same time. I didn't forget to include that cookie recipe from Southern Living either. Beaufort was lucky this time. I'm so grateful. Let's hope and pray that we don't get any more uninvited guests like Irma ever again.
Chopped Salad
Chopped salads are easy and fun to make! Fresh salad materials are chopped into small pieces, so every bite has several ingredients.
For the vinaigrette:
2 tablespoons fresh lemon juice
1-1/2 teaspoons sugar
1 small garlic clove, minced
1/2 teaspoon salt
1/4 teaspoon freshly ground black pepper
1/3 cup olive oil
For the salad:
4 cups chopped romaine lettuce (1 large head)
1 English cucumber, diced
1 carrot, peeled and chopped
2 medium tomatoes, diced
1 small red onion, finely chopped
1 cup snow peas, diced
4 ounces crumbled goat cheese
1/4 cup dry roasted sunflower seeds
Whisk together lemon juice, sugar, garlic, salt and pepper in a bowl. Add the oil in a stream, whisking together until combined. Refrigerate until ready to use. Toss salad ingredients in a large bowl; dress with vinaigrette just before serving. Serves 6 to 8.
Shrimp Remoulade
Remoulade is a mayonnaise-based sauce with pickles, mustard, herbs and chopped hard-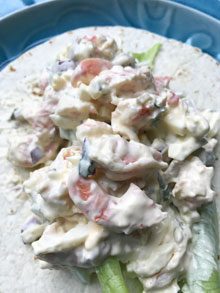 boiled eggs. Sometimes capers are added.
2 pounds shrimp, peeled and deveined
3 stalks celery, chopped
1/2 cup red onion, finely chopped
6 hard-boiled eggs, diced
1 teaspoon Dijon mustard
3/4-1 cup mayonnaise or salad dressing (Miracle Whip)
3 tablespoons sweet pickle relish
1/2 cup chopped fresh Italian parsley
Fresh lettuce leaves
Cook shrimp in boiling water until just pink; drain and refrigerate until chilled. Cut larger shrimp into bite-sized pieces. Place shrimp in a large bowl. Add celery, red onion, boiled eggs, mustard, mayonnaise, pickle relish and parsley; mix well. Cover and chill until ready to serve. To serve, arrange lettuce leaves on a dish or platter; top with shrimp mixture. Serves 8 to 10.
Crock Pot Beef Tips
I've been making these since I was in my 20's. They're super easy and great served over egg noodles or rice.
1 London broil, cut into 1-inch cubes
1 can cream of mushroom soup
1 package dry onion soup mix
1 teaspoon Worcestershire
Place all ingredients in a crock pot. Cook on low for 4 to 5 hours or until tender. Serves 4 to 6.
Bourbon Marinated Pork Tenderloin
Always a hit with baked potatoes and a chopped salad!
2-1/2 pounds pork tenderloin
1/2 cup low sodium soy sauce
1/2 cup bourbon
2 tablespoons Worcestershire sauce
2 tablespoons olive oil
4 garlic cloves, minced
1 heaping tablespoon fresh minced ginger
1/4 cup brown sugar, packed
1 teaspoon black pepper
Combine soy sauce and next 7 ingredients in a large zip-top plastic bag. Place pork in marinade and close to seal. Let pork marinate in refrigerator for 12 to 24 hours. Grill pork tenderloins over high heat for about 30 minutes, turning occasionally, until a thermometer inserted into the thickest portion registers 155 degrees. Remove from heat, cover with foil and let rest for at least 15 minutes before slicing. Serves 6.
Flourless Chocolate-Pecan Cookies
These are so sweet to be gluten free. And, the batter is really stiff. I had to mix in the chocolate
and pecans with my hands. Use a small ice cream scoop to drop cookie dough onto your baking sheet.
3 cups confectioner's sugar
2/3 cup unsweetened cocoa powder
1/4 teaspoon salt
3 large egg whites
2 teaspoons vanilla extract
1 (4-ounce) semisweet chocolate bar, chopped
1 cup toasted chopped pecans
Preheat oven to 350 degrees. Mix together confectioner's sugar, cocoa and salt in a large bowl. Whisk egg whites until frothy. Stir egg whites and vanilla into sugar-cocoa mixture. Batter will be very thick. Stir in chopped chocolate and pecans until well combined. Drop cookies 2 inches apart using a small ice cream scoop (about 2 tablespoons) on a parchment paper-lined baking sheet lightly greased with cooking spray. Bake for 15 to 17 minutes. Cool on baking sheet 5 minutes, transfer to wire racks and cool completely, about 15 minutes. Makes 24.
The writer owns Catering by Debbi Covington and is the author of two cookbooks, Gold Medal Winner of the Benjamin Franklin Award, Celebrate Everything! and Dining Under the Carolina Moon. Debbi'€™s website address is www.cateringbydebbicovington.com. She may be reached at 525-0350 or by email at dbc@cateringbydebbicovington.com.