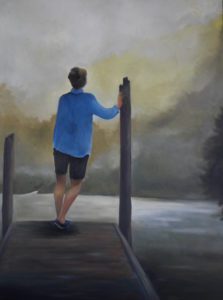 The next show at the Beaufort Art Association (BAA) Gallery will feature the work of Lowcountry artist Susan McCarthy.  The title of her show is "Isolation" and will run from Jan. 5 to Feb. 26, 2020. An artist's reception will be held at the Gallery at 913 Bay Street in Beaufort on Friday, Jan. 8, from 5 – 8 pm.
McCarthy, who moved to Beaufort nine years ago, maintains a studio at Atelier on Bay.  She says her interest in art really started when she was young and lived in Pennsylvania close to Chadds Ford, the winter home of Andrew Wyeth. In 1973, Susan and her husband Bill moved to central New Hampshire where they purchased a huge, old inn in a lovely village called Tamworth.  There, she met an artist who had an incredible influence on the rest of her life.  The woman was Barbara Fromm, but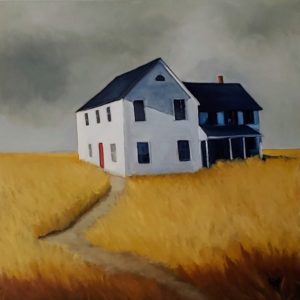 she painted under the name of Willey Fromm. Well-known for her oil paintings and woodcuts throughout the state of New Hampshire, Fromm taught McCarthy to paint in oils in her impressionistic style; they worked together for ten years. Susan says her real love was not impressionism, but realism. She learned to paint with acrylics with another New Hampshire artist Ernie Brown, and developed her own style. She sold her work in area galleries. A few years later, life became more complicated when they sold the inn and opened restaurants in the area. Then, their sons married, grandchildren became the focus. It would be over twenty years before McCarthy returned to oil painting.
She says she is influenced by Wyeth and Edward Hopper, but paints in her own style. She loves painting area marshes, and says her show is about the marshes, but also about isolation, both sought and imposed.
Besides McCarthy's work, the work of other artists who are members of the Beaufort Art Association will be on exhibit, as well. Chartered in 1957, the Beaufort Art Association is a tax-exempt membership organization. Currently, about 175 local artists belong, with about 65 of them exhibiting their work in the Gallery.  To find out more, go to www.beaufortartassociation.com, or call 843-521-4444.