It's one of my favorite things to be thankful for. I don't have to cook Thanksgiving dinner. Vince and I are blessed to be invited to a gathering of friends every year. All we have to do is show up with a side dish. In true southern fashion, the turkeys are deep-fried and everyone takes copious amounts of vegetables, salads, side dishes and desserts. In keeping with the spirit of not being responsible for the main course, I'm sharing some delicious Thanksgiving side dish recipes. Some of the vegetables featured are still available at our local farmers' market. Please try to buy local produce whenever you can. Happy Thanksgiving! (Photography by Paul Nurnberg)
Collard Greens Dressing
Collard greens dressing also makes delicious muffins. Just mix 2 eggs with prepared recipe and bake for 15 to 20 minutes in a greased and floured muffin pan. Enjoy!
2 cups vegetable or chicken broth
1 (6-ounce) package herb-seasoned stuffing mix
1 (14.5-ounce) can seasoned collard greens
In a medium saucepan, bring chicken broth and butter to a boil. Stir in stuffing mix, onion, collards and sage. Cover and remove from heat. Let sit for 5 minutes. Fluff with a fork before serving. Serves 6 to 8.
Coconut-Praline Sweet Potatoes
The combination of pecans and toasted coconut on top of sweet potatoes is irresistible!
5 medium sweet potatoes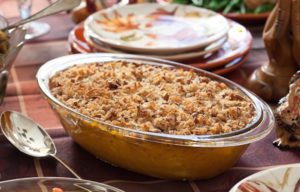 2 tablespoons brown sugar
2 tablespoons butter, melted
½ cup sweetened flaked coconut
Peel the sweet potatoes and cut into large chunks. Place potatoes in a pot and cover with water. Bring to a boil. Reduce heat and cook, covered, about 25 minutes or until very tender. Drain and transfer potatoes to a large mixing bowl. Add 3 tablespoons milk, 3 tablespoons butter and 2 tablespoons brown sugar. Mash with a hand mixer; blend to desired consistency. Place mashed potatoes in a lightly greased casserole dish. In a small bowl, combine 2 tablespoons melted butter, 1/3 cup brown sugar, ½ cup chopped pecans and ½ cup coconut. Sprinkle mixture evenly over mashed sweet potatoes. Bake in a preheated 350 degree oven for 30 minutes until potatoes are warmed through. Serves  6 to 8.
Farm-Style Green Beans
Look for small and tender green beans or haricot vert.
16 ounces fresh green beans
5 slices bacon, cut into pieces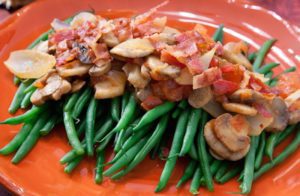 1 medium onion, cut into thick wedges
8 ounces fresh mushrooms, sliced
1 large ripe tomato, seeded and diced
Freshly ground black pepper
Leave green beans whole. In a large saucepan, cook the beans in a small amount of boiling water for about 10 minutes or until beans are crisp-tender; drain. Meanwhile, in a 10-inch skillet cook bacon over medium heat until crisp. Remove bacon, reserving drippings in skillet. Drain bacon on paper towels; set aside. Cook onion and mushrooms in reserved drippings over medium heat until tender. Add tomato and salt. Cook uncovered, 2 to 3 minutes or until most of liquid is absorbed. Transfer beans to a serving platter or bowl. Top with onion mixture. Sprinkle bacon over the vegetables. Serves 8.
Bourbon Creamed Corn
Corn has an underlying sweetness that is accented with a bit of bourbon. Green onion adds an herbal note. 
1 shallot, chopped
1 large red bell pepper, chopped
4 cups fresh corn kernels (about 4 to 5 ears)
2/3 cup whipping cream, divided
¾ cup chopped green onions, divided
Melt butter in a large skillet over medium-high heat.  Add shallots and garlic; saute 2 minutes.  Add red bell pepper; saute 1 minute. Add corn; saute until almost tender, about 2 minutes.  Add
1/3 cup cream and ¼ cup bourbon.  Simmer until sauce thickly coats corn, stirring occasionally, about 2 minutes.  Add remaining 1/3 cup cream and ½ cup green onions.  Simmer until sauce thickens enough to coat corn, about 2 minutes longer.  Season creamed corn to taste with salt and pepper. Transfer to serving bowl and sprinkle with remaining ¼ cup green onions. Serves 8.
The writer owns Catering by Debbi Covington and is the author of three cookbooks, Celebrate Beaufort, Celebrate Everything! and Dining Under the Carolina Moon. For more great recipes and to view her cooking demonstrations, visit and subscribe to Debbi's YouTube channel. Debbi's website address is www.cateringbydebbicovington.com. She may be reached at 843-525-0350 or by email at dbc@cateringbydebbicovington.com.