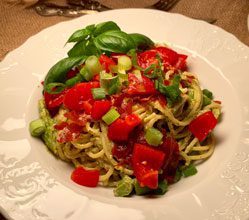 With extra time on my hands, I've been able to experiment with a bunch of different recipes. This week, I'd like to share three of my favorite new entrees. All use mostly pantry ingredients, are easy to prepare and very delicious. Happy Cooking!
Pesto and Ricotta Pasta with Asparagus and Prosciutto
Made in less than 30 minutes, this yummy pasta is super easy, uses minimal ingredients and is packed with flavor!
4 ounces thinly sliced prosciutto
8 ounces thin spaghetti pasta
1 bunch asparagus, cut into bite-sized pieces
1 cup pesto (homemade or store bought)
1 cup ricotta cheese
1 tablespoons fresh lemon juice
Zest of 1 lemon
Salt and pepper, to taste
Shredded parmesan cheese
Chopped fresh tomatoes
Chopped green onions
Fresh basil, to garnish
Preheat oven to 375 degrees. Line a baking sheet with parchment paper. Arrange prosciutto slices in an even layer on prepared baking sheet. Transfer to oven and bake for 8 to 10 minutes or until crispy. Bring a large pot of water to a boil and cook the spaghetti to al dente, according to package directions. During the last 2 to 3 minutes of cooking, add the asparagus to the boiling water. Drain well. Toss the hot pasta with pesto, ricotta, lemon juice and lemon zest. Season with salt and pepper. Top with crispy prosciutto. Garnish with shredded parmesan, tomatoes, green onions and fresh basil. Serves 4.

Tamale Pie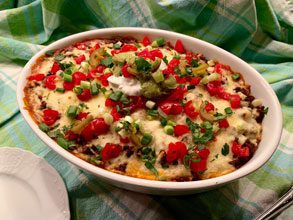 Super easy and delicious! Ground beef on top of a cornbread crust, all drenched in a bold enchilada sauce. This dish is a spin on tamales and a perfect weeknight entree.
1 (8.5-ounce) box corn muffin mix
1 egg
½ cup sour cream
¼ cup buttermilk (or milk)
1 (14.5-ounce) can cream-style corn
1 (4-ounce) can diced green chiles
1 pound ground beef
1 (1.25-ounce) package taco seasoning
1 (10-ounce) can enchilada sauce
2 cups shredded Monterey Jack cheese
Diced tomatoes, to garnish
Chopped green onions, to garnish
Chopped fresh cilantro, to garnish
Sliced jalapenos, to garnish
Sour cream
Guacamole
Preheat oven to 350 degrees. Grease a square baking dish or deep round pie pan with cooking spray. Mix corn muffin mix with egg, sour cream, buttermilk (or milk), cream-style corn and green chiles in a large bowl; stir well to combine. Pour the cornbread mixture into prepared baking dish. Bake the cornbread for 30 to 35 minutes. It won't be cooked completely but will continue to bake when the toppings have been added. While the cornbread bakes, cook the ground beef. Drain the grease and season with taco seasoning, according to package directions. Remove the hot cornbread from the oven and poke with a fork all over. Drizzle with enchilada sauce. Add the ground beef on top of the cornbread. Top with shredded cheese. Bake for another 15 minutes or until the cheese is melted and the sauce is bubbling along the edges of the baking dish. Remove from oven. Garnish with diced tomatoes, green onions, cilantro and jalapenos. Serve with sour cream and guacamole. Serves 6.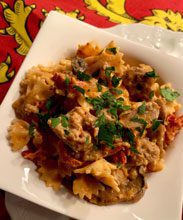 Farfalle Pasta with Italian Sausage
This super easy pasta is great for a week night supper. It's a cinch to make and uses mostly pantry ingredients.
1 pound Italian sausage
1 medium sweet onion, halved and sliced
2 cups mini farfalle (bow-tie) pasta
1 cup Alfredo sauce
½ cup pizza sauce
1 (4-ounce) can mushroom stems and pieces, drained
½ cup julienned sun-dried tomatoes
12 large black olives, sliced
Chopped Italian parsley, to garnish
Cook Italian sausage with halved and sliced onion in a large skillet. There's no need to add oil. The meat and onions will cook in the grease rendered from the sausage. Cook until sausage is cooked through and onion is tender. Fill a large pot with water and bring it to a boil. Add pasta and cook until al dente, according to package directions. Add Alfredo sauce and pizza sauce to the sausage and onion mixture. Stir to combine and heat through. Add mushrooms, sun-dried tomatoes and black olives. Remove from heat. Drain cooked pasta and add to the sauce mixture. Stir gently to combine. Garnish with chopped Italian parsley. Serves 4.
The writer owns Catering by Debbi Covington and is the author of three cookbooks, Celebrate Beaufort, Celebrate Everything! and Dining Under the Carolina Moon. Debbi's website address is www.cateringbydebbicovington.com. She may be reached at 525-0350 or by email at dbc@cateringbydebbicovington.com.