Don't you just love the sunshine? I'm totally solar powered. I have to admit, I've been feeling a bit anti-social during the past few cold and dark winter months. And, I've been spending too much time at home eating my favorite comfort foods. Warm and bright days have been so good for my psyche and I'm feeling inspired again. This week I'm sharing three of my favorite (and delicious) slim-down salad recipes. Soon we'll be able to buy fresh spring and summer vegetables locally. Isn't it wonderful?
Grilled Romaine Salad
1 cup mayonnaise
½ cup sour cream
¼ cup whole milk or cream
6 ounces blue cheese, crumbled
1 tablespoon shallot, finely grated
1 garlic clove, finely grated
1 tablespoon fresh lemon juice
½ teaspoon salt
1/8 teaspoon freshly ground black pepper
2 romaine lettuce hearts, halved lengthwise
Olive oil
Salt
Freshly ground black peppercorns
Grape tomatoes, halved
4 slices bacon, cooked and crumbled
Crumbled blue cheese to garnish (optional)
Fresh Italian parsley to garnish (optional)
In a medium bowl, combine mayonnaise, sour cream, milk, blue cheese, shallot, garlic, lemon juice, salt and pepper. Cover and refrigerate for at least 3 hours to let the flavors develop. The dressing will thicken as it sits and may need to be thinned with more milk and the seasoning adjusted. Heat grill to medium-low. Lightly brush olive oil over all the romaine hearts, taking care not the break the leaves. Sprinkle with salt and pepper. Put the lettuce cut side down on the grill and cook until the outer leaves begin to char and wilt and the lettuce is warm and just barely tender all the way through to the core, about 2 to 5 minutes. Transfer the lettuce, cut side up, to a platter and let rest for 5 minutes. Top blue cheese dressing, halved grape tomatoes and crumbled bacon. Garnish with blue cheese crumbles and Italian parsley. Serve immediately. Serves 4.

Tomato-Watermelon Salad with Feta and Pine Nuts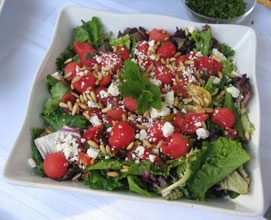 8 cups (1-1/4 inch chunks) seedless watermelon
6 cups (1-1/4 inch chunks) ripe tomatoes, in assorted colors
1 teaspoon kosher salt
5 tablespoons extra-virgin olive oil, divided
1-1/2 tablespoons red wine vinegar
3 tablespoons chopped fresh mint
6 cups mixed salad greens
1 cup crumbled feta cheese
1/3 cup pine nuts, lightly toasted
Fresh mint, to garnish
Combine melon and tomatoes in a large bowl. Sprinkle with salt and toss to blend. Add 4 tablespoons oil, vinegar and mint to melon mixture. Season to taste with salt and pepper, if desired. Toss salad greens in a medium bowl with remaining tablespoon olive oil. Place on a platter. Top with melon salad; sprinkle with feta cheese, toasted pine nuts and fresh mint. Serves 6 to 8.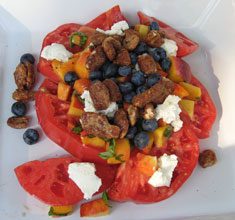 Heirloom Tomatoes with Fresh Peaches, Goat Cheese and Pecans
Whisk together 1/3 cup white balsamic vinegar; 1 garlic clove, minced; 2 tablespoons brown sugar; 2 tablespoons olive oil; and 1/8 teaspoon salt. Stir in one peeled and diced fresh peach and 2 tablespoons chopped fresh basil. Spoon over sliced heirloom tomatoes; top with 3 ounces crumbled goat cheese and ½ cup coarsely chopped toasted pecans. Sprinkle with freshly ground black pepper, to taste.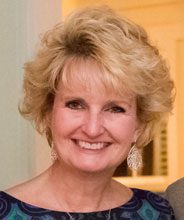 The writer owns Catering by Debbi Covington and is the author of two cookbooks, Gold Medal Winner of the Benjamin Franklin Award, Celebrate Everything! and Dining Under the Carolina Moon. Debbi's website address is www.cateringbydebbicovington.com. She may be reached at 525-0350 or by email at dbc@cateringbydebbicovington.com.