Award Winning Deliciousness
It's time to roll out the red carpet! The 16th annual Beaufort International Film Festival is almost here. Opening night festivities begin on Tuesday, February 22nd. On Wednesday at 9:00 am, filmmakers, directors, screen writers, movie stars and lots of film-loving fans will begin viewing all of the nominated flicks for four action and drama-packed days and nights. Of course, we'll all eat our weight in popcorn. That's a movie-watching must. Still, some of us won't want to miss a single film or to leave the theater long enough to go out for lunch, so I've created three gourmet salads that can be made the night before and safely tucked into a small bag to take to the movies. Add a little gourmet delight to your movie experience with these healthy and delicious BIFF Bowls. If you're so inclined, you can easily make two or three to share with some of your movie-watching friends. It's going to be a great week! For more information about the Beaufort International Film Festival and to purchase movie and event tickets visit www.beaufortfilmfestival.com. I'll be catering the Filmmakers Reception on Opening Night AND the Awards Ceremony Cocktail Hour on Sunday, February 27th. I hope to see you at the movies!
Farro Salad BIFF Bowl with Chicken and Strawberries
Farro is one of the world's oldest cultivated grains. Originally discovered in the Middle East, it is now grown in Italy. Farro is shaped like rice with a golden-brown hue and has a nutty flavor. It also has a slightly chewy texture when cooked.
1 (14-ounce) package farro (approximately 2 cups)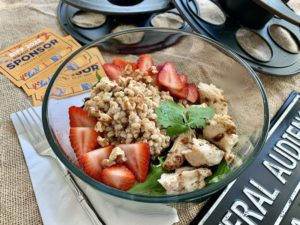 3 tablespoons extra-virgin olive oil
2 tablespoons lemon juice
2 tablespoons freshly chopped cilantro
2 tablespoons freshly chopped mint leaves
Fresh strawberries, hulled and sliced
Cook farro according to package instructions. Set aside. Whisk olive oil, tahini, honey and lemon juice together in a large bowl. Add farro and toss to coat. Season with salt and pepper. Sprinkle in the green onions, cilantro and mint; fold to mix. Refrigerate for at least 3 hours. Serve farro salad on a bed of mixed greens. Top with chicken, fresh strawberries and chopped walnuts. Serves 4 to 6.
Chef's Salad BIFF Bowl
This simple salad recipe is easy to double, triple or even quadruple if you're packing lunch for several lucky film-watching friends.
6 slices thinly sliced deli ham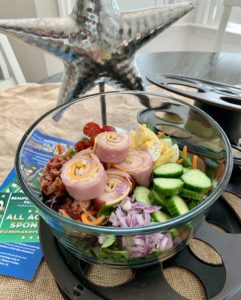 6 slices thinly sliced deli turkey
6 slices thinly sliced Colby-jack cheese
2 slices bacon, cooked and crumbled
2 cups mixed salad greens
2 tablespoons shredded carrots
1 small Persian cucumber, sliced
1 tablespoon chopped red onion
Bottled French or Italian dressing, to taste
Make two ham, turkey and cheese rolls. Place three slices of ham on top of each other. Add three slices of turkey and then three slices of cheese. Roll tightly. Repeat with remaining meat and cheese. Using a sharp knife, cut the rolls into 4 or 5 slices. Place mixed greens in a portable bowl with a lid. Add shredded carrots, cucumber slices, grape tomatoes, boiled egg quarters, chopped red onion, crumbled bacon and sliced meat and cheese rolls. Drizzle with salad dressing just before serving. Serves 1.
Spinach Salad BIFF Bowl
Always a favorite! Who doesn't love hearts of palm? Add some cooked shrimp or chicken if you crave more protein.
2 tablespoons freshly squeezed lemon juice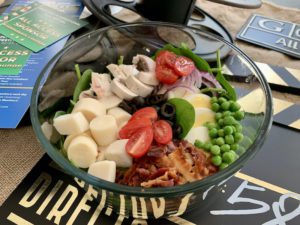 1 tablespoon white balsamic vinegar
2 tablespoons extra-virgin olive oil
4 slices bacon, cooked and crumbled
1 tablespoon sliced black olives
¼ cup sliced hearts of palm
2 tablespoons frozen peas, thawed in refrigerator
Place vinaigrette ingredients in a small container with a tight-fitting lid. Shake until well combined. Place spinach in a portable bowl with a lid. Top with bacon, egg, mushroom slices, black olives, heart of palm slices, tomatoes, red onions and green peas. Drizzle with vinaigrette just before serving. Serves 1.
The writer owns Catering by Debbi Covington and is the author of three cookbooks, Celebrate Beaufort, Celebrate Everything! and Dining Under the Carolina Moon. For more great recipes and to view her cooking demonstrations, visit and subscribe to Debbi's YouTube channel. Debbi's website address is www.cateringbydebbicovington.com. She may be reached at 843-525-0350 or by email at dbc@cateringbydebbicovington.com.