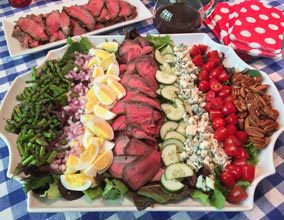 The spring weather has been glorious! Vince and I recently took advantage of a cool and breezy Lady's Island evening and invited 20 of our friends over for a grilled salad supper on the deck.
Who knew that it would turn into a column?! These are some are some really fun and yummy recipes. The Blooming Pizza Bread was an immediate hit. I suggest serving it with a sharp bread knife, so that your guests can enjoy the bottom of the bread. That's where all of the flavor from the butter and herbs ends up. The Southwestern Grilled Chicken Salad is quick and easy. Serve it with bottled ranch dressing and/or taco sauce. I grilled corn on the cob while I was grilling the chicken and then trimmed it from the cobs for the salad. Canned or frozen corn kernels will work just as well. The Grilled Steak Salad takes a bit of time to prepare, but only because of the marinade. I marinated two London broils for 2 days before grilling them. I promise, it was well worth the wait. The meat was juicy and tender. Enjoy these last few weeks of springtime in Beaufort. You know the hot and steamy days of summer are coming soon. Happy Grilling!

Blooming Pizza Bread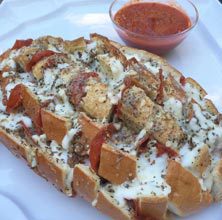 1 unsliced loaf of Italian bread
½ pound mild Italian sausage
25 slices of pepperoni
2 cups shredded mozzarella cheese
½ teaspoon dried oregano
¼ teaspoon crushed red pepper flakes
1 tablespoon parmesan cheese
½ cup butter, melted
1 (.60-ounce) package Italian salad dressing mix
Pizza sauce, for dipping
Brown sausage in a medium skillet. Drain well and crumble; set aside. Prepare a baking pan by lining it with aluminum foil. Preheat oven to 350 degrees. Carefully slice bread in long slices, taking care not to go all the way through. Turn the bread 90 degrees and cut the slices in the opposite direction, again leaving the bottom connected. (Day old bread is easier to cut.) Tuck the sausage, pepperoni and mozzarella cheese into the cuts in the bread, pack it in as much as possible. Sprinkle oregano, crushed red pepper flakes and parmesan cheese over the top of the bread. In a small bowl, combine the melted butter the Italian dressing mix. Pour butter mixture over the top of the bread. Cover the bread with another piece of foil, molding it down and around the bread. Bake for 20 to 30 minutes. Uncover and continue baking until the cheese is melted and the top is golden brown. Serve warm with pizza sauce.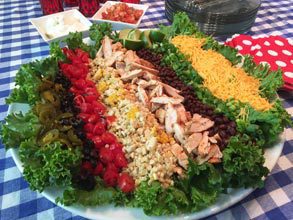 Southwestern Grilled Chicken Salad
For the chicken:
8 to 10 chicken breast cutlets
Vegetable oil or olive oil
Salt and pepper
1 cup mayonnaise
2 chipotles in adobo sauce
1 tablespoon adobo sauce
1 tablespoon fresh lime juice
Brush both sides of chicken cutlets with vegetable oil. Season with salt and pepper. Place mayonnaise, chipotles, adobo sauce and lime in a food processor and puree; set aside. To cook chicken, preheat grill to high heat. Once the grill is hot, turn it down to medium. Place the chicken on grill and cook until it begins to turn opaque, turning often to prevent sticking. As the chicken cooks, baste on each side with the the chipotle mayonnaise. Cook until chicken is completely opaque all the way through, but still juicy. Remove to a platter and let chicken rest for 5 minutes. Cut into bite-sized pieces.
For the salad:
Mixed salad greens or green-leaf lettuce, torn
Sliced pickled jalapenos
Sliced black olives
Grape tomatoes, sliced
Fresh or canned corn (grilled or cooked to taste)
Canned black beans, rinsed and drained
Green onion, chopped
Sharp cheddar cheese shredded
Tortilla chips
Salsa
Guacamole
Sour cream
Limes, quartered
Ranch dressing
Taco sauce
Place salad greens on a large platter or in a large bowl. Top with grilled chicken pieces, jalapenos, black olives, tomatoes, corn, black beans, green onion and cheddar cheese. Serve with tortilla chips, salsa, guacamole, sour cream and fresh limes. Dress salad with ranch dressing or taco sauce before serving.
Grilled Steak Salad with Balsamic Vinaigrette (top of page)

For the steak:
2-3 pound London broil or flank steak
2 tablespoons balsamic vinegar
2 tablespoons fresh lemon juice
1 tablespoon Dijon mustard
1 tablespoon Worcestershire sauce
1 teaspoon finely minced fresh garlic
½ teaspoon dried oregano
½ teaspoon dried basil
½ teaspoon dried thyme
½ teaspoon smoked paprika
¼ cup olive oil
Combine balsamic vinegar, lemon juice, mustard, Worcestershire sauce, garlic, and spices. Whisk in olive oil. Place meat in a gallon-sized zip-lock bag. Pour marinade over meat. Marinate in the refrigerator for 12 to 48 hours. (The longer the meat marinates, the more tender it will be.) To cook, remove the meat from the marinade and let it come to room temperature. Preheat grill to high heat. Turn the grill down to medium high or let coals cool down before you put the meat on. Turn the meat about every 6 minutes. Cook to 130F. (Cooking time will depend on how hot the grill is and the size of your meat. The meat will continue to cook as it rests so it's best to remove from the grill when it's a bit underdone.) When the meat reaches 130F, remove from the grill and let rest for 10-15 minutes. Cut meat into thin slices across the grain.
For the vinaigrette:
¼ cup balsamic vinegar
2 tablespoons honey
1 tablespoon Dijon mustard
1 large clove garlic, minced
¾ cup extra-virgin olive oil
½ teaspoon salt
½ teaspoon black pepper
Place all ingredients in a small bowl. Whisk to combine. Set aside until ready to serve.
For the salad:
Romaine lettuce, torn
1 bunch asparagus, steamed and cut into bite-sized pieces
1 small red onion, diced
Boiled eggs, cut into quarters
1 English cucumber, halved and sliced
Blue cheese, crumbled
Grape tomatoes, halved
Pecans halves
Place the lettuce on a large serving platter or in a large bowl. Top with sliced steak, asparagus, red onion, boiled eggs, cucumber, blue cheese, grape tomato halves and pecans. Toss will balsamic vinaigrette before serving.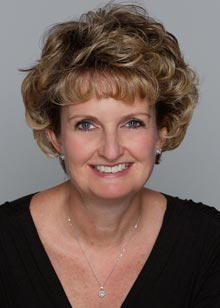 The writer owns Catering by Debbi Covington and is the author of two cookbooks, Gold Medal Winner of the Benjamin Franklin Award, Celebrate Everything! and Dining Under the Carolina Moon. Debbi's website address is www.cateringbydebbicovington.com. She may be reached at 525-0350 or by email at dbc@cateringbydebbicovington.com.