Cooking takes on special joy during the Christmas season! Cocktail parties, intimate dinners, casual gatherings and cookie exchanges all call for the finest holiday foods. Christmas is also a time for remembering special neighbors, co-workers and friends with tasty homemade treats from your kitchen. This week I'm sharing recipes for several scrumptious holiday sweets. Make this holiday cooking season enjoyable and rewarding with these festive and delicious receipts. Merry Christmas!
1 (14.5-ounce) package gingerbread mix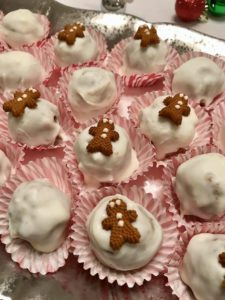 1 (2.9-ounce) box cook and serve lemon pudding
2 (12-ounce) packages white chocolate chips
Candies or sprinkles, to garnish
Bake gingerbread according to package directions. Cool completely. Prepare lemon pudding according to package directions. Cool completely. Crumble gingerbread in a large bowl. Add ¾ to 1 cup of lemon pudding, just enough to make mixture soft enough to roll into balls. Roll mixture into 1-inch balls and place on a baking sheet. Chill until firm. Melt white chocolate chips  according to package directions and dip each truffle to cover completely. Place on a baking sheet. Top truffles with candies, if desired. Refrigerate until candy coating is hard. Store covered in refrigerator. Makes about 50 truffles.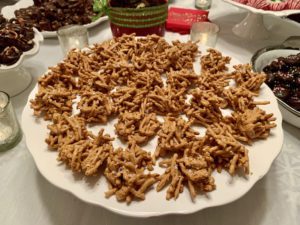 1 (12-ounce) package butterscotch morsels
1 (12-ounce) Package chow mein noodles
1 cup red melting chocolates (optional)
1 cup green melting chocolates (optional)
Cover a large baking sheet with aluminum foil or parchment paper. In a large bowl, melt butterscotch morsels in the microwave according to package directions. Add chow mein noodles and stir well to coat completely. Using two spoons, place small clusters of noodles on prepared baking sheet. Allow at least one hour for the butterscotch morsels to set up. Melt red chocolates in a microwave safe bowl, according to package directions. Pour melted chocolate into a quart-sized zip lock bag. Snip one end of the baggie with a pair of scissors and drizzle chocolate over haystacks. Repeat with the green melting chocolates. Allow an additional hour for the chocolate to set up. Store in a tightly covered container. Makes approximately 50.
1 (12-ounce) bag white chocolate candy morsels
¾ cup sweetened shredded coconut
Red and green candy melts, to decorate
Line a mini muffin pan with paper liners. Melt white chocolate candy morsels according to package directions; stir until smooth. Add rice krispies and coconut. Mix well to combine. Drop tablespoons of mixture into paper lined muffin pan. Drizzle with melted red and green candy melts to decorate. Let sit at room temperature for 2 hours to set. Makes 24 to 28.

Chocolate Caramel Pretzel Bites
40 mini pretzels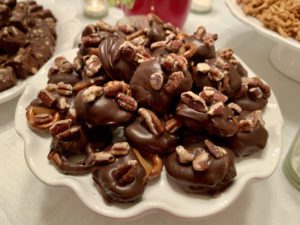 20 caramel squares, unwrapped
¾ cup semi-sweet or dark chocolate morsels
Preheat oven to 350 degrees. Line a baking sheet with aluminum foil. Lay pretzels in a single layer on prepared baking sheet. Cut each caramel in half. Lay a piece of caramel in center of each pretzel. Bake in preheated oven for 4 to 5 minutes. The caramel will be soft but not completely filling the holes of the pretzels. Cool pretzels completely. Melt chocolate morsels according to package directions. Dip each pretzel in chocolate. Do not cover completely. Place back on foil-lined baking sheet and sprinkle with chopped pecans. Let cool completely. Store in an airtight container. Makes 40.
1 cup all-purpose flour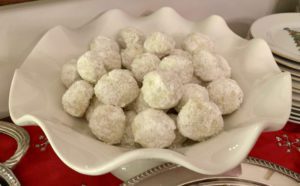 ½ cup finely chopped pecans
¼ cup confectioner's sugar
½ teaspoon vanilla extract
Confectioner's sugar, for rolling
Combine flour, butter, pecans, confectioner's sugar and vanilla in a large bowl. Stir until well blended. Mixture will be stiff. Shape dough into 1-inch balls. Place on lightly greased baking sheet. Bake in a preheated 375 degree oven for 12 minutes. Remove to wire racks to cool slightly. Roll cookies in confectioner's sugar and cool completely on wire racks. Makes 24 cookies.
3 cups dark chocolate morsels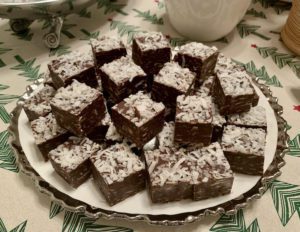 1 (14-ounce) can sweetened condensed milk
1 cup sweetened shredded coconut
1 cup slivered almonds, toasted
Line an 8×8-inch baking dish with parchment paper leaving an overhang. You will need to extra paper to help remove the fudge from the pan. Place chocolate morsels, sweetened condensed milk and butter in a microwavable bowl. Cook at 50% power until morsels are melted; approximately 3 to 5 minutes. After morsels are melted, stir in coconut and almonds. Pour into prepared pan and smooth the mixture until evenly distributed. Refrigerate until set. Using overhanging parchment paper, remove fudge from pan. Place on a cutting board and slice with a large, sharp knife. Makes 36 pieces.
The writer owns Catering by Debbi Covington and is the author of three cookbooks, Celebrate Beaufort, Celebrate Everything! and Dining Under the Carolina Moon. For more great recipes and to view her cooking demonstrations, visit and subscribe to Debbi's YouTube channel. Debbi's website address is www.cateringbydebbicovington.com. She may be reached at 843-525-0350 or by email at dbc@cateringbydebbicovington.com.