Blow the horns, throw the confetti and pop the cork on 2022 in sparkling style! A time for reflection as well as for reveling, the turning of the year provides an opportunity to look back with satisfaction and ahead with hope.  Invite a few guests for a toast of bubbly and then sit down to a palate-pleasing meal.  In keeping with the "out with the old and in with the new" theme that the new year offers, these delicious recipes are a treasury of old favorites splashed with sizzling new flavors. Raise your glass and toast to good friends, good food and good luck! (Photography by Paul Nurnberg)
Cornmeal Fried Oysters with Jalapeño Aioli
Sweet and salty South Carolina Lowcountry oysters are the best on the planet! Fried or roasted oysters are a New Year's tradition at our house.
1 tablespoon diced jalapeno peppers
1 tablespoon fresh lime juice
1 tablespoon chopped fresh Italian parsley
Vegetable oil, for frying
Freshly ground black pepper
Place jalapenos, mayonnaise and lime juice in a small bowl; mix well.  Stir in parsley; set aside. In a deep fryer, heat oil to 350 degrees.  Combine flour, cornmeal, salt and peppers in a shallow dish. Place some of the oysters in the cornmeal mixture and toss to coat well. Shake off excess.  Fry the oysters, in batches, until they are crispy and golden brown, about 2 minutes.  Remove and drain on paper towels. Serve with aioli.  Serves 4 to 6.
Collard Greens Spread
Collard greens represent "green" money in southern New Year's tradition. Each bite of greens you eat is worth $1,000 in the upcoming year. This appetizer spread is so yummy that you can afford to share the wealth!
6 slices bacon, cut into small pieces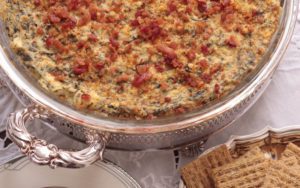 1 (16-ounce) package frozen chopped collard greens, thawed
12 ounces cream cheese, cut into pieces
½ teaspoon dried crushed red pepper
¾ cup freshly grated Parmesan cheese, divided
Cook bacon in a Dutch oven over medium-high heat for 5 to 6 minutes or until crisp; remove bacon and drain on paper towels, reserving 1 tablespoon drippings in Dutch oven.  Saute onion and garlic in hot drippings for 3 to 4 minutes. Add wine and cook for 1 to 2 minutes, stirring to loosen particles from bottom of Dutch oven. Stir in collard greens, cream cheese, sour cream, crushed red pepper and salt. Stir in ½ cup Parmesan cheese. Cook, stirring often until cream cheese is melted and mixture is thoroughly heated. Transfer to a lightly greased baking dish. Sprinkle evenly with remaining ¼ cup Parmesan cheese. Broil 6 inches from heat until cheese is lightly browned. Sprinkle evenly with bacon. Serve hot with whole wheat crackers. Serves 12 to 15.
Southeastern Hoppin' John
Throughout the coastal south, eating Hoppin' John on New Year's Day is thought to bring a prosperous year filled with luck. The peas are symbolic of pennies or coins, and a coin is sometimes added to the pot or left under the dinner bowls. On the day after New Year's Day, leftover Hoppin' John is called Skippin' Jenny and further demonstrates one's frugality, bringing hope for an even better chance of prosperity in the New Year. *Frozen seasoning blend is a mixture of onions, green and red peppers and celery.  It saves chopping time and the measurements are perfect for this recipe. Substitute a medium onion and a small green pepper if your grocery store doesn't carry it.
3 cups vegetable or chicken broth
1 (10-ounce) package frozen seasoning blend, thawed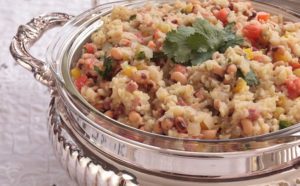 1 medium yellow bell pepper, seeded and diced
1 jalapeno pepper, seeded and minced
2 (15-ounce) cans black-eyed peas, rinsed and drained
3 Roma tomatoes, seeded and diced
Combine broth, seasoning blend, peppers, garlic and cumin; bring to a boil in a medium saucepan. Stir in rice and ham; reduce heat, cover and simmer for 35 minutes or until rice is tender. Stir in black-eyed peas and simmer until liquid is absorbed. Stir tomatoes and cilantro into rice mixture just before serving. Serves 6 to 8.
Benne Seed Cake with Honey Frosting
Benne seeds are sesame seeds. They're considered good luck! They add a nutty taste and delicate crunch to all sorts of recipes. The difference between white and black sesame seeds are that the black seeds still have their hulls. The combination of white and black seeds used together adds a dramatic accent to this New Year's dessert.
1/3 cup benne (sesame) seeds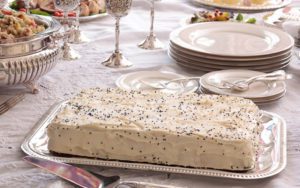 2 teaspoons black sesame seeds
1 (15.25-ounce) yellow cake mix
1 (3.4-ounce) package instant vanilla pudding
1 (8-ounce) package cream cheese, softened
Toasted benne seeds and black sesame seeds, to garnish
Toast benne seeds in a preheated 350 degree oven for 3 to 5 minutes. Set aside to cool. In a mixing bowl, combine cake mix, instant pudding, buttermilk, oil, honey and eggs; mix with an electric mixer until all ingredients are combined.  Stir in benne seeds and black sesame seeds. Pour into a greased and floured sheet cake pan. Bake in a preheated 350 degree oven for 35 to 40 minutes or until toothpick inserted in center of cake comes out clean. Cool cake in pan on a wire rack. In a medium bowl, with a electric mixer, cream butter, cream cheese, honey and cream. Add powdered sugar and mix until smooth. Spread on cooled cake. Garnish with benne seeds and black sesame seeds. Serves 12.
The writer owns Catering by Debbi Covington and is the author of three cookbooks, Celebrate Beaufort, Celebrate Everything! and Dining Under the Carolina Moon. For more great recipes and to view her cooking demonstrations, visit and subscribe to Debbi's YouTube channel. Debbi's website address is www.cateringbydebbicovington.com. She may be reached at 843-525-0350 or by email at dbc@cateringbydebbicovington.com.