Bestselling novelist and cookbook author PAT CONROY discovers a world class Italian restaurant on a corner in downtown Beaufort.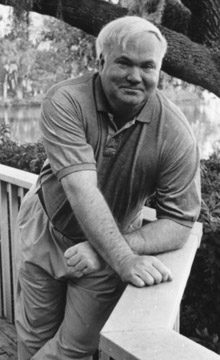 When Pat Conroy called to ask if he could write a review of his favorite local restaurant for Lowcountry Weekly, we were honored and thrilled. Pat tells us this is the first restaurant review he's ever written. We think the kid has a bright future ahead of him. – Editor
The best restaurant in my history in Beaufort opened quietly in January at the corner of Carteret and Craven streets. It is called Griffin Market, which makes it the worst named Italian restaurant I've ever heard of in my life. Its food is glorious and it is, by a long shot, the best Italian food ever served in South Carolina. The chef is the inimitable Laura Bonini and she received her classical training at Galileo's in Washington, DC. It is important to note that this is a northern Italian restaurant that specializes in the food from the Piedmont region of the country. I own a cookbook called
A Passion for the Piedmont – Italy's Most Glorious Regional Table.
Griffin Market proves that the cookbook writer Matt Kramer knows what he's talking about.
I lived in Rome for three years in the eighties and realized how limited my experiences were in the eating of Italian food. Like most Americans, I thought Italian food was pizza and spaghetti and meatballs and pick up a can of Chef Boyardee for dinner. I had no clue that Rome had its own traditions in the kitchen and they were completely different from the traditions of Naples, Venice, Genoa or Turin. But Turin is in the Piedmont region, and it's a region where some of the world's greatest red wines are produced.
When friends visited me in Rome, I would take them to try my favorite restaurant, the Trattoria de Pantheon Da Fortunato. A Hollywood producer was in town and I took him there for lunch. He immediately ordered a salad with Roquefort cheese dressing.
"They serve salad after the main course and they don't have Roquefort cheese dressing," I said.
"No Roquefort cheese dressing?" the producer said. "Hey, Italy and France are right beside each other. What's the problem?"
"The Romans don't use cheese dressing on their salad."
"Okay, I'll settle on a pizza," he said. "All the way."
"They don't serve pizza," I said.
And so it went with every visiting American I entertained in Rome. The American idea of what Italian food is like is nothing like what the Italians prefer themselves. The Piedmont has produced a fabulous cuisine over hundreds of years of living in their gorgeous valleys and hills. It is the land of the white truffle and the vineyards of Barolo and Barbaresco and I remember eating a trout from an Alpine stream that I watched being caught as I sat eating an antipasto. That trout was perfectly cooked and I thought it had a taste of the Alps and cold, running streams in it.
I've eaten at Griffin Market eight times now. There's a perfection in Laura's cooking that is thrilling to me. The Piedmontese are famous for their antipasti, which we call appetizers. Griffin Market serves the best antipasti I ever tasted, even when I lived in Rome. I've gone there so many times that the waiter Omar Castro starts fixing an antipasti plate as soon as I arrive at the door.
Here is the most shocking fact about this restaurant to me – the menu changes every single day. During my first meal there they served small sweet peppers stuffed with an enhanced tuna sauce and I thought I detected some basil in the mix. A bruschetta with cheese and a hint of truffle oil disappeared fast. If you are a classical anchovy-hating American, let Griffin Market change your mind about that poor fish forever. They have a fresh, clean taste to them that is refreshing and surprising. The soups are eye-opening and bright with flavor, especially a black lentil soup that I tasted on my latest visit.
But it is the pasta I must sing to. I ordered wild boar taglietelle that was fine as any pasta dish I ever had anywhere. It was like eating a cloud of pasta, with its rich, pure taste and the delicious wildness of the meat. The taglietelle with Bolognese sauce was as good as the same dish I ordered at its birthplace, Bologna.
Laura's husband, Riccardo Bonino, runs the front of the restaurant, and I've never seen a wine list like this in Beaufort County. Born and raised in the Piedmont, Riccardo is a master at pairing the region's wines with its food. This is a family restaurant like they have in Italy and I've no idea how this gifted couple wound up at the corner of Carteret and Craven Street in Beaufort, but I'm glad as living hell they did. The place is cheaply priced for food of this extraordinary quality.
I've gone five times to the celebrated Husk Restaurant in Charleston, which was voted the best new restaurant in America by Bon Apetit magazine. The chef, Sean Brock, is out of this world and his restaurant is changing everything I've thought about Southern food. He is as good as the great Frank Stitt at the Highland Bar and Grille in Birmingham, and I have no higher praise that that. I'm going to tell Sean Brock about Laura Bonino at Griffin Market. I think it is world class and I'm delighted it found its way here.