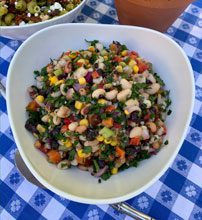 If we have to be "sheltering in place" there's no place better than the South Carolina Lowcountry. The spring weather has been beyond spectacular! Vince and I have spent most of our evenings cooking on the grill and eating on the deck. We've also been enjoying my salad, side dish and sweet treat experiments. I've recently been reminded just how nice it is to have a tupperware dish filled with a delicious something-something in the fridge to snack on. All three recipes this week are excellent sides with grilled foods and they're also great leftovers. Enjoy the fresh air and sunshine, my friends. And, be sure to Celebrate Everyday. xox

Lady's Island Rainbow Bean Salad
A delightfully healthy bean salad recipe with a southern twist – hominy. Hominy is a food made from kernels of corn that have been processed to remove the hull and germ of the corn, causing the grain to puff up to about twice its normal size. Hominy is the essential ingredient in grits. It's delicious.
1/3 cup olive oil
½ cup red wine vinegar
1 tablespoon dijon mustard
1 tablespoon sugar
½ teaspoon celery seed
1 teaspoon garlic salt
Black pepper, to taste
1 (15-ounce) can black-eyed peans, rinsed and drained
1 (15.5-ounce) can great northern beans, rinsed and drained
1 (15-ounce) can black beans, rinsed and drained
1 (15.25-ounce) can whole kernel corn, drained
1 medium red bell pepper, seeded and chopped
1 medium orange bell pepper, seeded and chopped
½ cup diced red onion
¾ cup chopped green onion
½ cup chopped fresh Italian parsley
2 tablespoons diced jarred jalapenos
1 (15.5-ounce) can white hominy, rinsed and drained
Mix first 7 ingredients together in a small bowl; set aside. Place rinsed and drained beans and drained corn in a large bowl. Add peppers, onions, parsley and jalapenos. Mix well. Add rinsed and drained hominy and reserved dressing. Toss to combine. Cover and refrigerate until ready to serve. Serves 8.

Pesto Pasta Salad with Toasted Pine Nuts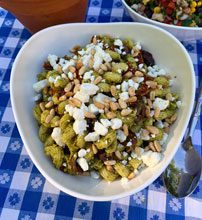 Quick, easy and tasty! Serve warm as an entree or cold as a pasta salad. If you have an abundance of basil, make your own pesto. If not, prepared store-bought pesto will work just as well.
1 (16-ounce) box cavatappi pasta
2 cups basil pesto
2 (3-ounce) packages julienne cut sun-dried tomatoes
1 cup sliced kalamata olives
1 (4-ounce) container crumbled goat cheese
¼ cup pine nuts, toasted
Cook pasta al dente, according to package directions. Drain and place in a large bowl. Toss with pesto to coat. Fold in sun-dried tomatoes and kalamata olives. Garnish with crumbled goat cheese and toasted pine nuts before serving. Serves 8.
Pluff Mud Brownies
Brownies topped with marshmallows and fudgy chocolate frosting. This is our new favorite brownie and it will soon be yours, too!
1 (19-ounce) package dark chocolate brownie mix & ingredients to bake
2 cups mini marshmallows
6 tablespoons butter
6 tablespoons heavy cream
1½ cups sugar
½ cup semi-sweet chocolate chips
Prepare brownie mix according to package directions. Cover warm brownies with marshmallows immediately after baking and return to hot oven, that has been turned off, until marshmallows puff up, 2 to 3 minutes. Remove from oven and cool completely. In medium saucepan bring butter, heavy cream and sugar to a boil. Boil for one minute, stirring frequently to keep mixture from scorching. Stir in chocolate chips and stir until they are melted and frosting is smooth. Immediately spread over brownies. Makes 15 brownies.
The writer owns Catering by Debbi Covington and is the author of three cookbooks, Celebrate Beaufort, Celebrate Everything! and Dining Under the Carolina Moon. Debbi's website address is www.cateringbydebbicovington.com. She may be reached at 525-0350 or by email at dbc@cateringbydebbicovington.com.