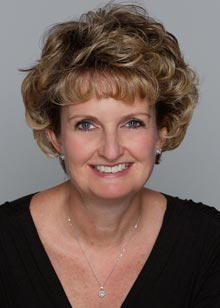 Blow the horns, throw the confetti and pop the cork on 2015 in sparkling style! A time for reflection as well as for reveling, the turning of the year provides an opportunity to look back with satisfaction and ahead with hope.  Invite a few guests for a toast of bubbly and then sit down to a palate-pleasing meal. 
In keeping with the "out with the old and in with the new" theme that the new year offers, this week's recipes are a treasury of old favorites splashed with sizzling new flavors. Raise your glass and toast to good friends, good food and good luck!
Ginger Champagne Punch
¼ cup sugar
¼ cup light-colored corn syrup
¼ cup water
3 tablespoons finely snipped crystallized ginger
½ cup vodka
1 (750-milliliter) bottle champagne, chilled
In a small saucepan, combine sugar, corn syrup, water and ginger. Bring to boiling; reduce heat. Simmer, uncovered, for 10 minutes.  Remove from heat. Stir in the vodka. Cover and chill for 4 hours or overnight. Strain the vodka mixture to remove the ginger; discard ginger.  Pour vodka mixture into a large bowl. Slowly pour the champagne down side of bowl; stir gently with an up-and-down motion to mix.  To serve, ladle punch into champagne glasses or punch cups.  Serve immediately. Serves 8.
Caramelized Onion and Fig Bruschetta
1 loaf baguette-style French bread
1 tablespoon olive oil
1 tablespoon butter
1 cup thinly sliced onion
1 ounce thinly sliced prosciutto, chopped
3 tablespoons fig preserves
3 ounces sliced fontina cheese
Slice bread into 12 bias-cut slices. Preheat oven to 425 degrees. Lightly brush both sides of each bread slice with olive oil. Place bread slices on a baking sheet. Bake for 7 to 9 minutes or until bread is crisp and lightly browned, turning once.  For caramelized onion, in a small skillet, melt butter.  Add onion.  Cook, uncovered, over medium-low heat for 10 to 15 minutes or until onion is tender and golden brown, stirring occasionally.  Remove pan from heat. Stir in prosciutto.  To assemble, spread fig preserves on toasted bread slices; top with onion mixture and cheese.  Return bread slices to the baking sheet. Bake about 3 minutes or until bruschetta is heated through and cheese is melted. Serve warm or cold. Serves 6.
Wilted Spinach Salad with Fruit
1/3 cup dried apricots, cut into ¼-inch strips
¼ cup dry sherry or dry white wine
12 cups torn fresh spinach
½ medium red onion, halved lengthwise and thinly sliced
4 garlic cloves, minced
3 tablespoons olive oil
3 tablespoons raspberry vinegar or red wine vinegar
1 tablespoon honey
¼ teaspoon salt
¼ teaspoon coarsely ground black pepper
2 cups dark sweet cherries (fresh, frozen or canned)
½ cup kalamata olives, pitted and sliced
In a small bowl, combine apricots and sherry. Cover and let stand for 30 minutes to plump. Drain, reserving sherry. Meanwhile, place spinach in a salad bowl.  In a small saucepan, cook and stir red onion and garlic in hot oil for 3 to 4 minutes or until onion is crisp-tender. Add reserved sherry, vinegar, honey, salt and pepper.  Bring to boiling; remove from heat. Pour hot mixture over spinach. Toss just until spinach is coated and slightly wilted. Sprinkle with fruit and olives. Serves 8.
Flounder Parmesan
8 flounder fillets (about 2 pounds)
4 tablespoons chopped onion
¾ teaspoon salt
¼ teaspoon freshly ground pepper
2/3 cup apple juice
4 tablespoons dry white wine
4 tablespoons lemon juice
4 tablespoons butter
4 tablespoons all-purpose flour
½ cup heavy whipping cream
½ cup freshly grated Parmesan cheese
Minced fresh dill weed
Arrange fillets in a lightly greased 13×9-inch baking dish.  Sprinkle with onion, salt, and pepper.  Combine apple juice, wine, and lemon juice.  Pour over flounder.  Cover and bake in preheated 325 degree oven for 25 to 30 minutes or until fish flakes easily with a fork.  Transfer flounder to a serving platter.  Strain and reserve 1-1/3 cups liquid.  Melt butter in a heavy saucepan over low heat; add flour, stirring until smooth.  Cook one minute, stirring constantly.  Gradually add whipping cream and reserved cooking liquid.  Cook over medium heat, stirring constantly, until mixture is thickened and bubbly.  Pour over flounder.  Sprinkle with Parmesan cheese and dill weed. Serves 8.
New Potatoes with Lemon and Parsley
2 pounds new potatoes
¼ cup butter
2 tablespoons chopped fresh parsley
1 teaspoon grated lemon zest
2 tablespoons fresh lemon juice
½ teaspoon salt
¼ teaspoon pepper
1/8 teaspoon ground nutmeg
Fresh Italian parsley, chopped
Cover and cook potatoes in boiling water for 10 minutes or just until tender; drain.  Combine butter and next 6 ingredients in a small saucepan; cook over medium heat, stirring until butter melts.  Pour butter mixture over potatoes; toss gently to coat.  Garnish with fresh parsley. Serves 8.
Bread Pudding with Rum Sauce
3 cups French bread cubes (about 1/2 loaf)
2 eggs
2 egg yolks
¼ cup sugar
½ cup heavy cream
½ cup milk
1 teaspoon vanilla extract
Pinch salt
¼ teaspoon nutmeg
½ teaspoon cinnamon
¼ cups golden raisins
2 ounces rum
½ cup pecan pieces, toasted
4 tablespoons unsalted butter, divided
4 tablespoons light brown sugar
¼ cup rum
2 tablespoons cream
Place bread cubes in a large bowl.  (Day old, dry bread is best.)   Combine eggs, egg yolks, sugar, cream, milk, and vanilla.  Mix well.  Season with salt, nutmeg, and cinnamon.  Pour mixture over bread cubes and refrigerate for 8 hours or overnight.  Do not mix or crush bread.  Soak raisins in 2 ounces of rum for 8 hours or overnight.  Gently fold raisins and pecans into bread mixture. Do not over-mix. Grease a 2-quart baking dish and fill with the pudding mixture.  Cut 1 tablespoon of butter into tiny pieces.  Dot the surface of the pudding with butter pieces. Cover with aluminum foil.  Place baking dish into larger baking dish and fill with hot water up to half the height of the smaller baking dish.  Bake in a preheated 350 degree oven for 45 minutes.  Remove foil. Continue to bake for 10 to 15 minutes or until top is golden brown and center of pudding is set.  Remove from water and cool slightly.  In a small saucepan, melt remaining 3 tablespoons butter.  Add brown sugar and rum.  Cook over low heat until smooth.  Add cream and warm through.  Serve with bread pudding. Serves 6.
The writer owns Catering by Debbi Covington and is the author of two cookbooks, Gold Medal Winner of the Benjamin Franklin Award, Celebrate Everything! and Dining Under the Carolina Moon.  Debbi's website address is www.cateringbydebbicovington.com. She may be reached at 525-0350 or by email at dbc@cateringbydebbicovington.com.