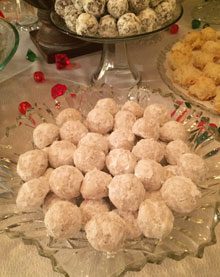 I was just telling my brother, "my life is one party after the other all year long." It's so true. I plan and prepare food for weddings, cocktail buffets, luncheon and dinners from January through December.
It's a great career and I feel very fortunate to have so many wonderful clients and customers. On my end, food is the most important part of every event. Once a year, I get to do it ALL by myself. I'm responsible for the planning, decorating, invitations, cooking, serving, bartending and clean up. It's a reminder of why I need other event professionals in my world. It's almost impossible to do it all and do a good job. Thankfully, the event I'm referring to is our annual Christmas party and the guests are our friends. Our soiree was last weekend and I'm sharing recipes for some of the sweets from our dessert table. Christmas is a great time of year to make small bite sweet treats for parties and for giving. These are all simple recipes and can be made a few days before you plan to serve them. Merry Christmas from Catering by Debbi Covington!

Snowballs (above)
1 cup all-purpose flour
½ cup butter, softened
½ cup finely chopped pecans
¼ cup confectioner's sugar
½ teaspoon vanilla extract
Confectioner's sugar, for rolling
Combine flour, butter, pecans, confectioner's sugar and vanilla in a large bowl. Stir until well blended. Mixture will be stiff. Shape dough into 1-inch balls. Place on lightly greased baking sheet. Bake in a preheated 375 degree oven for 12 minutes. Remove to wire racks to cool slightly. Roll cookies in confectioner's sugar and cool completely on wire racks. Makes 24 cookies.

Peanut Butter Truffles
8 ounces peanut butter (creamy or crunchy)
2 sticks butter, softened
1½ pounds confectioner's sugar
1 (10-ounce) package dark chocolate candy melts
Combine peanut butter, butter and confectioner's sugar in a large bowl. Mix well to combine. Shape mixture into 1-inch balls and place on a baking sheet lined with parchment paper. Lightly spray a large baking pan with cooking spray. Melt chocolate candy melts according to package directions. Dip each ball into melted chocolate and place on prepared baking sheet. Allow 1 hour for the chocolate to set up. Store truffles in a sealed container for up to 2 weeks. Makes about 65.
Bourbon Balls
1 (11-ounce) package vanilla wafers
1½ cups finely chopped pecans
1½ cups confectioner's sugar
2 tablespoons cocoa
2 tablespoons white corn syrup
1/3 cup bourbon
Confectioner's sugar, for rolling
Process vanilla wafers in a food processor to make crumbs. In a large bowl, combine wafer crumbs, pecans, confectioner's sugar, cocoa, corn syrup and bourbon. Mix well to combine. Mixture will be sticky. Form into small balls. Roll in confectioner's sugar. Store in tightly covered container. Makes approximately 45 bourbon balls.

Coconut Macaroons
1 (14-ounce) bag sweetened coconut
7 ounces sweetened condensed milk (½ of a 14-ounce can)
Preheat oven to 350 degrees. Cover a baking sheet with aluminum foil and spray with cooking spray. Place coconut in a medium bowl. Pour condensed milk over the coconut. Mix well to combine. Using a 1-tablespoon scoop, press the mixture into the scoop to form a well-packed ball. Place each macaroon on prepared baking sheet about 1 inch apart. Bake until the tops are golden brown, about 15 minutes. Store in tightly covered container. Makes about 35 macaroons.
Lizzies (Fruitcake Cookies)
1 stick butter, softened
1 cup light brown sugar, packed
1 egg
1 teaspoon vanilla extract
1 teaspoon rum extract (optional)
2½ cups all-purpose flour
½ teaspoon baking powder
½ teaspoon baking soda
¼ teaspoon salt
½ cup buttermilk
½ teaspoon cinnamon
½ teaspoon nutmeg
1 cup chopped walnuts
1 cup chopped dates
1 cup chopped cherry-pineapple mix (or ½ cup chopped green cherries plus ½ cup chopped red cherries)
Preheat oven to 350 degrees. Spray 2 baking sheets with cooking spray. Cream the butter and brown sugar together in a large mixing bowl. Add egg, vanilla extract, rum extract and beat well to combine. Add the flour, baking powder, baking soda, salt, cinnamon, nutmeg and buttermilk and beat well. Fold in the walnuts, dates and fruit until evenly distributed. Drop by rounded teaspoons onto prepared baking sheets. Bake trays individually for 15 to 18 minutes or until cookies are lightly browned. Cool on baking racks. Store tightly covered. Makes approximately 7 dozen small cookies.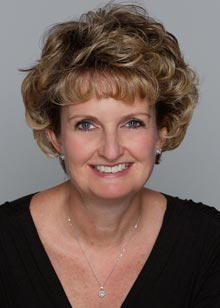 The writer owns Catering by Debbi Covington and is the author of two cookbooks, Gold Medal Winner of the Benjamin Franklin Award, Celebrate Everything! and Dining Under the Carolina Moon. Debbi's website address is www.cateringbydebbicovington.com. She may be reached at 525-0350 or by email at dbc@cateringbydebbicovington.com.