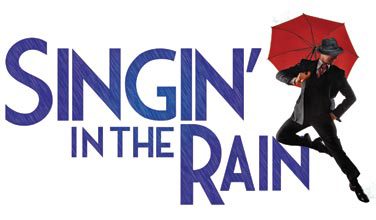 Theatre Review by Michael Bassett
 
What a glorious feeling: "Singin' in the Rain" is being performed at the Arts Center of Coastal Carolina. Who doesn't love this show?
   After all, its iconic scenes are so powerful that even their imitators, echoes and spoofs can move us and start our toes to tapping. Of course, we can close our eyes and see Gene Kelly spin the black flower of his umbrella while splashing, kicking, and do-da-do-doing in the afterglow of a parting kiss that no deluge could dampen. We might even see Robert Redford in Legal Eagles goofily hopping about with ski poles in insomniac glee while watching Gene Kelly splash on the TV.
   In anxiety-laden, hyper-abstracted times how marvelous it is to revel in the unpremeditated joy of the body to have our spirits twirled and to lose ourselves in the innocence of puddle stomping … the electric, accelerated grace of being in love and fully, magically alive.        
   "Singin' in the Rain" tells the story of Don Lockwood, the king of silent film stars, who for the sake of his career endures his insipid leading lady, Lina Lamont, who has convinced herself that the fake romance constantly pitched to the public by the studio is real. A chance encounter with chorus girl and would-be stage star Kathy Selden leads Don towards self-doubt, self-reflection and ultimately love. After the first talking picture, The Jazz Singer, proves to be a smash hit, Don and Lina's studio has little choice but to convert the new Lockwood and Lamont film, The Dueling Cavalier, into a talkie. The production is a horrendous fiasco in large part due to Lina's ridiculous voice. Don's best friend, Cosmo Brown comes up with the idea to dub Kathy's voice for Lina's and turn The Dueling Cavalier into a musical called The Dancing Cavalier. When Lina finds out that Kathy is voicing her as well as seeing Don romantically, she is beyond irate and does everything possible to sabotage the romance between Don and Kathy.
   Full of vaudeville-style gags, unapologetic, starry-eyed romance and big smoldering dance numbers this stage version also makes fantastic use of specially filmed footage of the movie the characters are supposedly making. These film sequences with their campy send-up of silent film melodrama are uproariously funny. The whole show lets audiences delight in the mesmerizing glamour of Hollywood at the dawn of talkies while guffawing at the absurdities of early paparazzi and all the clamoring for studio-constructed celebrity culture.    
   Alex Puette is an imposing Don Lockwood. With his almost impossible matinee idol good looks, chiseled jaw line, and 6'4'' frame he is one heck of a hoofer with all the right moves.
   Blake Spellacy as Cosmo Brown is a backflipping, wisecracking whirligig of panache and pratfalls.
   Sarah Claire Smith is a charming and compelling Kathy Selden with a voice that is all sublime moonlight and upward-beating heart.
   My vote for standout performance goes to Oakley Boycott, who is scene stealing and show stopping topping as platinum blonde film star Lina Lamont with her hilariously squawky, screechy accent. Boycott somehow manages to provide the over-the-top caricature of preening and love-to- hate-her-viscous pettiness the role requires while giving a few glimpses of pathos.
   The choreography (by Jill Gorrie) and costumes (by Diana Griffin) are exquisite and dazzling.
   Director Casey Colgan has outdone himself with this perfectly cast and masterfully executed show that will transport you to the purest pleasure of performance. "Singin' in the Rain" plays through December 28th. Get your tickets by calling the Box Office at 843-842-2787 or 888-860-2787 or going online at www.artshhi.com.