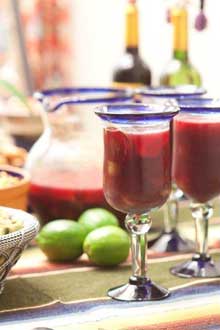 'Tis the season of hot days and warm nights! Who doesn't like a refreshing cold beverage in the summertime? I carry around a tervis tumbler filled with herbal raspberry tea almost all of the time these days. It's so important to stay hydrated in this intense Lowcountry heat. My recipes this week are personal favorites photographed by three of the best photographers in Beaufort. Hope you enjoy them!
 (Photograph of "Sangria! Sangria!" by Paul Nurnberg)
Carolina Marsh Tacky

Bourbon and ginger beer teamed with fresh lime — the perfect cocktail for a southern gentleman! The Carolina Marsh Tacky is a rare breed of horse, native to the lowcountry of South Carolina. This recipe is adapted from another equestrian cocktail named the Kentucky Mule.
1½ ounces bourbon
½ ounce fresh lime juice
4 ounces cold ginger beer
Lime wedge
Fill a cocktail glass with ice. Add bourbon and lime juice; top with ginger beer. Garnish with fresh lime. Serves 1. To make a pitcher: 1½ parts bourbon, ½ part fresh lime juice and 4 parts ginger beer
(Photography by Susan DeLoach)
Sangria! Sangria!
The BEST sangria recipe I've been able to hone to perfection! If you like a sweeter sangria, use ginger ale in place of club soda.
1 (750 milliliter) bottle dry red wine
½ cup brandy
½ cup triple sec
1 tablespoon fresh lemon juice
1/3 cup orange juice
¼ cup sugar (optional)
2 cups fresh pineapple cubes
1 cup seedless green grapes, halved
1 lemon, sliced into rings
1 lime, sliced into rings
1 cup club soda or ginger ale, optional
In a large pitcher, mix together the wine, brandy, triple sec, lemon juice, orange juice and sugar. Add pineapple, grapes and citrus slices. Refrigerate overnight for best flavor. For a fizzy sangria, stir in club soda or ginger ale just before serving. Serves 6.
(Photography by Paul Nurnberg, see above)
Pink Lemonade Spritzers

This is an easy and fun recipe for a festive luncheon! Quantities will need to be determined depending on the size of the ice cube trays and the number of guests. One bottle of wine will fill approximately 5 glasses.
Pink lemonade, prepared from dry mix (Country Time, Crystal Light, Kool-Aid)
Fresh raspberries
Fresh blueberries
Fresh mint leaves
Pinot grigio or ginger ale, chilled
To make the ice cubes: Pour lemonade into individual ice cube trays; filling about ¾ full. Insert one or two raspberries and blueberries in each cube, then add a small piece of fresh mint. Freeze for 24 hours or until frozen solid. To make the spritzers: Place 3 or 4 fruit-filled lemonade ice cubes in a wine glass. Top with pinot grigio or ginger ale to cover. Serve immediately.
(Photography by Susan DeLoach)
Raspberry Margarita
Salt your glass by rubbing a slice of fresh lime around the rim and then dipping the glass in coarse
salt. For added flair, serve individual margaritas with a slice of lime on the side.
1 (12-ounce) package frozen raspberries, thawed
3 (6-ounce) cans frozen limeade concentrate, thawed
12 ounces tequila
4 ounces triple sec
Puree raspberries and limeade in a blender until smooth. Pour through a fine sieve to remove raspberry seeds; return to blender. Add tequila and triple sec. Blend until smooth. Serve over crushed ice. Garnish with fresh lime. Serves 10 to 12.
(Photography by John Wollwerth)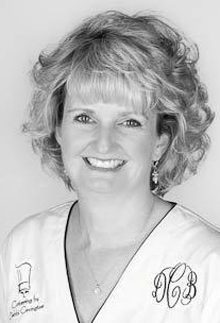 The writer owns Catering by Debbi Covington and is the author of two cookbooks, Celebrate Everything! and Dining Under the Carolina Moon. Debbi's website address is www.cateringbydebbicovington.com. She may be reached at 525-0350 or by email at dbc@cateringbydebbicovington.com.