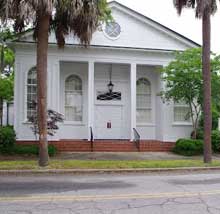 First Presbyterian Church Beaufort (FPC Beaufort) will host their second GED Boot Camp from July 29 – August 16, 2013 at their Education Building located at 1201 North Street in downtown Beaufort. GED Boot Camp is a day and/or evening program that provides three weeks of intensive preparation for the GED test at no cost to the student.
TABE (Test for Adult Basic Education) readiness and Boot Camp registration will start on Monday, June 24 and run through Friday, June 28 from 9 am-2 pm daily at First Presbyterian Church Beaufort.
It is estimated that 500,000 people in South Carolina do not have a high school diploma and approximately 52% of high school students do not finish school in 4 years. According to the U.S. Bureau of the Census, the average annual income for a high school dropout in 2005 was $17,299, compared to $26,933 for a high school graduate, a difference of $9,634.
FPC Beaufort's first GED Boot Camp was held this past spring with 4 graduates successfully completing the program and receiving their GED. The Boot Camp is the brainchild of Rich Campoli, a retired educator living on Hilton Head and working part time for Beaufort County Adult Education.
"First Presbyterian Hilton Head wanted to develop a GED program and I began assisting them with the program in 2011," Campoli said. "We were thrilled when First Presbyterian Beaufort indicated they were interested in participating in this program too. The team at FPC Beaufort jumped right in and has done a terrific job. We are looking forward to the second Beaufort-based GED Boot Camp session in July."
The classes and subsequent test are held at the church and their volunteers instruct the students in language arts and math as well as provide childcare, transportation and refreshments. Private and faith-based contributions fund the program. "By alleviating the barriers that deter many adult students from receiving the proper preparation for the GED, we have found great success with a high percentage of students passing the GED in their first attempt," Campoli added.
Holding Boot Camp sessions in the Beaufort area removes yet another obstacle for prospective students in the County. Dr. Juanita Murrell, Beaufort County Director of Adult Education, added, "It's all about student needs no matter whether they reside north or south of the Broad."
Overall the GED Boot Camp (both locations at both churches) has graduated 40 students over 7 Camps. The GED test is given by the state of South Carolina immediately at the conclusion of the Boot Camp.
The only requirements for eligibility are that they be 17 years of age and take the TABE (Test for Adult Basic Education) to determine their readiness to participate in the Camp. The student must also be prepared for 15 days of intensive learning, requiring their full attention and time.
FPC Beaufort invites those interested in the GED Boot Camp to contact Hugh Gouldthorpe, hugh312@gmail.com or the church office, 843-524-3051. www.firstpresbeaufort.org