Celebrate Beaufort

is Coming Soon!
I'm tickled pink to announce that I've written a new cookbook. Book number three, Celebrate Beaufort, will debut on April 19th. My dear friend, Susan DeLoach, did all of the food and location photography. Celebrate Beaufort is a limited edition and will only be available through my website (www.cateringbydebbicovington.com) and at local bookstores and gift shops.
There will be lots of opportunities for Beaufortonians and visitors to purchase signed copies. Keep reading Lowcountry Weekly and watch social media postings for signing dates and launch events.
Celebrate Beaufort is a fun cookbook that features simple and delicious recipes and a few tales about my Beaufort experiences. In the meantime, Susan and I are sharing some of the recipes and food photos that didn't make it into the cookbook. We just plain ran out of space. Happy Cooking! (Susan DeLoach Photography)
Shrimp Burgers with Old Bay Aioli
For the aioli:
1/3 cup mayonnaise
½ teaspoon dijon mustard
¼ teaspoon fresh lemon juice
1 teaspoon old bay seasoning
1 tablespoon chopped fresh Italian parsley
Lemon zest, to taste
For the shrimp burgers:
1 roll townhouse crackers
1 pound large shrimp, peeled and deveined
1/3 cup dry bread crumbs
1 green onion, chopped
1 egg
¼ to ½ teaspoon old bay seasoning
½ teaspoon worcestershire sauce
Salt and pepper, to taste
Vegetable oil
Hamburger buns
Lettuce and sliced tomato, to serve
Mix mayonnaise, mustard, lemon juice, 1 teaspoon old bay seasoning, Italian parsley and lemon zest in a small bowl. Cover and refrigerate until ready to serve. In a food processor, chop crackers into fine crumbs. Pour into a container suitable for dredging and set aside. Add shrimp to the food processor and pulse to roughly chop. Do not over process. You want some chunks of shrimp in the mixture for texture. Stir in bread crumbs, green onion, egg, old bay seasoning and worcestershire sauce. Season with salt and pepper. Divide the shrimp mixture into 4 patties. Patties will be very tender. Place on a dish, cover with plastic wrap and refrigerate for at least 1 hour. Pour vegetable oil into a frying pan and heat over medium heat until hot but not smoking (350 degrees). Gently dredge shrimp burgers in processed cracker crumbs, coating well on both sides. Cook shrimp burgers, turning once, until deep golden and crisp, 3 to 5 minutes. Transfer patties to paper towels to drain. Serve shrimp burgers topped with old bay aioli on hamburger buns with lettuce and tomato. Serves 4.
Corn and Cauliflower Salad
5 ears corn, cooked and cooled
2 cups chopped cauliflower florets
½ red bell pepper, diced
2 to 3 green onions
1/3 to ½ cup mayonnaise
1 teaspoon dijon mustard
½ to 1 teaspoon dried dill weed
Salt and pepper, to taste
Remove corn kernels from cobs and place in a large bowl. Add cauliflower, bell pepper, green onions, mayonnaise and dijon mustard. Mix well to combine. Season with dill weed, salt and pepper. Cover and chill for 3 hours before serving. Serves 6 to 8.
Beaufort Tomato Pie
One to keep and one to share!
2 (9-inch) deep dish frozen pie shells
1 egg white, lightly beaten
6 to 7 large ripe tomatoes, thickly sliced
Salt and freshly ground black pepper, to taste
1 tablespoon dried sweet basil, divided
2 teaspoons dried chives, divided
2 cups Miracle Whip salad dressing or mayonnaise
2½ cups shredded mozzarella cheese
Dried basil and dried chives to garnish, optional
Thinly sliced tomatoes to garnish, optional
Thaw pie crusts in the refrigerator for 2 hours. Place pie crusts on a large baking sheet and prick bottoms and sides with the tines of a fork. Brush pie crusts with beaten egg white. Bake pie shells in a preheated 375 degree oven for 12 to 15 minutes. Cool. Fill cooled pie shells with tomato slices. Season with salt, pepper, dried basil and dried chives. In a medium bowl, mix salad dressing with mozzarella cheese. Spread mixture over the top of each pie, sealing to the edges. Sprinkle cheese mixture with additional basil and chives. Garnish with thin slices of tomato. Bake in a preheated 350 degree oven for 35 to 40 minutes. Serves 10 to 12.
Philly Cheese Steak Sloppy Joes
1½ pounds lean ground beef
1 small onion, diced
1 small bell pepper, diced
1 (8-ounce) can mushrooms, drained and chopped
2 tablespoons ketchup
1 tablespoon worcestershire sauce
1 tablespoon cornstarch
1 cup beef broth
Salt and pepper, to taste
8 ounces provolone cheese slices, chopped
4 hoagie rolls
Brown ground beef in a large skillet. Drain on paper towels and set aside. Remove most of grease from skillet. Add onion and bell pepper and cook until tender. Add beef back to pan. Stir in mushrooms, ketchup and worcestershire sauce. Mix cornstarch with beef broth in a small bowl. Pour mixture into skillet and cook until mixture is slightly thickened. Season with salt and pepper. Remove from heat and stir in provolone cheese; mixing well to melt. Serve beef mixture on hoagie rolls. Serves 4.
Death By Chocolate
1 (14.4-ounce) box chocolate graham crackers
For the mousse:
1 (8-ounce) package cream cheese, softened
½ cup sugar
3 tablespoons milk
½ cup cocoa powder
1 (8-ounce) container frozen whipped topping, thawed
For the whipped cream:
¾ cup heavy whipping cream
1½ tablespoons cocoa powder
¼ cup confectioner's sugar
For the chocolate sauce:
1 (12-ounce) package mini chocolate chips, divided
1/3 cup heavy whipping cream
Combine cream cheese, sugar, milk and cocoa powder with an electric mixer until smooth. Fold in whipped topping. In a deep mixing bowl, whip heavy cream with cocoa powder and confectioner's sugar until stiff peaks form. Place 1 cup mini chocolate morsels in a small bowl. Heat 1/3 cup heavy cream; pour hot cream over chocolate morsels and whisk until smooth. To assemble: place a singer layer of graham crackers in the bottom of a 9×13-inch pan. Top graham crackers with half of the mousse mixture and spread evenly. Place another layer of graham crackers on top of the mousse. Spread remaining mousse on top of graham crackers. Top with one more layer of graham crackers. Spread top layer with chocolate whipped cream and spread into an even layer. Sprinkle with half of remaining mini chocolate morsels. Drizzle with chocolate sauce and sprinkle with remaining mini chocolate morsels. Cover and refrigerate for 3 hours before serving. Serves 12 to 15.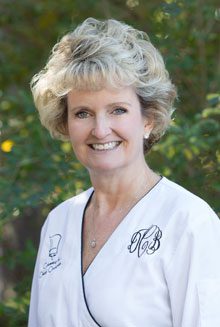 The writer owns Catering by Debbi Covington and is the author of three cookbooks, Gold Medal Winner of the Benjamin Franklin Award, Celebrate Everything! and Dining Under the Carolina Moon. Her NEW cookbook, Celebrate Beaufort will debut on April 19th at the Sea Island Inn/Best Western on Bay Street at 5:30 p.m. "Celebrate Everyday" readers are cordially invited to attend.Debbi's website address is www.cateringbydebbicovington.com. She may be reached at 525-0350 or by email at dbc@cateringbydebbicovington.com.