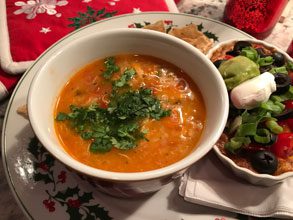 I take lots of food photos. Those of you who follow me on Facebook, Instagram and Pinterest, you know that I also post lots of food photos. I cook so many different things that sometimes it's hard to remember what I've tried and liked. It's fun to scroll back through the photos on my computer and think, "Hey! I forgot about that one. It was delicious. Gotta make it again."
That's what this week's column is all about. With the exception of the Mexican Chicken Soup that I just made for the first time last night, all of the recipes feature meals from past Christmas seasons at our house. They're all meals that I prepared for Vince and me. As you can see from the photos, I like to add salads that include seasonal fruits with our mostly comfort food suppers. Seeing these older pictures has inspired me to try some more new recipes. Of course, I'll share the good ones with you. Stay turned to Everyday Gourmet in 2017. Merry Christmas and Happy New Year!
Mexican Chicken Soup
5 cups chicken stock
1 cup cooked white rice
1 (24-ounce) container fresh salsa
2 cups diced chicken (can use deli chicken)
½ teaspoon dried oregano
½ teaspoon dried cumin
½-1 teaspoon taco seasoning
1 tablespoon ketchup
Fresh limes
Chopped fresh cilantro
Place chicken stock in a medium pot, bring to a boil. Lower heat and stir in rice and salsa, heat through. Add chicken. Season with oregano, cumin and taco seasoning. Before serving, squeeze fresh lime juice over chicken soup and garnish with fresh cilantro. Serves 6.
Cabbage Roll Casserole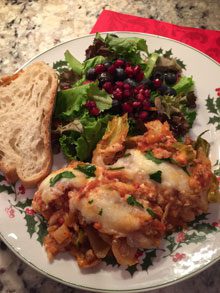 2 pounds ground beef
1 (10-ounce) package bacon, cut into small pieces
1 cup chopped onion
1 (29-ounce) can tomato sauce
3½ pounds chopped cabbage
1 cup uncooked white rice
1 teaspoon salt
2 (14-ounce) cans beef broth
Shredded Swiss cheese
Fresh chopped Italian parsley
Preheat oven to 350 degrees. Brown ground beef and bacon in a large skillet; drain off fat. In a large mixing bowl, combine the onion, tomato sauce, cabbage, rice and salt. Add meat and beef broth. Mix together. Pour mixture into a lightly greased baking dish. Cover and bake for 1 hour. Stir; replace cover and bake for an additional 30 minutes. Before serving, top with shredded cheese and bake, uncovered for 10 minutes or until cheese has melted. Garnish with fresh parsley. Serves 12.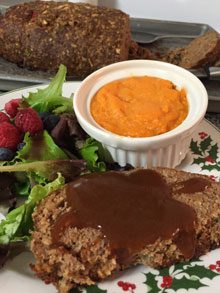 Mama's Meatloaf
1½ pounds lean ground beef
¾ cup oats
1 package dry onion soup mix
¾ cup finely chopped onion
½ cup ketchup
1 egg, lightly beaten
1 tablespoon Worcestershire sauce
Preheat oven to 350 degrees. Combine all ingredients in large bowl; mix thoroughly. Shape meatmixture into a loaf and place in a baking dish. Bake 50 to 55 minutes or until meatloaf has
reached medium doneness (160 degrees), until not pink in center and juices show no pink color.
Let stand 5 minutes before slicing. Cover and refrigerate leftovers promptly and use within 2
days, or wrap airtight and freeze up to 3 months. Serves 6 to 8.
Christmas Potatoes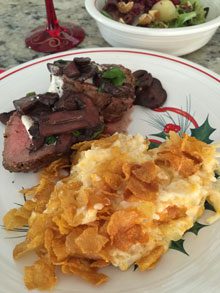 1 (30-ounce) package frozen shredded hash brown potatoes, thawed and drained
1 (10-ounce) package frozen seasoning blend (onions, green peppers)
2 cups sour cream
1 (10.5-ounce) can cream of chicken soup
1 teaspoon salt
2 cups shredded sharp cheddar cheese
1 stick butter, melted
3 cups corn flakes
1 stick butter, melted
Place the frozen potatoes in a colander to thaw and drain. Thaw seasoning blend and drain. Place potatoes in a large bowl. Add seasoning blend, sour cream, soup, salt, cheese and 1 stick of melted butter. Mix well to combine. Spread mixture in a lightly greased 9×13-inch baking dish. Top with corn flakes. Drizzle with 1 stick melted butter. Bake, uncovered, for 40 to 50 minutes. Serves 10 to 12.
Balsamic Mushrooms
1 pound whole mushrooms
½ cup balsamic vinegar
1 tablespoon Worcestershire sauce
1 teaspoon cornstarch
1 teaspoon soy sauce
¼ teaspoon garlic powder
½ teaspoon onion powder
½ teaspoon dried basil
1 teaspoon sugar
Salt and pepper, to taste
Preheat oven to 350 degrees. In an ovenproof dish, combine all ingredients except mushrooms. Add mushrooms and toss well to coat. Cover with aluminum foil and bake for 1 hour. Remove foil and continue to bake until mushrooms are tender and sauce is reduced and thickened. Serve on top of pork or beef tenderloin. Serves 4.
The writer owns Catering by Debbi Covington and is the author of two cookbooks, Gold Medal Winner of the Benjamin Franklin Award, Celebrate Everything! and Dining Under the Carolina Moon. Debbi's website address is www.cateringbydebbicovington.com. She may be reached at 525-0350 or by email at dbc@cateringbydebbicovington.com.