Filmmaker Chris White talks storytelling, music, memory, and the second coming of 'Electric Jesus' to the Beaufort International Film Festival.
For Greenville filmmaker Chris White, appearing at the Beaufort International Film Festival – whether as an actor, screenwriter, director, or producer – has become something of an annual tradition.
"Except for that one year I was snubbed," he cracks.
"We shall never speak of it," I whisper.
The banter is all in good fun. One of the perks of being long-time BIFF media sponsors is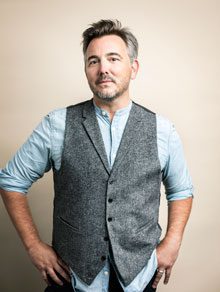 getting to know "the regulars," and occasionally, those regulars become real friends. Many BIFFs ago – maybe 2015, the year their feature Cinema Purgatorio took Best Comedy and Audience Choice? – Chris and his producing partner/wife Emily hit it off with me and my publishing partner/husband Jeff, and the rest is double-dating is history. We keep in touch, chitchat via Messenger, occasionally get together for dinner when they swing through town on various moviemaking excursions. We're wildly fond of each other. So that's my full disclosure.
Today, Chris and I are talking on the phone about Electric Jesus, the Whites' feature film that will open BIFF 2021 on the night of Monday, February 15th. Promoting itself as "the 80s hair band music-comedy you've been saving yourself for," this funny, wistful tale of a teenage evangelical rock band touring the South in the summer of 1986 has taken the '20-'21 festival circuit by storm. For Chris White, it's been a long time coming . . .
 Margaret: Chris, three years ago Electric Jesus was selected as a featured screenplay at BIFF. At that point, you had already cast the film, and you brought several of your young actors to Beaufort for the festival. But even then, the project had been with you for a while. As the writer/director, how long did it actually take you to get this movie made?
Chris: I remember as far back as the 90s, when I was working in advertising, thinking that I wanted to somehow tell the story of my church youth group days. I realized that I'd had a very peculiar, really good experience. There was just this spirit of creativity – we were always making plays, videos, stunts . . .  always trying to convey our faith to other people, to "make Jesus famous." Believe it or not, l think it was during those two-three intensive years in a Southern Baptist youth group that I developed my skills as an actor, writer, and comedian. Our youth minister was just really great. He'd let us do all this weird, funny stuff.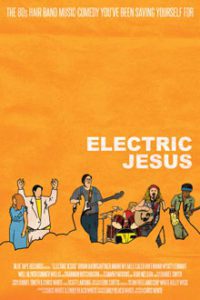 Margaret: Were you allowed to dance? Some of my friends grew up Southern Baptist and they weren't allowed to dance.

Chris: Oh yeah, we could dance. No cussing, no drinking, no having sex . . . but we could dance. And we could watch MTV.
Margaret: Did your youth group have a band like the one in Electric Jesus?
Chris: Sadly, no. No band.But I was in an improv/comedy sketch group in college. That was kind of like being in a band. So I drew from that and the youth group experience.
Anyway, I was taking a graduate screenwriting class back in 2011-2012 and I pitched this idea to my professor, and he really liked it. But it took me a long time to get the script right. The first draft was really just me trying to process my first marriage, which had failed – kind of a therapeutic thing, with this middle-aged guy flashing back to his youth group, where he met his wife – but once I got the marriage stuff worked out in my head, I realized that the "middle-aged guy" part of the story was incidental. That the flashbacks were the best part of the movie. In fact, they were the movie. Once I figured that out, I was free. And then the script almost wrote itself.
 Margaret: You and I agree that most "faith-based films" are . . . God-awful. (Pardon the pun.) They tend to be heavy-handed and preachy. EJ is not really a faith-based film. But it's not anti-faith, either. Not derisive of religion. In fact, I'd say it has a warm Christian heart. Somehow, it manages to be hilarious and gently satirical of its subject matter, while also sincere and affectionate and even . . .  respectful? One reviewer at IMDb nailed it, I think, saying: "Southern Evangelical Christianity makes an easy target, of course, for cheap, shopworn laughs. 'Electric Jesus,' though, threads an expert needle between needling Bible thumpers while threading its characters together with durable strands of, uh, Christian compassion." It seems to me you've walked a very fine line here. How did you pull it off?
Chris: Yeah, it was a challenge. I guess the main thing I kept telling myself was this: Let the characters be themselves and don't try to fix them. Love them just as they are. I think that love comes through. Also, in terms of keeping the "preachiness" out – a lot of the credit goes to my editor Scott Lansing, who will always try to pull things more toward the secular and edgy . . .  He's always trying to pull things R when I'm trying to pull things PG-13. Electric Jesus is a much better film because of that tension, and because of Scott.
"Faith-based films" are basically Christian propaganda. They're made with a certain purpose in mind – to present the audience's dream world to them. This is not that. For the record, I do consider myself a Christian, but this isn't a "Christian movie." It's just a story set in a certain world that I know pretty well.
It's a weird time to be telling stories, isn't it? So many of our stories have become polemics. I don't want anybody to "learn a lesson" from EJ. Or be "saved." It's not an altar call. The movie will inspire all kinds of responses. If you spent an hour and a half with EJ and it moved you in some way, that's on you. I'm not here to tell you what it means.
Margaret: Well, I've seen it twice now, and it did move me – both to laughter and tears – but I'm not sure "what it means." And I don't think I care. I like it that I came away with no real sense of the movie's "politics." If it even has politics.
 Chris: Well, I have politics, but when I tell stories I'm trying to do something maybe more . . . ambitious? . . . than scoring a political point. I'm trying to do what narrative storytellers have always been trying to do – put forward characters in the hope that you, in your life, can take their story to heart. I want you to see this specific little 80s Christian world and find something about it that you connect with, that means something to you. Nothing more. In the end, I guess it's about creating empathy.
Margaret: The narrator of the film is "Erik," the band's soundman – played beautifully by Andrew Eakle – who's telling the story of that magical, star-crossed summer from memory. Is Erik a stand-in for you? The 15-year-old Chris White?
Chris: You know what's weird? I wrote him thinking so, but then I realized later . . . no. I made my very first film – ED The Movie– during the summer of 1986, with my church youth group, and I recently went back to the original 8mm film and restored it. Rewatching that old film and remembering that summer with my best friend and creative collaborator John Riser was an amazing experience. We tend to write our personal histories/mythologies in our heads, and in my head, I'd imagined I was an "Erik" growing up: quiet, serious, a support player. But going back to ED, I realized that wasn't me at all. I was serious, but not quiet. I was hard-charging, a big idea guy . . . geez, maybe more Skip!
Margaret: Skip, the band's manager in Electric Jesus, played by Brian Baumgartner. When I told my teenage daughter I'd seen the movie, I assumed she'd want details about the cute boys in the band – or maybe Shannon Hutchinson's dazzling "Sarah" – but all she wanted to hear about was "Kevin from The Office." He is huge with her generation. Every generation, really. What was he like to work with?
Chris: Brian Baumgartner came up in the theatre. So did I. That's really how we connected during the casting process. I think we shared a common language based on similar experiences growing up, making plays. He was also game to pursue my vision — based on stories from the production of Dead Poets Society. Director Peter Weir created an environment where Robin Williams would befriend, mentor, teach all these young actors in front of the cameras and behind the scenes. And it worked! I wanted that for my young actors with Brian taking on the Robin Williams role. He'd heard the same stories from Dead Poets Society and was eager to jump in with Andy, Shannon, Wyatt, Will, Caleb, and Gunner.  That camaraderie, that intimacy . . .  the sense that these kids in EJ really are best friends . . . I give Brian so much of the credit for that.
Also, he's an incredible actor with so much range. He's famous, of course, for playing a kind of lurking, quiet weirdo on "The Office," but I saw so much more potential for him as band manager Skip Wick. I sensed he could find that tricky balance – a kind of bad guy who really, really means well. And he did, of course. He really is one of the best character actors working in Hollywood today.
Margaret: Let's talk about the music. First of all, there's a lot of it! You guys are about to release an album with 21 originals songs. Secondly, I can't believe how much I like this music! The songs performed by 316 (the band in the movie) are really, really good. Like, maybe better than they had to be. And the incidental music is so catchy and pretty. I can't stop humming it. You collaborated with Daniel Smith of the band Danielson – Wikipedia calls their music "indie pop gospel" – and the results are just spectacular.
Chris: Thanks. Yeah, Daniel and I decided early on that the 316 songs had to be great. They had to sound like your favorite song from high school – but how it sounds in your memory, not necessarily real life. The words, which I wrote, could be silly. And they are. They're 15-year-old-Christian-boy lyrics. But the music had to be great. And Daniel really came through. So, in each of these songs – Commando for Christ, Girl, etc. – the melody is there. So then you take those strong melodies, and they become the score. The background music. One thing we did – we decided that all the instruments we used had to exist in 1986. So what you're hearing is real flutes, real guitars, real drums from that era . . . All the instrumentations are real.

Margaret: The background music has a Beatlesque sound to me . . .
Chris: Well, I told Daniel up front that I really like post-Beatles Paul McCartney, so maybe that's what you're hearing.
(Editor's Note: "ELECTRIC JESUS Music From and Inspired By the Motion Picture" will be released Feb. 26 by Joyful Noise Recordings across all music streaming platforms. The record label is also selling a double-LP of the soundtrack (and high-res digital version) on its website: www.joyfulnoiserecordings.com/products/electric-jesus. A CD will be available soon on the ELECTRIC JESUS website. Four singles are available nowon all streaming platforms. Search for ELECTRIC JESUS.)
Margaret: You're a big film festival guy. You and Emily always make the scene, and you do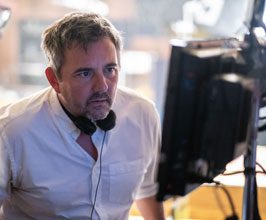 it with panache. It must be killing you to have your dream feature debuting during the Covid pandemic. So much of this festival season has been virtual. What's that been like?
Chris: Kind of sucky, actually. But we're making the best of it. As far as distribution goes, it's good. But I won't lie – we miss the people. Festivals help us find creative friends and potential collaborators. Still, we always ask ourselves: What is the opportunity here? Every festival we've been in with EJ – 15 now – I'll call the festival director first and ask if there's anything happening live. And if there is, I say, "I'm coming and buying the beer." Or "I'll be there with the coffee." I've been pretty aggressive about that. We did a big screening at Lipscomb University during the Nashville festival. We went to Orlando, just our team, and streamed the Q&A together. And we've had several wins. It's been a really good season for us, considering . . .
Margaret: What does it mean to you that the Beaufort International Film Festival will be live and in person?
Chris: We're so grateful to Ron and Rebecca Tucker. Few film festivals get as much right as BIFF does, and even in this season of pandemic, they're getting it right by taking extraordinary safety measures, while still keeping true to their mission. It's so important to us that there will be a live audience. And a screen.
Margaret: I can't wait to finally see (and hear!) Electric Jesusin all its larger-than-life glory. Big hair really needs a big screen.
Electric Jesuswill screen at Tabby Place on Opening Night of the 15thAnnual Beaufort International Film Festival, Monday, February 15. Tickets are limited. Visit www.bftfilmfestival.com